Dr. David C. Benson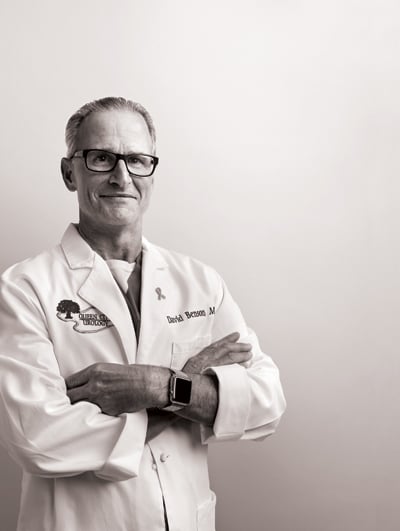 It's difficult for New Iberia-based urologist, Dr. David C. Benson, to choose which of his cases has been toughest. That's because the Shreveport native finds each case to be uniquely challenging and personal. Part of being a physician, he believes, is establishing a genuine bedside manner and treating each patient as an individual — not as an illness. He strives to make his patients feel comfortable and customize their treatment plans. Benson says he sees everyone from "birth to 100 years old" and virtually everyone between, male or female. "I see people with all sorts of problems," he says.
"No two people are alike; I come up with a custom treatment for every patient," Benson says. "It can be a long discussion. I look at the disease, the impact of survival rates, what complications they are willing to accept. I take all that information and find a treatment that suits their needs."
"I'm human and I talk to people," he continues. "It's all about the patients. It doesn't do any good if I just prescribe medicine."
Growing up, Benson always wanted to be a doctor. "There's never been anything else I wanted to do," he says. "I was an orderly when I was 15, working for an orthopedic surgeon. I never looked at anything else I wanted to do — I set my sights on [medicine]."
A former baseball player, Benson muses that his early fascination with medicine may have stemmed from a few too many trips to the emergency room as a kid.
"I spent my life in the ER with broken bones," Benson says. "The people I was around as a young kid made it look like the place I wanted to be."
As a medical student, he decided that he wanted to go into urology.
"I enjoyed surgery and general medicine, but I didn't want that lifestyle," he says. "Urology seemed like a blend and it gave me the lifestyle I was looking for."
A father of three, he adds, "My family is important to me, and my patients are important to me."
His patients, he notes, often become like family: "I'll have a long-term relationship with the majority of my patients. I like to have fun — I make them laugh, and then their anxiety level goes to zero."

---
Education: LSU undergrad
LSU School of Medicine for M.D.
Native of Shreveport
Now based in New Iberia
---