Downtown Alive! Returns to Celebrate its 40th Anniversary in a Big Way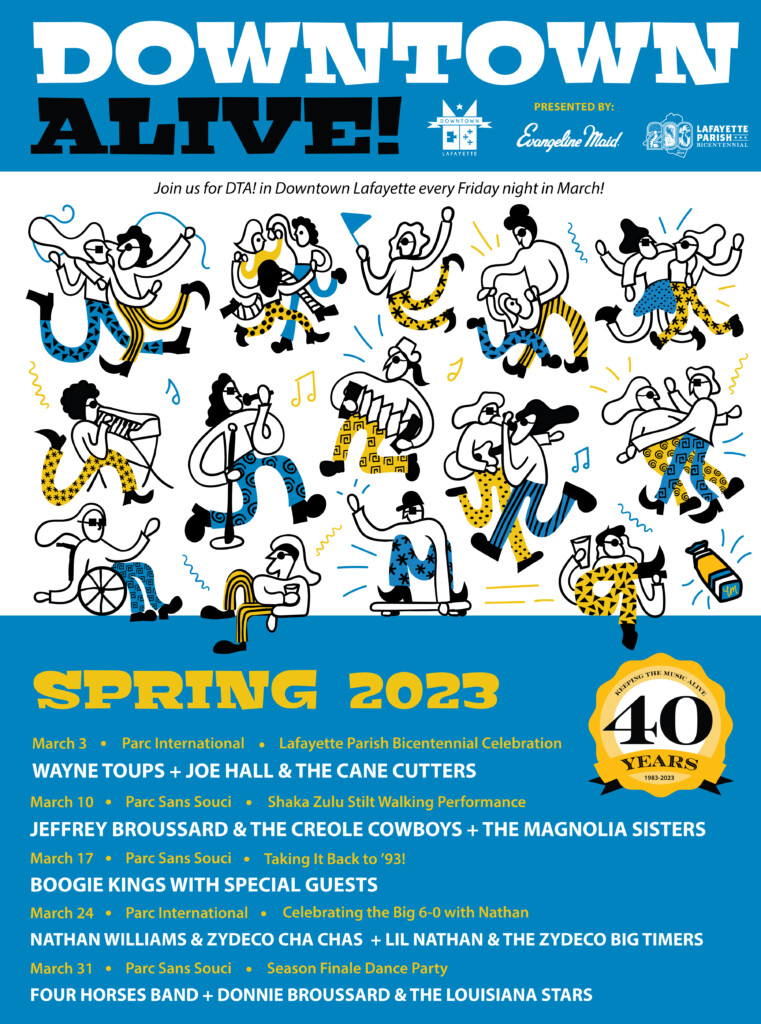 LAFAYETTE, La (press release) – The downtown Friday night tradition that everyone knows and loves is back to celebrate Downtown Alive!'s 40th Anniversary. Today, Downtown Lafayette Unlimited (DLU), the non-profit that has been bringing the community DTA! for four decades, joins with presenting sponsor Evangeline Maid to announce the longstanding series' 2023 spring season lineup. 
"What an honor to celebrate 40 years of DTA! with the Lafayette and Acadiana communities!" said Anita Begnaud, CEO of DLU and DDA. "We are so proud to continue to put our region's arts & culture on display every Friday night in March."
What started back in 1983 as an effort to bring the community together downtown on a continuing basis is still thriving 40 years later. Considered Louisiana's longest-standing free outdoor concert series, DTA! celebrates music, culture, and downtown's place as a welcoming, creative, diverse and active city center. Producers have planned a very special season of DTA! with performances from local legends and Grammy nominated musicians. 
Begnaud noted that DTA!'s 40th anniversary is occurring during an important juncture in downtown's revitalization story. "DTA! is still serving its purpose to put a spotlight on downtown's growth and development when family, friends, and coworkers gather to kick off the weekend. We invite everyone to come out every Friday in March to take note of all of the activity and vibrancy happening and make plans to check out all of the great food, music, art, and shopping downtown to offer."
In addition to celebrating 40 years of DTA!, the season will also commemorate 200 years of Lafayette Parish with this year's presenting partner, Lafayette Consolidated Government. The spring season of DTA! will kick off on Friday, March 3rd with a Lafayette Parish Bicentennial celebration featuring Wayne Toups + Joe Hall & The Cane Cutters. Pairing Zydeco with Cajun music is the perfect way to celebrate our local culture and start the DTA! party that will last all season long! 
DTA! would not be possible without the generous support of our sponsors, especially presenting sponsor Evangeline Maid. "The Evangeline Maid team and I are thrilled to be the presenting sponsor for such an important season of Downtown Alive!," said Farley Painter, Operations Manager. "We are happy to support this beloved event that brings together members of our community through food, music, family, and fun." 
Additional sponsors include The Grouse Room, Home Bank, KRVS, Lowry's Printing, and the New Orleans Jazz and Heritage Festival who believe in the mission of bringing vibrancy downtown and will assist in producing this season of DTA!. 
Downtown Alive! has said "goodbye" to its ticketing system and will now accept cash, credit, and debit for all food, beverage, and merchandise purchases within Parc International and Parc Sans Souci, creating a more efficient and enjoyable experience for patrons. The public is encouraged to purchase beverages and merchandise on-site, as all proceeds are used to fund the production of DTA!.
Everyone is welcome to come and enjoy live music at DTA! in Downtown Lafayette every Friday night in March. Music starts at 6:00pm and concludes at 9:00pm. Please leave your ice chests at home to help keep DTA! free to the public – grab a drink from the Home Bank beverage tent and a bite to eat from food vendors and downtown restaurants. Most importantly, don't forget to support local small businesses while you're downtown!
Spring 2023 DTA! Lineup
Friday, March 3 – Parc International 
Wayne Toups + Joe Hall & The Cane Cutters
Lafayette's Bicentennial Celebration
Friday, March 10 – Parc Sans Souci
Jeffrey Broussard & The Creole Cowboys + The Magnolia Sisters
Shaka Zulu Stilt Walking Performance
Friday, March 17 – Parc Sans Souci
Boogie Kings with special guests
Taking it Back to '93
Friday, March 24 – Parc International
Nathan Williams & Zydeco Cha Chas + Lil Nathan & The Zydeco Big Timers
Celebrating the big 6-0 with Nathan 
Friday, March 31 – Parc Sans Souci
Four Horses Band + Donnie Broussard & The Louisiana Stars
Season Finale Dance Party