Dig Into Spring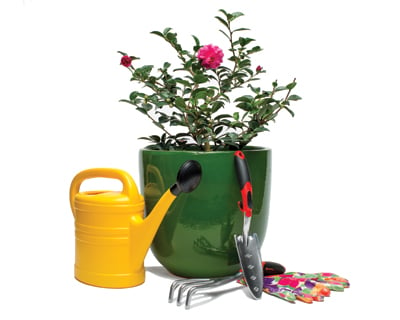 A camellia is a great addition to any garden. Plant a variety of them to have constant blooms from September through May. From Stine.
---
We love this kelly green glazed ceramic pot that lets the flowers stand out. From All Seasons.
---
A perky yellow watering can is lightweight and perfect for feeding your spring harvest. From Native Sun.
---
The Corona spade and hand shovel set is small enough to sow tiny seeds but strong enough to last season after season.From All Seasons.
---
These springtime-inspired gloves are stylish and durable – and will protect your hands from dirt and the elements. From Native Sun.
---
Stine. 6501 Ambassador Caffery Parkway, Broussard. (337) 837-1045. stinehome.com All Seasons. 2974 Johnston St., Lafayette. (337) 264-1418. buyallseasons.com Native Sun Landscaping and Nursery. 1401 East Broussard Road, Lafayette. (337)857-0856. nativesunnursery.com
---