December's Festivals Acadiens et Créoles Legacy Series Feature: Adam Hebert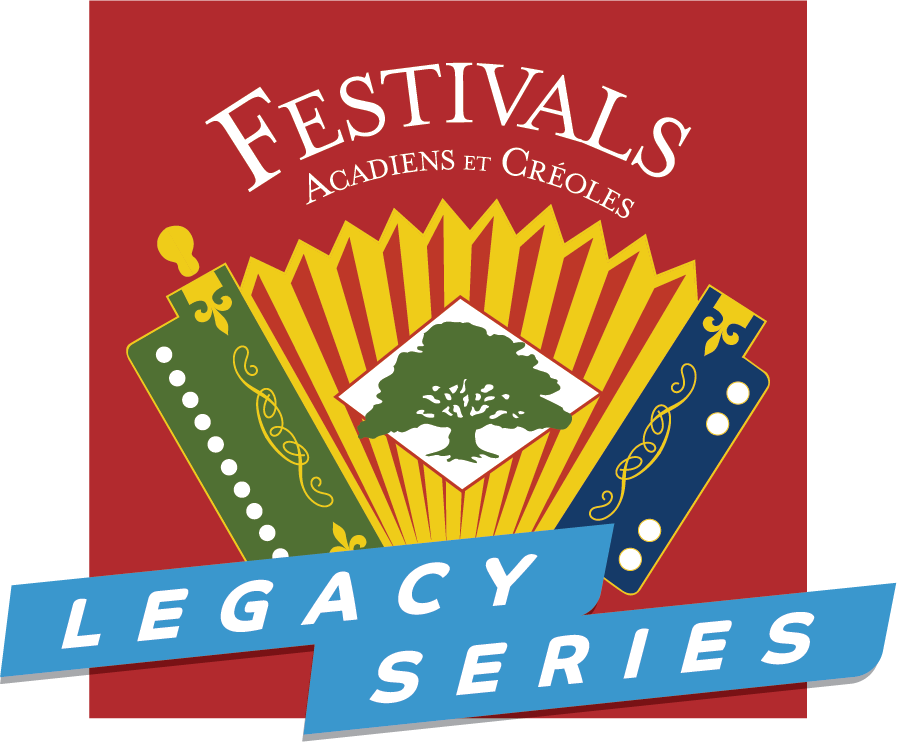 LAFAYETTE, La (press release) – Festivals Acadiens et Créoles will hold its monthly Legacy Series featuring The Legacy of Adam Hebert, one of the most influential musicians in contemporary Cajun music. Guest artists joining this month's event include Randy Vidrine, Chris Segura and Blake Miller.
The FREE monthly series celebrates local legends who have made, and continue to make, an impact on our cultural community. The Legacy Series will explore every aspect of Acadiana's heritage, including music, culinary arts, artists, craftspeople, and more. The goal is to create a community event series that honors historical, contemporary, and future cultural traditions.
WHO:          FREE to General public
WHEN:        Thursday, December 1, 7-9 p.m.
WHERE:      Feed & Seed Lafayette, 106 N Grant St, Lafayette, LA 70501
The Legacy of Adam Hebert:
Adam Hebert was born in Grand Marais about five miles north of Church Point in 1923. Like many farm kids in those days, he worked hard to help out on the family farm. During the season, he picked a sack of cotton before going to school in the morning and another when he came home. After a stint in the army, he got an offer to work in the insurance business and decided that was easier than digging potatoes. He became interested in playing the fiddle while listening to his brother-in-law Avie Cormier who played occasionally with Angelas Lejeune. When young Adam expressed an interest in learning to play, Avie gave him a homemade fiddle that he fashioned out of a wooden cigar box. Adam re-haired his own bow with hair from the tail of the family horse Alice. He squeezed his practice sessions between his schoolwork and his farm chores, hiding behind the barn so that he wouldn't wake his father with the inevitable screeching of a fiddle debutant. One day, when rain postponed his usual chores, he began playing in the house. His father was surprised to hear him playing "La valse de la campagne," and decided to mail-order his son a real fiddle.
Around the age of fifteen, he teamed up with a neighbor, Felton Carrière, who played a little accordion, to play for house dances. During the mid-1940s, he formed the Veteran Playboys, with himself on fiddle, Vorhies Matte on mandolin and Willard Matte on guitar. Emmett Matte joined them later on drums and accordion. Later, Alphé Bergeron joined the group on the accordion as the group began playing at Ellis Richard's legendary Petit Maurice dancehall. They also began playing for radio broadcasts on KSIG and KSLO, and soon were performing seven times a week at dance halls such as Deuce Club in Lewisburg, the Rose Garden Club near Opelousas, the Belvedere Club in Tasso, the Green Lantern in Lawtell, Club La Lune in Bosco, the Sunset Game Club, the Dixie Club in Eunice, the Courtableau Inn, Quincy Davis' legendary Avalon Club in Basile, and the Chinaball Club in Bristol, among others. Alphé's son, Shirley Bergeron eventually joined the group on guitar and then steel guitar. In 1950, they made their first recording as the Veteran Playboys, featuring "La valse de Eunice" and "The Chinaball Special."
Alphé and Shirley Bergeron split off on their own and retained the Veteran Playboys name, while Adam joined forces with Claby Richard, Belton Richard's father, on accordion, Dick Richard on steel, Wilfred Labbe on guitar and John Miller on drums to form the Country Playboys. (Nathan Menard temporarily replaced Richard on accordion.) It is under this name and with this group that he made his best-known recordings for Swallow Records between 1959 and 1967. Perhaps his most important contribution to the Cajun music community was his long list of original compositions, including such classics as "Madeleine," "Homesick Waltz," "Pour la dernière fois," "Tu vas jamais casser mon cœur," and "La porte du nord." Some of these, such as "Cette là que j'aime," "Le moulin," and "Braille pas, jolis petits yeux bleus," were obviously inspired by country music. Others, such as "Mon cable et mes éperons," were inspired by revisions of traditional songs. All were lyrically elegant, among the best examples of contemporary Cajun French poetry around. Cajun bands today keep his songs alive by playing them on the bandstands and festival stages and by continuing to record them. Some have been re-energized to become generational anthems, including Zachary Richard's 1970s version of "Madeleine" and Steve Riley and the Mamou Playboys' 1990s version of "La Pointe aux Pins."
One of Adam's strengths is his wonderful sense of humor, as heard especially in "Ouvre cette porte!" in which the singer demands that a faithless lover allow him in so that he can deal with her. In recognition of his remarkable creative abilities, his years of great performances, his legacy of important recordings, and his faithful participation in the preservation of our musical heritage, it is only fitting that we open the door and dedicate this 2003 Festival de Musique Acadienne in honor of Adam Hebert while he is still very much with us to hear our expression of appreciation.