De la cuisine: Savory Salmon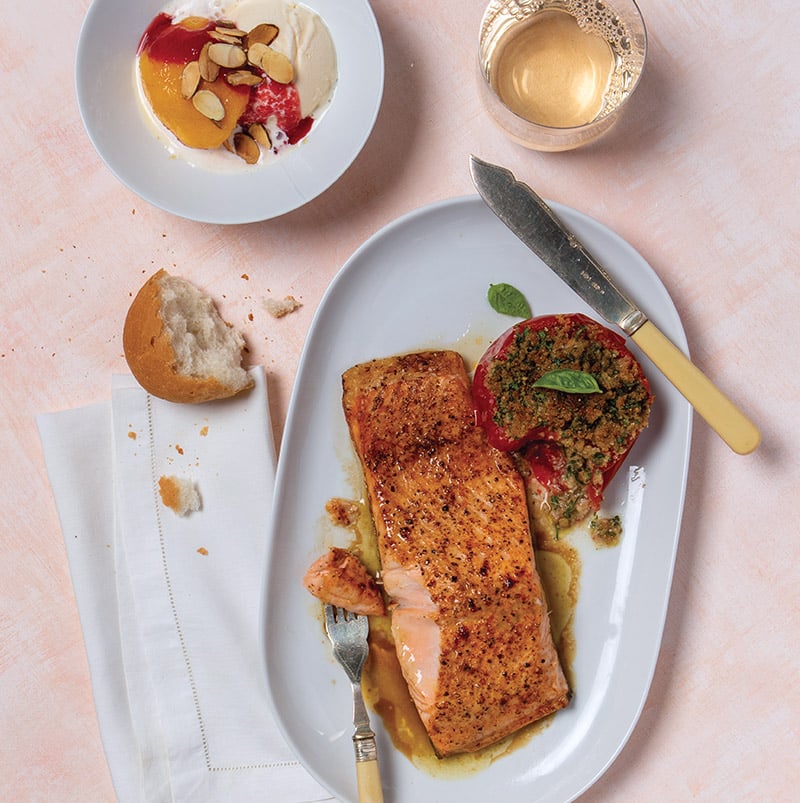 Redfish, speckled trout, flounder and red snapper — longtime Louisiana favorites — are getting harder and harder to come by unless you have the luxury of either catching them yourself or have friends who share their bounty with you. 
Like most of the local population, I've had to find substitutions to satisfy my "fish" tooth. For a while I turned to tuna and now I've become a salmon fan. It's meaty and flavorful and it's commonly sold as a whole side or in fillets.
Poached, grilled, or broiled, then brushed with any number of sauces, it's appearing more and more on restaurant menus. Because of the richness of the fish, I find that side dishes can be simple, like boiled new potatoes flecked with minced flat-leaf parsley from my garden, buttered carrots glazed with a bit of honey and mint, steamed fresh asparagus or green beans also go well with the pearly pink flesh.       
As a first course, I recommend tomatoes Provençale, which are not too heavy or rich.
---
FOR STARTERS
Tomatoes Provençale
Select tomatoes that are not over-ripe so they can stand up well during baking.
4 medium, ripe tomatoes

3 tablespoons olive oil plus additional for brushing

⅓ cup bread crumbs

1 flat anchovy fillet, rinsed, patted dry and minced

1 teaspoon minced garlic

⅓ cup grated Parmesan cheese

⅓ cup minced parsley

3 tablespoons finely chopped fresh basil leaves

salt and black pepper
Cut off top third from each tomato and discard. Scoop out seeds with small spoon. Brush outside of tomatoes with olive oil.
Put tomatoes, cut sides up, on a lightly oiled shallow baking pan. Season inside tomatoes with salt and pepper. Bake at 325 F for about 20 minutes. Remove and invert over paper towels and let drain about 15 minutes.
In small bowl, toss bread crumbs, anchovy, garlic, Parmesan, parsley, basil and salt and pepper to taste. Divide equally and stuff into tomatoes. Sprinkle with three tablespoons olive oil. Return tomatoes to shallow baking pan and broil about four inches from heat for about two to three minutes, or until the topping is crisp and golden brown.
Serves four.
---
MAIN COURSE
Broiled Salmon with Citrus Juice
Here are just a few tidbits for cooking salmon. I like the flavor grilling imparts, but I prefer baking or broiling salmon because I find that sometimes my salmon sticks to the grill and can easily be overcooked, but you can experiment to find your favorite method.
3 tablespoons butter, melted

2 tablespoon olive oil

2 tablespoon fresh lemon juice

1 tablespoon fresh lime juice

1 tablespoon Lea & Perrins Worcestershire marinade sauce for chicken

4 salmon fillets (with skin), about 6 to 8 ounces each

salt, cayenne and freshly ground black pepper to taste
Preheat oven to 400 F.
Combine butter, oil, lemon and lime juice, and Worcestershire sauce. Place fillets in a shallow baking pan. Drizzle half of the sauce evenly over the fillets. Combine salt, cayenne and black pepper and sprinkle over fillets. 
Bake for about 10 minutes if you like the fish to be buttery rare; 2 minutes longer if you want the fish firmer. Drizzle with the remaining butter sauce before serving.  This is great to serve on a bed of creamy mashed potatoes. 
---
FOR DESSERT
Peach Melba
❶ In a large skillet combine 1½ cups sugar, ¾ cup water and ½ teaspoon pure vanilla extract over medium heat. Stir until sugar is melted and mixture has thickened to a thin syrup. Reduce heat to medium-low.
❷ Place 4 medium-size peaches, peeled, seeded and halved in a single layer in syrup and cook gently until slightly soft and tender. Baste fruit with syrup while cooking. Using a spatula, carefully remove peaches and drain on a wire rack.
❸ Puree 1 pint fresh raspberries with 1 tablespoon Kirsch or raspberry liqueur in a blender or food processor. Work sauce through a sieve to remove the seeds. Add confectioners' sugar to taste. Refrigerate until well chilled before serving.
❹ To serve, place each peach half (hollow side down) over a scoop of vanilla ice cream. Spoon sauce over each peach and sprinkle with toasted almond slices. 
Serves four.
---