Crunch A Bunch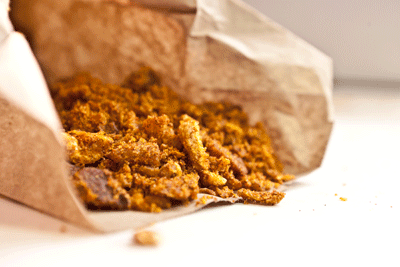 Call them cracklings,
cracklins or gratons, but please don't call them "pork rinds." People around the world love fried pork skins, which come, depending on region, with varying levels of attached fat and skin. In some parts of the world, they're known as pork crackle, scratchings, chicharrones or scrunchions, and in the Netherlands, they call them knabbelspek, which roughly translates to "bacon nibbles." Mmm, bacon nibbles! They're a popular bar snack and are prevalent in the chip aisles of stores everywhere. In the U.S., cracklins are very much a Southern tradition, and in South Louisiana, the fried pork ritual is brought to tremendous heights at many of the same places that draw pork-lovers of another breed – those in search of boudin – to their counters. In Acadiana and its environs, you shouldn't be eating commercial pork skins from a sealed plastic bag because in most mom-and-pop grocery stores and meat markets throughout the region, you can find crunchy golden nuggets of highly seasoned fried pork belly served warm and sold in any quantity you desire. Aficionados debate the finer points of what, precisely, they believe constitutes the ideal cracklin experience, but research demonstrates that a perfect combination of crunchy skin with crisp – but not dry – alternating layers of fat and meat is what most strive to find. When it comes to seasoning, you can expect most places to use a unique proprietary blend of salt, red pepper and other spices. No doubt exists that, just like the perfect glazed doughnut, getting your cracklins fresh from the fryer is the best way to go.
What are they, and how are they made?
A wide range of tactics are employed to make a good batch of cracklins, and even the most skilled cracklin-making experts will attest to the fact that the time and attention that go into getting it right is arduous. At the Cracklin Festival in Port Barre each November, you can walk through the festival grounds and see the intensity on the faces of the cracklin masters. They know that in addition to the quality of their ingredients, it is a matter of perfect timing that separates a cracklin that is hard and tooth-testing from one that is sublimely crunchy with plenty of porky punch. Most start with strips or chunks of pork belly with a fair amount of layered fat and meat. Customarily this was an integral part of a boucherie, and the cracklins were just one of the many delicacies to come from the communal butchering of a hog. The pork chunks begin cooking in a large cast-iron pot with a little water to get them started. As the lard is rendered, the water evaporates, and it isn't long before the pork is frying in its own lard. They have to be tended fairly closely with near-constant stirring. From here, techniques vary, but most follow a double-frying method, and some toss a little ice or cold water in at the very end of the cooking process to create a frenzy of activity in the hot oil that ensures a puffed and pocked skin; either way, once the pork "pops," it is done. From start to finish, a batch of cracklins will lose 50 to 60 percent of its weight.
Add to this the time and attention involved, and it is easy to see why these delicious pork snacks cost more than filet mignon.
Make no mistake about it: You're eating the same basic material as bacon here, so you're not going to get your cardiologist's OK to head off for an extended trip on the Cracklin Trail. However, it is so delicious – and we're so set-apart in having this unique treat – that taking advantage of it (if only in moderation) can, in fact, be nourishing to the body and soul. We suggest you begin by giving these places a try:
Babineaux's Slaughterhouse
1019 Babineaux Road, Breaux Bridge, 337/332-1961
Babineaux's is old-school. There is no denying it, and no one is trying to hide it. From the off-the-beaten-path setting to the preparation techniques, this is the place you come when you're looking to connect with the traditional way of doing things. The cracklins are expertly fried in a huge generations-old black pot and emerge with blistered skins, light and crunchy exteriors and thin strips of sometimes-chewy meat. There is a lot more skin and fat than meat on these, but the style speaks to a way of formulating the cracklins cast in a different era, and these are perfection in their own right. They're simply seasoned, which allows the pork to shine.
Billeaud's Grocery
111 E. Main St., Broussard,
337/837-6825
Perhaps one of the coolest things about Billeaud's (aside from the fact that it's been in business since the late 1800s) is that you can get "cracklin crumbs." Yes, for less than half the price of the regular cracklins, you can get a little baggie of crumbs. Why? Corn bread, my friend, corn bread. Billeaud's always has a box of fresh cracklins ready to replenish the ones out front when they run low, so fear not if you're worried about them ever running out. These are good cracklins with all the expected attributes and a fair amount of Billeaud's house-blended seasoning for good measure.
Billy's Boudin and Cracklin
904 Short Vine St., Opelousas,
337/942-9150
Billy's Boudin and Cracklin on Short Vine in Opelousas is, essentially, just a boudin and cracklin hut. It sells two boudin recipes (Billy's and Ray's), and it sells two cracklin recipes, too (one is seasoned, and one only has salt). We sampled the fully seasoned gratons and found them to be excellent in flavor and heat. The large chunks contained plenty of skin, fat and meat that was crunchy but still had that soft interior we like. Perhaps the only downside to these gratons was that they were not warm. If you get 'em hot from the fryer, these would be hard to beat.
Bourque's Supermarket
581 Saizan St., Port Barre,
337/585-6261
It is a pleasant drive to Port Barre for a venture onto the Cracklin Trail, and Bourque's does not disappoint. These cracklins are touted as being "world-famous." The truth is that a lot of homemade items at Bourque's are given that title. We'll leave the veracity of such claims to another article. Suffice it to say that these cracklins were fresh, super-meaty and crunchy with a perfect complement of fatty moisture, adding texture and tons of flavor. There was a hint of sweetness in the seasoning, which we wish had been a touch hotter, but that is really just quibbling. We'll be back for these, and we suggest that you give 'em a try.
Bourque's won the Port Barre cracklin cook-off a couple of years back, and that is a high honor. Clearly, Bourque's isn't just resting on its laurels.
Cormier's Country Store
792 Main St., Cankton,
337/668-4467
Cormier's is a cool little store in the country (thus the name). This place is definitely worth a stop, even if the cracklins need a little more oomph. They are kept behind the counter in a glassed-in container without any kind of a heat lamp to keep them hot. So if you don't happen to get a batch fresh from the fryer, they're not likely to be warm. The hunks of bone-dry pork skin leave meat that flakes apart when bitten. The fat caps possess a smooth and super-hard texture. Crunchy is good, but hard is not. The seasoning, on the other hand, was fantastic: plenty of it and perfectly blended. These meaty gratons have some strong possibilities.
Dave's Quality Meats
804 E. Dale St., New Iberia,
337/364-3441
Dave's is a contender when it comes to cracklins. These nuggets of pork perfection were served warm and were crunchy on the outside and tender on the inside.
The fat and meat did not have all of the moisture cooked out of them. Sometimes we find cracklins are too dry; these were not dry at all and added a new level of flavor. Unfortunately, the cracklins, while expertly cooked, were too lightly seasoned. That's easily remedied, though, by asking for a little more seasoning (but we'd double-check to see if they need it before making the request). We're not big fans of Dave's boudin, but the cracklins have real potential – especially if you're looking for some without much heat.
Don's Specialty Meats
730 Interstate 10 S. Frontage Road, Scott, 337/234-2528;
104 Highway 1252, Carencro,
337/896-6370
By any calculation, Don's is a powerhouse in the fields of boudin and cracklins. Its reputation is well-deserved, and a sampling of Don's fresh cracklins seals the deal. Here the meat-to-skin-to-fat ratio tips more heavily toward the meaty side. Each bite is a full balance of flavors: hearty, porky and satisfying. The skin is thin and super-crunchy. Bite lightly, for the density of the skin is significant. The seasoning evenly coats each cracklin with the perfect blend of peppery goodness.
The amount of cracklins they sell at Don's ensures that yours will be fresh and warm (if not hot!), as no place in all of Acadiana sends more cracklins out the front door.
Early's Food Store
1410 St. Mary St., Scott,
337/234-4592
Upon entering the store, take a hard right and head to the deli window. Here's where you can get a small variety of delicious prepared foods and sandwiches to go. The potato salad Early's makes to go along with its Sunday lunches is one of our favorites. But we're usually here for the cracklins. They're kept in a newspaper-lined pan toward the back of the cooking area. The skins are light and fluffy (if that term can be applied to a cracklin at all), more akin to a pork rind than the harder skin found on many Cajun cracklins. There is still a great crunchiness to the skin, and it plays nicely off of the meat and fat. Early's makes its own secret seasoning blend ("Now It's Cajun"), and it is put to good use here. The cracklins are heavily seasoned and take on the red tones of the cayenne and paprika to create visual appeal.
Hebert's Boudin & Cracklin Express
2926 Grand Point Highway, Henderson, 337/667-8827
Many places draw the line at offering a gratis graton (or is that graton gratis?), but not at Hebert's Boudin & Cracklins Express. At $13 per pound, it is easy to understand why places don't hand out their nibbling pork, but here they'll give a taste of what they know you're going to want more of. Plus, they keep the cracklins toasty warm under a powerful heat bulb, so you're not going to get cold gratons here. How nice is that? The cracklins they offer are exceptionally large, exceptionally crunchy and exceptionally tasty. The seasoning, though, is good but not great.
Hebert's Meat Market & Slaughter House
7630 W. Louisiana Highway 338, Abbeville,
337/893-5688
Hebert's Meat Market & Slaughter House is located on the outskirts of Abbeville, and it has served the community for more than two generations as a full-scale butcher shop and slaughterhouse. Here is where you can get all the custom cuts that other places just can't accommodate. There are plenty of band saws around for meat- and bone-cutting, and one result of all the meat-cutting they're doing here is an abundance of fresh pork skins for making cracklins. These skins are not your standard cracklin-making material. The chunks are longer and somewhat meatier than other places. Unfortunately, the resulting cracklins struck us as being overcooked and underseasoned. The red color might lead you to think they'd be hot, but that was not the case. This place is a classic, and we're sure the cracklins are made with old-school love.
Kelly's Country Meat Block
1531 S. Union St., Opelousas,
337/942-7466
Kelly's has a quality setup in Opelousas, and the attached diner is known for its great food. Inside the Meat Block you can get all sorts of top-quality roasts and stuffed specialty meats along with a small selection of grocery items. The cracklins sit behind the counter under a heat lamp, ready to be bagged for your snacking pleasure. These nuggets of fried porky goodness are small and mostly dry (though the fat part retains some juice). The seasoning is decent but perhaps a little too sparse. Overall, they are good – not great – though more than worth a sample.
Legnon's Boucherie
410 Jefferson Terrace, New Iberia, 337/367-3831
Legnon's Boucherie is, perhaps, the finest meat shop in New Iberia. Fresh meats of all varieties are served to the throngs of waiting customers who queue up with a number in hand. Their small bags of cracklins sit in a carved piece of wood resembling a pirogue. They're not warm, and they're not meaty, but they have a certain pure pork flavor that is sometimes muddled in other gratons. The seasoning is slightly one-dimensional, but the crunch is absolutely perfect. For a little bag of cracklins to take with you on the road though, Legnon's will not disappoint. Note: Legnon's spells it "cracklings."
NuNu's Fresh Market
509 Lafayette St., Youngsville,
337/856-6889
Wow! These are some good cracklins: perfectly crunchy skins while still maintaining enough moisture on the interior fat and meat, plenty of meat with a crisp flavor and a spice blend that is ideal and applied generously. Plus the cracklins are kept plenty warm, so even if you don't get them directly from the black pot, they're still going to be toasty and tender. Yes! We like these cracklins! We even had a sneak peek at a special mechanical cracklin paddle wheel NuNu's employs to ensure uniform cooking. A lot of quality goes into the cooking at NuNu's. Do yourself a favor, and head that way.
Plauche's Homemade Cracklin
Around Cottonport
Out in the country around Cottonport, Raymond Plauche is known to make some of the finest cracklins in the state: highly regarded for their tremendous size, unique meat bands and exquisite thin and crispy skins. You can't buy these in any store; they are a "private reserve" graton made only for friends and family. We list them here as a reminder of all the individuals out there who are still making their own cracklins.
Richard's Meat Market
117 Park Ave., Abbeville,
337/898-0836
This place is a throwback to a bygone era; stepping into Richard's is like stepping back in time. Hand-carved meats and a limited supply of specialty items are for sale, but the homey atmosphere with generations-old fixtures makes for a fabulous ambiance. Known as a popular spot to get boudin in Abbeville, Richard's cracklins are first-rate, as well. The cracklins are home-cut in plain sight. There are some exceptionally long pieces, and the skin is a perfect blend of puffed skin with a crisp exterior that has started to bubble and pop from the hot grease. These are some darn satisfying cracklins in a great little city.