Creating Afforfable Plans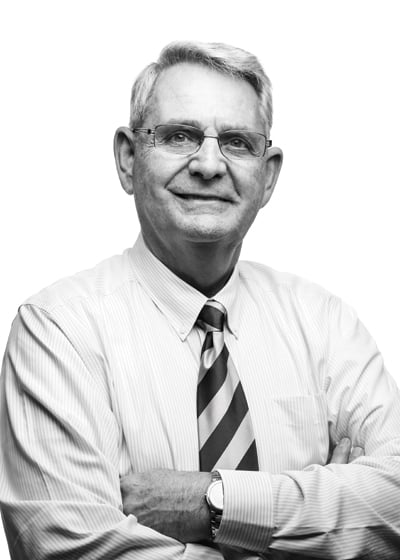 Whybra Joseph Duay Jr.
Morgan City
Specialty: Orthodontics
• Louisiana State University, 1962
• Loyola University New Orleans, 1966
• West Virginia University, 1975
Dr. Whybra Duay Jr. says his most difficult case was roughly 20 years ago. The patient was a 15-year-old boy with severe skeletal Class II anterior open bite – there was a large vertical gap between his upper and lower incisors (front teeth). In addition, the boy had crowding in both arches, with an especially narrow maxilla (upper jaw) and an impacted right maxillary cuspid (his top right canine tooth). Normally, this sort of case would call for surgical correction, but "the family was not in a financial situation to afford it," Duay says.
However, citing how important it is to use orthodontics to make positive changes in his patients' lives, Duay developed a compromised, affordable treatment plan.
After 30 months of treatment, the patient's smile had notably improved. "The final result was far from ideal, but it provided a major change in his appearance and self esteem," Duay says. "Everyone was happy, so I was also."
Duay's educational credentials include undergraduate study at LSU and dental school at Loyola University New Orleans. After his two years of service in the Air Force, he attended West Virginia University for orthodontics.
In addition to his practice, Duay is an active member of the local, state, and national Orthodontic Associations. Furthermore, he is a charter member of the Alexander Discipline Study Club of America, an innovative technique developed in the 1970s by Dr. R.G. "Wick" Alexander of Arlington, Texas, that utilizes a prescription of unique dental brackets for individual teeth.
As for his personal life, Duay has been happily married for 52 years. He has five children and nine grandchildren. He is deeply family-oriented, an avid beach-goer, and, in his spare time, enjoys small carpentry projects around the house.
Duay's major concern for the future of orthodontics lies primarily in prospective patients doing their research when choosing an orthodontist, including making sure that the doctor has had proper orthodontic education. "I hope patients become informed before they let someone perform," he says. His "small town, low-volume practice" in Morgan City includes three full-time employees and two part-time employees, but has a big impact in the community – they regularly treat around 160 patients per week.