Cooking for Celebs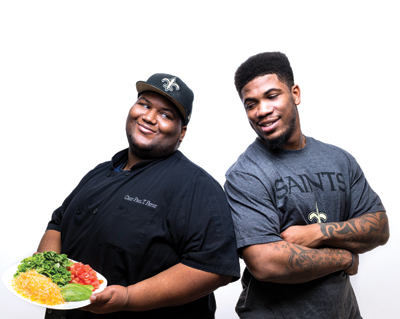 As he goes on and on, talking about the impressive mouths attached to the famous faces he feeds on the regular, personal chef Paul T. Payne cringes because he knows the joke is coming – a way-too-obvious one-liner so succulently corny it's impossible to not utter.
And yeah, he's not gonna lie, the first 12,000 times he heard it, he chuckled a bit.
But now, now it's just played out, colder than leftovers.
"My first client was Dwayne 'The Rock' Johnson," he says. "So can you imagine how many people have asked me, 'Can you smell what The Rock is cooking?'" he says, referring to the old wrestler-turned-actor's signature catch phrase. "My lord, practically everybody. Oh man. It's like my friends can't help but say it. And then it turned into, 'Can you smell what Chef Paul is cooking?' Actually, that was kind of cool: Can you smell what Chef Paul is cooking?"
With Payne, though, the better question to ask is for whom is he cooking. After establishing himself by preparing meals for the gregarious pro wrestler/actor during a six-month stint, the Opelousas native now cooks for three New Orleans Saints – rookies Kenny Vaccaro, Kenny Stills and Kevin Reddick – and newly acquired New Orleans Pelicans shooting guard Tyreke Evans.
Waking up at 5 a.m. Monday through Friday to accommodate the eating needs of finely tuned athletes, Payne is inadvertently subjected to the ebbs and flows of their successes and setbacks on game days. When the Saints win, his clients are smiling before they shovel in their first forkful. When the Saints stub their toe, Payne knows better than to start small talk. As a former high school football player, he gets it. It's totally out of his control.
"All I can do is make the food. That's it," he says. "And I guess they like it. I've had about 10 Saints players ask me to cook for them, and I just can't cook for all of them," he says. "I've had a couple of them approach me and just tell me that the practice facility food is not good, and I'm like 'How can that be?' This is the NFL. How is y'all's food not good? That makes no sense. Like Vaccaro, he'll starve himself all day to wait to eat my food. I told him, I'm flattered but that he probably should eat."
Payne's informal culinary education began at an early age. The grandchild of two heavy-handed cafeteria workers, Payne frequently hung around the stove while the other children ran around the neighborhood. There was just something about it, he recalls. The longer he lingered, the more and more responsibility Maw Maw placed upon her wide-eyed guest. Add some salt. Stir this until it's brown. Pull that pan from the oven. Payne was hooked.
"All my other guy cousins were outside – and I was into sports, as well – but I was the only one in the kitchen looking to see. You know, 'What is she doing?' 'How is she doing that?' And they'd let me watch. And they were old-school. Not a lot of measuring going on in there. It was all in her head, but it worked. I don't remember ever tasting anything and saying, 'Ew, that's nasty.' For one, I knew better. But, two, it was always amazing. And that's what got me: People taking a bite and going, 'Oooh, your food is amazing.' It's crazy how good it feels to hear that."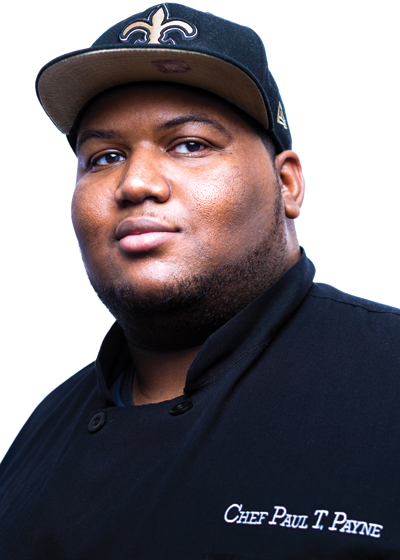 Years later, while instructors at Louisiana Culinary Institute were trying to fill Payne in on the cooking gaps Grandma didn't cover, he began Internet correspondence with Gason Nelson, the personal chef for NFL running back Reggie Bush and NBA All-Star Chris Paul. Soon, that friendship blossomed as Payne took frequent trips into the city to lend Nelson a hand in food preparation.
"I was going to culinary school hoping that one day I could open my own restaurant or work offshore," he says. "Being a personal chef … I didn't even know what that was."
Payne's apprenticeship was brief. In 2010, Nelson followed Bush when the Saints traded the former first-round pick to the Miami Dolphins, leaving behind The Rock – an A-lister he added to his clientele base when the action hero was filming a movie in New Orleans. Willing to give Payne his first break, Nelson recommended Payne handle Johnson's complicated food needs.
"I'm 21 at the time. I'm in culinary school. I'm living in Baton Rouge, and you're asking if I want to be the chef for Dwayne Johnson?!" he recalls thinking. "Are you kidding? Oh man, of course! Who would turn that down? And for a first client, you couldn't have had a better person. But he had a very specific diet, so you were always on-call. It'd be 1 a.m., and I'd get a call, and be like, 'Damn,'" he says. "But I made a commitment."
Now that he's somewhat established, Payne's new challenge consists of finding unique ways to surprise the palates of his patrons while ensuring the content of his meals provides the mandatory sustenance to perform at an elite level.
"They come to me for that twist," he says. "I like when a recipe gets twisted. There are no jalapenos in this recipe? Well, let's throw some in and see what happens. A recipe isn't a rulebook; it's a guide, but you're allowed to wander off the path – and that's what I like to call the twist."
---