christmas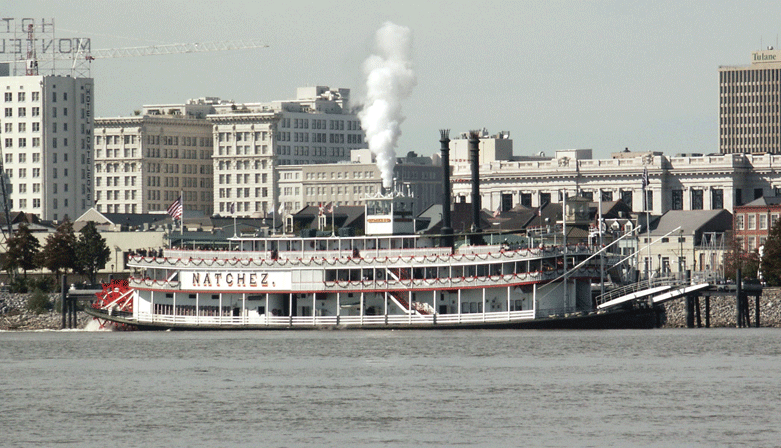 Welcome to the final installment of Traveler's yearlong tour of Louisiana waterfronts, featuring this time the Mississippi riverside pleasures of Greater New Orleans, and we are timely come. 'Tis the season of special Christmas performances, special tours and dazzling decorations everywhere –– homes and streets, streetcars and steamboats, hotel lobbies and restaurants. It's also the season of 70-degree "courtyard days" for dining, and along the streets you'll be greeted by costumed actors playing the parts of bygone New Orleans characters.
There's great gift-shopping all along the river, from the famous French Market to the stores and boutiques of Riverwalk, Canal Place and old Jax Brewery. Major hotels and historic French Quarter lodgings offer special Papa Noel rates, and restaurants feature special Réveillon menus, day and night throughout the season, although the Réveillon custom began with the feasting that followed midnight Mass.
Plan ahead by contacting the French Quarter Festivals office –– call (504) 522-5730, or visit FQFI.org –– for its Christmas New Orleans Style booklet, filled with lists of special attractions and events, such as the Canal Street and French Quarter Christmas parades on Dec. 4, the Celebration in the Oaks decorations of City Park and the French Quarter Homes Tour and Jackson Square caroling sponsored by the Patio Planters on Dec. 19.
For many, the highlight of the season is a Christmas Eve drive upriver to enjoy the old tradition called Bonfires on the Levee, miles of giant log structures, mostly between Convent and Lutcher on the east bank, that are set ablaze at 6 p.m.
Down by the Riverside
Christmastime (or anytime), a logical place to begin a riverfront tour is at Audubon Zoo, at the river end of Audubon Park. The post-Katrina interruption of steamboat rides from Canal Street to the zoo will end eventually, but in the meantime, it's an easy ride from the French Quarter by car or St. Charles Avenue streetcar. After a walk through the Louisiana Swamp Exhibit, African Savanna, Asian Domain and other "worlds" of this major American zoo, head back downriver to Mardi Gras World, 1380 Port of New Orleans Place (off Convention Center Boulevard) at riverside.
Creator of a half-century of local Carnival floats, designer Blaine Kern parks his most lavish works at Mardi Gras World for the pleasure of his visitors: spectacular modern floats and nostalgic older ones.
A few blocks downriver, the Warehouse/Arts District offers galleries and the Children's Museum along Julia Street; the National World War II Museum on Magazine Street; and the Contemporary Arts Center, Civil War Museum and memorable Ogden Museum of Southern Art on Camp Street.
The Riverwalk's parade of shops leads right down the river to beautiful Spanish Plaza, where several major attractions, all just a few steps away, will be vying for your attention. You might, for instance, head to the city's ferry dock to explore picturesque Algiers Point on the Westbank (or just take a quick round-trip river ride), or visit the Creole Queen steamboat dock –– call (504) 529-4567 to sign up for an evening Jazz-Dinner Cruise or afternoon Port of New Orleans Cruise (with a Chalmette tour stop at the War of 1812 battlefield and national monument). Or spend some time at Harrah's Casino or at the big Aquarium of the Americas or incredible new Audubon Insectarium (in the historic U.S. Custom House, with its granite Egyptian Revival exterior and breathtaking Greek Revival interior).
From Spanish Plaza, Woldenberg Park provides a nice walk beside the river (or you can ride an apple-red riverfront streetcar) to the Natchez IX steamboat dock, departure point for daytime Harbor Cruises and nighttime Dinner-Jazz Cruises. Call (504) 586-8777 for more information. Where the Woldenberg promenade ends, the Moonwalk begins –– a broad boardwalk with benches for relaxing as you count the international flags of passing ships. When you rise from your bench, an about-face will reveal a stairway to the top of Washington Artillery Park, where raised terraces provide lofty views of Jackson Square.
French Quarter
The old Spanish and French military parade ground now called Jackson Square devotes its perimeter to darn good street artists and tour-carriage parking spaces, and that whole scene is surrounded by five of the most significant colonial and antebellum structures in Louisiana: the twin Pontalba Apartment buildings flanking the square; the famous centerpiece known as St. Louis Cathedral; and, flanking the old church, the near-twin Cabildo and Presbytère, which combine to form the hub and heart of our state museum system.
Spread out beyond the square, the French Quarter offers a hundred blocks of interest and entertainment, with food and music topping the list. You'll find traditional jazz at such landmarks as Preservation Hall and the Maison Bourbon, but don't miss the "new New Orleans sounds" (think Marsalis, Connick, Neville, Ruffins, Mayfield) at Tipitina's; House of Blues; and dozens of clubs in the nearby Marigny, Treme and Bywater districts. As for the food, hunger is your best friend here, providing at least three opportunities a day to enjoy traditional cream-based, saucy Creole cuisine or today's fiery Cajun concoctions and creative "nouveau Creole" fare.
As for history and architecture, the whole Quarter is one big colonial landmark, with a casual sort of charm that enthralls the enthusiast and entices even the usually uninterested. Even the museums, from large to tiny, are a little different here, celebrating topics such as absinthe, Southern Comfort, Jax Beer, voodoo, local religious history, pharmaceuticals (complete with leech jars and voodoo paraphernalia) and Mardi Gras. They range from lighthearted –– the Musée Conti Wax Museum where New Orleans history comes, well, almost alive –– to the thoroughly engrossing Historic New Orleans Collection. The HNOC boasts an almost one-block-square complex of significant structures, where tours include a walk through 300 years of local house types and an 11-gallery walk through Louisiana history, from exploration to a lively and nostalgic look at the 20th century.
For casual or obsessive shoppers, antiques shops abound; couture ranges from haute to has-been; showrooms such as Josh Pallet's Gallery of Fine Photography offer masterpieces of canvas and Kodak; and purveyors of miscellany offer such marvels as vintage hardware, perfumes (most notably the historic Hové Parfumeur at 824 Royal St.), cookware and fabulous wooden toys.
For those captured by the charms of historic homes, the Quarter offers tours of Gallier House, home of a leading 19th-century architect; Hermann-Grima House, with its amazing old fireplace-kitchen; Beauregard-Keyes House, with its memories of a Civil War general and mid-20th-century novelist; Madame John's Legacy, a relic of the 18th century; and, as part of the Historic New Orleans Collection, an 1930s interior furnished by HNOC's founders, Gen. and Mrs. Kemper Williams.
Overwhelming? Aw, just take a carriage ride, take notes, take some walks, and take your time.
Other Fronts
Besides its crossings to the cool cafés and music venues of Algiers Point, the Canal Street Ferry also provides upriver runs –– call (504) 376-8180 for the varying schedule –– to the Westbank city of Gretna. You'll debark at the Gretna Historic District, and the primary landmarks of the district are just a short walk up Huey P. Long Avenue.
Facing the landing is a 1907 former courthouse, now City Hall, with its great Old Gretna photo exhibit and restored courtroom, and two blocks inland is a 1906 Southern Pacific depot (Huey P. Long at Fourth) that's now the Gretna Visitor Center, where you'll be greeted by a life-size bronze statue of Gretna favorite son and Giants baseball legend Mel Ott. The old station is furnished appropriately with an iron stove, model trains and railroading paraphernalia, and along with the usual brochures, you'll find memorabilia of Ott and other local celebs.
Leaving the Visitor Center with a Historic District map in hand, it's another block up Huey P. Long to an old stone schoolhouse now being restored to house a Jefferson Parish museum on the upper floors, and its ground-floor German-American Cultural Center is already open for exhibit browsing.
Nearby, at Second and Lafayette, is a museum complex that includes an 1859 firehouse, working blacksmith shop and three antebellum Creole cottages. The David Crockett Volunteer Fire Company No. 1, filled with pristine firefighting paraphernalia of the past, is Louisiana's official State Fire Museum, and its centerpiece is a big-wheeled horse-drawn fire engine built in 1876.
Upriver from Gretna in the original Salaville district of Westwego, an old general store at 275 Sala Ave. houses the Westwego Historical Museum, where aisles and display cases still contain vintage merchandise. One room is dedicated to community history, and upstairs rooms are furnished to re-create their role as the storekeeper's home.
Brick ruins at the levee mark the site of the old Company Canal locks, where Confederate batteries once guarded the river and where steps climb the levee to Westwego's Lazy River Landing, with its pavilion and benches for river-watching. Across the river, where Williams Boulevard meets the Mississippi in Kenner, the Rivertown Historic District is a pleasant mix of shops, restaurants, a planetarium/theater and museums. There's also a Renaissance-flavored Children's Castle; a Native American center; and, in the center of it all, Heritage Park, which recaptures the spirit of early-day Kenner with its old-timey gas station, packing shed, icehouse, blacksmith shop and white-spired church.
Best Bets
Best Deal: When I was at LSU on a Booray scholarship (aka Bourrée), the playing card packs favored by my Cajun buddies were Bulldogs, with two snarling canines (Trip and Squeezer) tethered to two doghouses above the slogan, "There is a tie that binds us to our homes." Now that ancient French gambling game (a deadly combination of bridge and five-card stud) has gone national, thanks to considerably more colorful cards whose faces pay tribute to such Louisiana-isms as gators, pelicans, magnolias, steamboats and Mardi Gras royalty.
Try the game at boorayonline.com, and then buy it at amazon.com or winning-moves.com. The $9.95 boxed set comes with play money –– far less painful for beginners who "booray" (fail to take any tricks) and thus have to match the pot.
Speaking of Pots: The almost-magical new Cajun Rocket Pot, invented by thermal-conduction expert Todd Tunstall of New Orleans, can boil water and have crawfish on your table in 25 minutes with significant fuel savings, compared to conventional crawfish pots that take 30 minutes just to heat the H20. Or drop a turkey into boiling oil, and then watch the temp drop only 2 degrees and regain them in two minutes flat. To witness such marvels, visit cajunrocketpot.com.
Wildest Ride: My friends in Alexandria/Pineville are full of talk about the new Gone Wild Safari range at 805 Hooper Road (just north of Pineville), where 150 animals including many exotics –– zebras, giraffes, llamas, wildebeests and more –– roam the park's 50 acres. Enjoy the photo gallery and lots of good information at gonewildsafari.com.