Chasing Eagles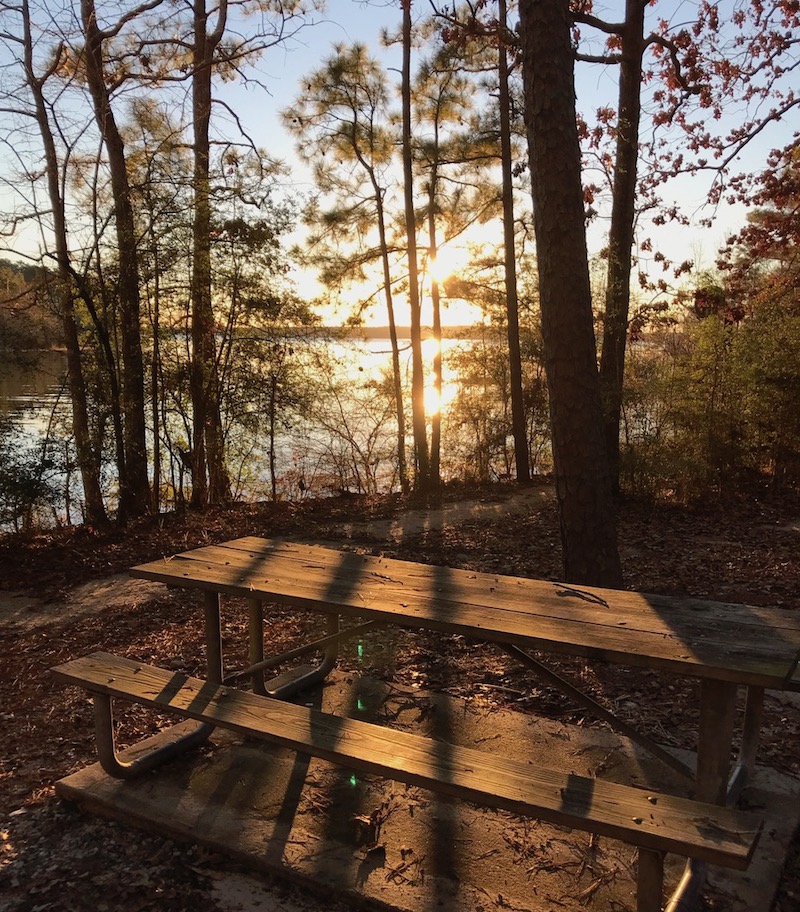 Years ago, on a visit to Toledo Bend I spotted a bald eagle's nest in a remote spot of South Toledo Bend State Park. When January rolled around this year and I was in bad need of a nature fix, I headed to the park located about two hours north of Lake Charles. Winter is the perfect time to spot bald eagles – our national avian who heads south this time of year – in Louisiana. In fact, a 2018 survey conducted by the Louisiana Department of Wildlife and Fisheries showed 264 active nests in southeast Louisiana alone.
South Toledo Bend State Park consists of several cabins facing the lake and ours including a separate bedroom with a queen bed and a room with double bunkbeds, perfect for our group of three. The couch also pulls out into a bed so larger groups may be accommodated. A full kitchen allowed us to create our own meals – the nearest restaurants and stores are several miles away – and the living room featured a wood-burning stove, perfect for our chilly night.
Once we got settled, we headed for the Eagle's Nest Hiking Trail, which begins at the end of the road leading to the cabins and skirts the lake half of the time and takes hikers through forests the other half. At the end of the trail hikers receive a great vista of the dam that created Toledo Bend Lake reservoir in 1964. We spent a good hour following the trail, enjoying gorgeous views of the lake, the deep pine forest, a flock of pelicans flying by and remnants of wildlife and fungi.
But no eagles.
We later learned that the massive eagle's nest had been destroyed in a hurricane but bald eagles still frequented the lake. Our helpful park ranger suggested early mornings for a possible sighting.
Other trails within the park include the 1.5-mile Hippie Point Hiking Trail that follows the shoreline and ends at the park's "beach," a sandy shoreline complete with an alligator warning sign (we only spotted turtles). The welcome center also contains a shoreline trail and a walkway over a lagoon that ends at the lake boat launch.
All trails come highly recommended, especially for nature lovers, because this time of year visitors are few and the lake devoid of noisy motorboats. On a Wednesday night, we were only one of two cabin dwellers and we never encountered other visitors on our trails.
Our cabin (Number 4) offered the perfect spot for a sunset so we opted to build an outside fire and watch Toledo Bend turn shades of auburn, orange and crimson. A moon rose and perched right over our treetops.
Sleeping was a different story. Mattresses are covered in plastic so cabin beds aren't the most comfortable, so it's recommended to bring a foam mattress cover for an extra layer of softness. Linens are provided but an additional blanket in wintertime comes in handy, especially if you want to sit outside and star gaze.
The next morning, while my buddies were still asleep, I slipped on to the back porch and searched the skies for eagles. The lake glimmered in the morning light, the surface a visual symphony of reflection. I heard songbirds in the bushes to my left – cardinals, chickadees, wrens. On a nearby cove a kingfisher called out.
But no eagles.
I let my camera hang at my side and realized that searching for an elusive bird missed the point; I needed to savor this chilly winter morning, enjoy the sun on my face and the ripples of water as if tiny fairies danced there, their feet creating sparkles of light. Smiling, I did just that.
And in that second an eagle flew by.
Visit the park
South Toledo Bend State Park is located on 120 Bald Eagle Road a short drive outside the town of Anacoco. Entrance fees are $3 a person, free to seniors ages 62 and above and children ages 3 and below. Cabins rent for $150-175 a night and include a stocked kitchen (no food, naturally) and linens.
In other eagle news…
Morgan City hosts an eagle expo every year for the American bald eagles making their homes in the Atchafalaya Basin. The 14th annual Eagle Expo and More will be Feb. 22-23 in Morgan City and surrounding areas. For information, visit www.cajuncoast.com/eagleexpo.