Cajun Comic Relief Provides Comedy For All Ages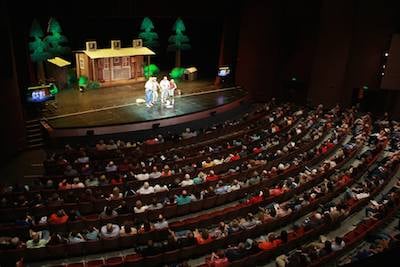 This weekend you can put your troubles aside and settle in for four hours of rip roaring comedy during the 25th annual Cajun Comic Relief show.
The show was founded in 1992 as a fundraiser for the Lafayette Catholic Service Center; and throughout the years the benefitting charity has been rotated out, but the goal of getting people to laugh and enjoy the moment has remained the same.
This year's show will feature two local bands and four comedians from all over Louisiana, who have all been tasked with providing clean family fun.
Show founder and Chairman of the board Jim Richard said, "I tell the entertainers if you can't tell your momma don't tell me. It's harder to be funny when you're being clean than it is when you're telling dirty jokes. You can bring your kids and your grandma because it will be a clean night of entertainment."
The family-oriented nature of the humor reflects one of the foundations of Cajun culture.
Board member Mike Blanchard said, "The Cajun culture is very family centered, so one of the purposes of Cajun Comic Relief Inc., is to produce family-oriented humor to benefit the nonprofit we choose that year."
Richard launched the show in 1992 and continues to plan and run it with the help of his board.
Every year he and the board choose a new charity to benefit from the proceeds of the event.
Over the past 24 years, the event has raised more than $1.2 million for local non-profit organizations, including Goodwill Industries and the D.R.E.A.M. Foundation.
This year's chosen charity is Hospice of Acadiana, which has the longest record of continuous service out of any hospice in Louisiana.
The line-up for this year's show includes the Grammy-nominated Cajun Tradition Band, from Mamou, and the high-energy Richard LeBouef and Two-Step band from Lafayette.
After enjoying tunes from these lively bands, and perhaps getting out of their seats to do a Cajun two step in the aisle, the crowds will settle in to hear the show's four comedians.
The lineup includes Acadiana's A.J. Smith, Tommy "TeeRay" Bergeron and Michael "Magic Mike" Dardant from New Orleans and rounding out the bill is, relative new comer to comedy, Cajun Mike from down the Bayou Teche.
A.J. Smith has been entertaining audiences for over 30 years in comedy clubs, on cruise ships, and at festivals throughout the country. Smith is also a past winner of the International Cajun Joke Telling Contest.
TeeRay Bergeron is the 2011 winner of the Gulf South Comedy Challenge; and since serving as one of the show's opening acts last year, the Berwick native has continued to entertain in comedy clubs and on college campuses across the country.
Michael Dardant, a native of New Iberia and former resident of Lafayette, has been a professional magician since the age of thirteen. The actor, comedian, magician and juggler was born in France before moving to New Iberia at the age of five, and has accumulated over 20 first-place and championship awards over the past two years, making him the most decorated magician in the United States.
In addition to the entertainment, this year will mark the first induction ceremony for the Cajun Comedian Hall of Fame.
The first five inductees include the late Dave Petitjean, Ralph Begnaud and Johnny Hoffman, as well as living members A.J. Smith, who will be performing at the show, and The Conque Brothers.
There will be two show times for Cajun Comic Relief, Saturday at noon and 5 p.m. The Cajun Comedian Hall of Fame Ceremony will take place at the end of the 5 p.m. showing.
"To me, laughter is the best medicine, and I truly believe that if you're happy life will go much better for you," said Richard. "There's enough worrying and problems in the world, so why not come laugh and forget your problems for a couple of hours."
To order tickets or for more information about the show, visit ticketmaster.com or call the Heymann Performing Arts Center's box office at 337-291-5555.
---
Events
2016 ACM "New Vocal Duo/ Group of the Year" nominee Parmalee is coming to the Texas Club.
This band of brothers is one of only three groups since 2001 to earn three consecutive Top 10 singles from a debut Country album.
For more information or to purchase tickets visit paramalee.com.
This gathering in downtown's Parc Sans Souci is a fundraiser for kids aging out of foster care who need help transitioning to independence.
At the end of the event, the "seeds" purchased through admission will be dropped to give attendees a chance to win a weekend away at a bed and breakfast outside of Shreveport.
Fun jumps, face painting, games and seed planting will be available for kids at the event.
This Sunday the Clare Cook Dance Theater is holding auditions to seek dancers for upcoming projects in Lafayette, La., from April to August 2017.
Dancers should be 18 and over with training in ballet, modern and/or jazz dance technique. Dancers should be available for pre-determined rehearsal periods.
For more information visit the event page or website.
This free event will celebrate "La Fête de Pâques" with three workshops en français: cute Easter Treats, Easter Crafts and the first Annual Great Egg Pocking Contest.
Attendees should come with five pre-dyed eggs to participate in the "Pock-off."
For more information visit nunucollective.org.