Building Wealth, Business by Business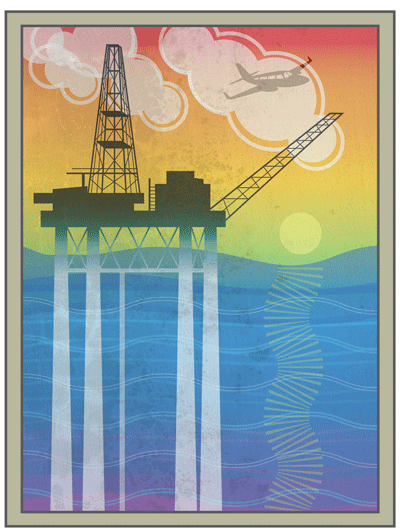 The pursuit of prosperity is as American as apple pie, and judging by levels of economic activity in South Louisiana, it's a facet of Americana that Acadiana has embraced with gusto.
Scores of statistics show that as a recession crippled economic progress in much of the country in recent years, Acadiana showed resilience. The population grew, and personal wealth expanded. Perhaps most striking: Economic progress continued in the wake of a major blow to the region's biggest industry.
The moratorium imposed on deepwater drilling following the 2010 oil disaster in the Gulf of Mexico struck a blow to the entire oil and gas industry. But nowhere was the sting more painful than in South Louisiana. Home not only to oil and gas producers but also to a majority of the businesses that service the Gulf energy industry, Acadiana took the immediate brunt of the moratorium.
Yet, through 2010, the economy of the region as a whole held up well. Although unemployment climbed above 6 percent in the Lafayette area – the heart of the region and a commercial hub – that was still well below the double-digit unemployment rates that plagued many parts of the country.
In addition, the region racked up national business accolades:
• The Miliken Institute's Best-Performing Cities Index ranked Lafayette No. 11 among 200 U.S. metropolitan areas in 2010 based on growth in jobs, income and high-tech business.
• Lake Charles and Houma-Thibodaux were recognized by BusinessInsider.com as being among the 20 Best Cities for Finding a Job, based on their low unemployment rates.
• Six area companies – Bizzuka, Advanced Logistics, Schumacher Group, Maritime International, Acadian Ambulance Service and GolfBalls.com – landed on Inc. magazine's list of the 5,000 fastest-growing businesses in the country.
Economic development specialist Gregg Gothreaux says the region benefits from having a substantial number of businesses – such as oil companies, technology firms and medical enterprises – that generate wealth through the creation of products or by adding value to existing products and services.
"We generally have wealth-creating industries in greater numbers than other areas do," he says. "That's why our economy has done better than most."
Gothreaux, who is president of the Lafayette Economic Development Authority and vice chairman of the Acadiana Economic Development Council, says the region has been fortunate that its traditional heavy hitter, the oil and gas industry, resisted the urge to lay off large numbers of workers in response to the moratorium. "The industry has done a tremendous job of keeping employees on in tough times," he says.
But other businesses also get credit for the region's stability. The medical industry, for instance, has become a regional economic powerhouse in the past few decades. The Lafayette area is the largest health care hub between New Orleans and Houston, and the industry accounts for nearly 15 percent of local employment. Upward of 60,000 people work in health-related fields across the 22 parishes of Acadiana, which is home to several medical centers and a host of specialty facilities.
Expanding wholesale and retail businesses have contributed to job growth in Acadiana, as has the growing tourism industry, which stimulates demand for hotels, restaurants and entertainment establishments.
Meanwhile, traditional areas of strength have continued to expand. Shipbuilders and transportation companies have grown their businesses, as have makers of food products and specialties. In addition, a concerted effort to develop the infrastructure and work force that would attract technology and digital media businesses to the area appears to be paying off with new enterprises setting up shop as others expand.
Gothreaux says the growth in commerce is reflected in the millions of dollars being spent on bricks and mortar. "We're $100 million over our projections this year in construction for Lafayette Parish alone," he says. At the same time, area retailers are racking up some of their biggest totals ever.
All of this reflects an important fact of life in the region: For people who are looking to build their personal wealth, planting roots in Acadiana is not a bad idea.
Figures compiled by the Louisiana Economic Development Department show that close to 80,000 households in the region had annual incomes above $100,000 in 2009, and that number is expected to grow by more than 50 percent in just the next five years. During the same period, Acadiana households earning more than $500,000 annually could increase more than 60 percent.
Read on for a look at some of the business sectors that are contributing to the growth of personal wealth in Acadiana.
Oil and Gas
That the energy industry is a heavy contributor to Acadiana's wealth is hardly a secret. Oil and gas production and related businesses have been a cornerstone of Louisiana's economy for many decades. As in other parts of the state, the industry here is a mix of oil and gas producers, refiners and petrochemical businesses and a big range of companies that service the industry with transportation, equipment and supplies.
Along with the big global names in energy and energy services – from Chevron and ConocoPhillips to Baker Hughes and Halliburton – thousands of area residents work for a host of locally based oil field companies, such as these:
• Island Operating Co., Scott, an offshore property management firm
• Petroleum Helicopters Inc., Lafayette, a provider of offshore transportation services
• Frank's Casing Crew & Rental Tools Inc., Lafayette, a provider of equipment and personnel to oil field installations
• Omni Energy Services Corp., Carencro, a provider of integrated services to the energy industry
• Sunland Construction Inc., Eunice, a provider of pipeline construction and related services

"Oil and gas probably constitutes 40 percent of our economy in this area," Gothreaux says. "And every oil and gas company in the region creates wealth."
While the region and the state have sought to reduce their economic reliance on a single industry by diversifying into other types of businesses, Gothreaux says the importance of the energy industry to Acadiana won't decline dramatically anytime soon.
"I believe we will continue to be the energy capital of the southeastern United States, and I think we will continue to grow in alternative energy businesses, as well," he says.
Retail and Wholesale
One of the best ways to gauge how people perceive their own financial well-being is to visit a local mall. Based on shopping activity around Acadiana, consumers appear to have fairly sunny outlooks. Recently released figures for 2010 show considerable retail strength, particularly in and around Lafayette.
"We expected that we'd have a fall-off in sales because of the oil [drilling] moratorium, but instead we had one of our best years ever," says Ryan Pécot, a commercial real estate broker and retail specialist with Stirling Properties Inc. in Lafayette.
Pécot says the perception of increased discretionary income in the hands of area consumers is attracting more retailers to the region. Stirling, which manages River Marketplace, a 320,000-square-foot shopping center on Ambassador Caffery Parkway in Lafayette, is developing a new 430,000-square-foot center just off Interstate 10 at Louisiana Avenue. Pécot says the Target and JC Penney stores that will anchor the new center are second local stores for both retailers. "We also recently broke ground with a second store for Academy Sports," he says.
Rising personal income and population growth are luring the big retailers to Acadiana, he says. Population in Lafayette Parish alone grew more than 16 percent during the past decade, according to the latest census data.
One problem retailers face is a lack of available space. "I'd like to see more supply come on the market in the next few years," Pécot says. "It will be absorbed."
Meanwhile, the I-10 corridor through Acadiana, along with other transportation arteries, keeps the region humming with wholesale distribution activity. Companies in this sector include:
• Louisiana Wholesale Drug Co., Sunset, a pharmaceutical distributor
• St. Martin Oil and Gas, Lafayette, a wholesaler of bulk fuels and lubricants
• Synergy Outdoors LLC, Lafayette, a wholesaler of hunting products
• Streva Distributing Co., New Iberia, a beer and soft drink distributor
Engineering and Manufacturing
In a region as heavily committed to the energy industry as South Louisiana, a good deal of the engineering and manufacturing activity that occurs is bound to be related to oil and gas, and so it is in Acadiana.
But industrial manufacturing also extends into ship- and barge-building in these parts. Lafourche Parish, for instance, is home to heavyweights that include Bollinger Shipyards Inc., a Lockport-based builder that serves both the military and commercial marine industries, and Edison Chouest Offshore in Galliano, which designs, builds and operates a diverse fleet of vessels to serve the offshore oil and gas industry.
Maritime International, based in Broussard, is a major engineering and design firm that serves the marine, civil and government sectors. Another builder, Leevac Industries LLC in Jennings, is known for building and repairing vessels that range from barges and supply boats to gambling boats and excursion vessels.
Reflecting an even more diversified client base is Superior Supply & Steel, based in Sulphur, which is known to clients throughout the country for efficient delivery of an extensive line of steel products ranging from plates and pipe to sheets, fittings and structural beams.
For other firms, such as C.H. Fenstermaker & Associates Inc., an engineering, surveying and environmental consulting firm founded in Lafayette in the 1950s, the oil and gas industry gave shape to a business that later branched into other sectors. "We've been pretty fortunate that we do work for a lot of different clients, and that helps us immensely," says CEO William Fenstermaker.
He says that although low natural gas prices have reined in spending on gas-related projects, spiking oil prices have brought some other projects to the front burner. In addition, he says the company has many projects under way that range from road construction to hydrologic modeling related to wetlands restoration. "Our goal is to continue to grow in quality and diversity of what we do," he says.
Meanwhile, many well-established engineering and manufacturing firms in the region continue to grow by maintaining their energy-centric focus. Here are just a few:
• Moreno Group LLC, Lafayette, an offshore and onshore fabrication, construction and maintenance business
• Dynamic Industries Inc., New Iberia, a leading fabrication and field services firm
• C&C Technologies, Lafayette, a surveying and mapping services provider
Food Products
If South Louisiana seems a natural fit for food-related businesses, it's no illusion. Some entrepreneurs have built generations of family wealth on foundations that arise from favorite and indigenous foods of Cajun country. From seafood-marketers to sausage-makers, such businesses employ local workers and contribute to overall prosperity. Along the way, some have built names that are recognized around the world.
Among the best-known is Tabasco hot pepper sauce, bottled by the McIlhenny Co. at Avery Island. Since its founding more than 140 years ago, the family-owned business has expanded to include dozens of products in addition to its original pepper sauce, becoming a wealth-generating powerhouse for five generations of family members.
Acadiana is home to other well established food names, as well, including:
• Tony Chachere's Creole Foods, Opelousas, a provider of seasonings and food mixes
• Savoie's Sausage and Food Products Inc., St. Landry Parish, a provider of Cajun food products and prepared foods
• Doerle Food Services LLC, Broussard, a distributor of a diversified line of meats, produce, dairy products and supplies
• Conrad Rice Mill, Crowley, a producer and distributor of Konriko specialty rice products and seasonings
• The Wright Group, Crowley, a manufacturer of breakfast cereals, meal-replacement beverages and nutritional supplements and mixes
Other food product stalwarts include New Iberia-based Bruce Foods Co., which has been manufacturing Cajun and Tex-Mex food products for decades. Patrick Brown, whose great-grandfather started the business, says the company has about 700 workers on the payroll during peak production times. In addition to plants in Cade and Coteau, Bruce Foods operates in North Carolina and southern Texas, turning out everything from hot sauce and marinades to canned yams, cooking oil and hard goods such as smokers and fryers.
Brown says the business environment in Acadiana is hard to beat. "It's kind of remarkable because business continues to grow here despite what people say about an economic downturn," he says.
Other Sectors of Interest
Acadiana business-leaders say the "wildcatter mentality" that characterized the region's early oil and gas industry has blended well with Cajun determination and creativity to foster a healthy business environment. The region has many successful homegrown businesses to support that theory, ranging from medical and health care-related firms to tourism businesses, technology companies and more. Here are a very few:
• Acadian Ambulance Inc., Lafayette, the nation's largest private ambulance service provider
• Stuller Inc., Lafayette, a jewelry-maker and wholesaler
• Stine Lumber Co., Sulphur, a provider of building and home improvement materials
• The Schumacher Group, Lafayette, an emergency medicine staffing and management provider
Along with a host of well-established employers, there are new enterprises sprouting regularly throughout the region, and the indicators are that many find fertile ground. "The entrepreneurial spirit here is unbelievably strong," Gothreaux says.
He gets no argument from Tom Cox. The founder of Internet-based business GolfBalls.com, Cox launched his company as a seller of used golf balls. Fifteen years later, he deals entirely in new brand-name golf products, specializing in merchandise customization and quick delivery. The business pulls in more than $11 million in annual sales.
His own success has helped convince Cox that technology and digital media companies can be at home in Acadiana, and he is among local business-leaders who are working to build the area's digital media sector.
Lafayette gave itself a head start with the installation of an advanced fiber optic network that offers super-fast, inexpensive Internet service. "It's a productivity enhancer, and it's a big deal," Cox says.
Among the other digital assets he cites in the area is the Louisiana Immersive Technologies Enterprise, or LITE, Center, which contains a 3-D visualization facility and soon will be home to a business accelerator aimed at boosting tech startups into a higher growth stage.
"The technology ecosystem that we're trying to create in Lafayette will make it an ideal place for wealth creation and for young entrepreneurs to show their stuff," Cox says.