Brews on the Bayou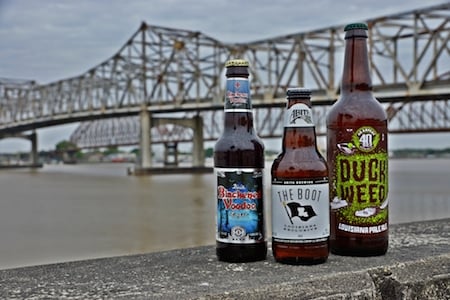 Morgan City has a new downtown event they want everyone to know about. The new Basin Brews Festival will feature over 30 different craft beer brews from across Louisiana, and a Restaurant Crawl showcasing the city's best cuisine.
"A lot of our events are geared toward kids, so this offers something for adults and showcases the restaurants in our city and the craft beer in the state," says Main Street Director Beth Pertero.
After receiving a strong, positive response to the idea of hosting a beer fest on their Facebook page last year, the Morgan City Main Street decided to take the plunge and plan the event this year.
"We weren't able to pull it off last year, but we went to a conference in Milwaukee and I did a craft brewery tour where I learned a lot, so I came back fired up and ready to take on the project," says Pertero.
Proceeds from the event will go towards the rebuilding of the playground, fountain and bandstand in one of Morgan City's historic parks.
The day's activities will kick off with the Irish Italian Parade at 1 p.m.
The parade will run through the Historic District and Second Street and end in front of the Basin Brew Fest, which begins at 1:30 p.m.
Beer lovers will have the chance to use their 30 beer samples to taste any of the varieties brought to the event by the 17 breweries from across Louisiana.
Breweries that will be onsite include Parish Brewing Co. out of Broussard, Louisiana; Bayou Teche Brewing out of Arnauldville, Louisiana; and Mudbug Brewery out of Thibodeaux, Louisiana, to name a few.
Coda, a band that describes themselves as a collaboration of Old Soul and Dejavu, and Driftwood, a country rock band, will keep the energy flowing with their tunes during the event.
Cannata's, will be holding a free wine tasting in the beer tasting area, and those who wish to enter without buying a ticket can simply get their IDs scanned to receive a bracelet to enter the festival area.
The beer fest officially ends at 4:30 p.m., but the bands and Restaurant Crawl will continue until 7:30 p.m.
Seven restaurants will be onsite selling samples for five dollars each as part of the Restaurant Crawl.
Delectable dishes like brisket eggrolls from East Gate BBQ, pulled pork tacos from B&G Smokehouse and beer infused cakes from Kimbla's Cakes, will be served at the event.
Kim Trahan Carinhas, owner of Kimbla's Cakes, was inspired to serve her beer infused cakes as a tribute to Cajun Brewing – the Lafayette brewery owned by her brother, which will also be onsite at the event.
Pertero is hopeful the festival will bring commerce to downtown Morgan City in more than one way.
"We want to showcase the area and allow people to fall in love with downtown again," says Pertero. "We have a lot of vacant buildings that we'd love to see an entrepreneur take over.  We have a few buildings that would be perfect for someone who wants to open a brew house."
Planning for the event began as recently as January, so this year's inaugural event will remain small as the festival gets off the ground.
"Next year we hope to be able to move it onto the River Front," says Pertero. "Our dock is being completely renovated right now, so that's the Mayor's dream. Next year we also hope to bring in people who make wine along with some home brewers."
Tickets for the event are $30 online until noon Friday and $40 at the gate Saturday.
For more information about the Basin Brew Fest, visit basinbrewfestmc.com or call 985-385-1770.
---
Events
24 Hour Play Festival, Sat., March 18, 7:30 p.m. to 11:30 p.m., Lafayette
Six writers, twelve actors and 24 hours are the numbers that will bring you six new plays that are only limited by time. The Hive will host this 24 hour play festival, and tickets are available at Eventbrite or by calling 337-484-0172.
Lafayette Ballet Theatre's Peter Pan, Sat., March 18, 7 p.m. to 10 p.m., Lafayette
This high-flying adventure will feature guest artists from The California Ballet. Tickets can be purchased at Ticketmaster.
Sugar Jam Presents GTO Party Band, Sat., March 18, 6 p.m. to 9 p.m., Youngsville
Youngsville is offering a free concert series at Town Center in Sugar Mill Pond. Bring your family and friends to enjoy live entertainment and explore Sugar Mill Pond.
La Table Francaise d'Arnauldville in Baton Rouge, Thurs., March 23, 6 p.m. to 7 p.m., Baton Rouge
NUNU Arts and Culture Collective is bringing their French table on the road and this time they're coming to Baton Rouge. Come to enjoy a time of coffee, laughs and conversation, en Français at the brand new location of Ann Connelly Fine Art. Entrance is free, but donations to NUNU Arts and Culture Collective is always welcome.