Big Sounds From T'Monde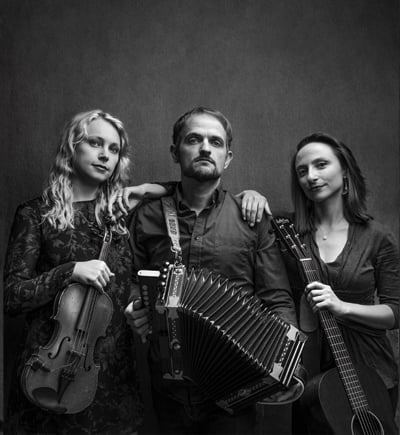 From Lafayette, the relatively young trio, T'Monde, play mostly traditional Cajun music primarily from the early 1900s, but stretching into to present day.
Bandleader Drew Simon, 31, began T'Monde (French for "little world" or "little people",) in 2011 as a side project during his time as the drummer and singer in the Pine Leaf Boys. He also performs every Wednesday at Randol's Cajun Restaurant in Lafayette with the group Low Maintenance. In T'Monde though, Simon sings and plays the accordion that his wife bought him as a surprise wedding gift, six years back.
"Pineleaf boys have lots of instruments and the music is up-tempo Cajun. Then Low Maintenance is purely Cajun dancehall – while T'Monde is not what I'd call traditional but rather … stripped down," says Simon of his trio's quietly energetic two-steps, three-part vocal harmonies, waltzes and blues vamps. "T'Monde is very listenable," says Simon matter-of-factly. "Meaning, you can sit down and listen to it as well as dance to it.
Though every now and then we will play with a drummer, if it's a bar or a festival where they want a little higher energy."
Not griping at all, Simon points out the obvious: "In this group I'm outnumbered by the ladies," he says, explaining that he's known Kelli since she was 17. Kelli brought her guitar playing friend Megan Brown into the group.
"While me and Megan first started playing music around 18, Kelli Jones-Savoy (now 27) started playing music around 15," Simon says. Kelli Jones-Savoy's father was an authentic Appalachian-influenced fiddler in their home state of North Carolina. She told allthingsstrings.com, "I started playing old-time music [on the fiddle because of my dad, and then] when I moved to Lafayette in 2006, I got interested in Cajun music." Her interest in the music piqued when she met and married her her husband Joel Savoy of the Savoy Family Band. The husband and wife now often perform as a duo, when Jones-Savoy is not busy as the singer, fiddler, and guitarist of Feufollet, replacing the band's original singer Anna Laura Edmiston.
Megan Brown, 26, has performed since her teens in Tepetate, at her grandparents' Cajun restaurant. She has gone on to serve as a guest musician with groups as illustrious as Steve Riley's Mamou Playboys, the Pine Leaf Boys and the Lafayette Rhythm Devils. "Megan is a really good rhythm guitar player – she's the one who controls the band's rhythm," says Simon. "There aren't a lot of chords in this music – it's not difficult chord-wise, but it's difficult rhythm-wise. Megan is very good, very modern. She pushes a little bit." One review of T'Monde even called Brown's guitar style "grunge."
Brown doesn't hear the grunge in her playing, and downplays her importance in T'Monde: "Guitar is the main rhythm instrument since you don't have drums," she admits. "But I am certainly following Drew and Kelli. I wouldn't consider my guitar playing that unique, really. There are two types of acoustic rhythms in Cajun music," Brown explains: "either open strumming – the style that Christine Balfa is known for. Whereas I do a 'choke chord' rhythm, which sounds like boom-chuk, book-chuck. And it's pretty typical for Cajun music."
In 2012, T'Monde released its debut album, Making Believe. The trio just finished recording its second album, Yesterday Is Gone (Valcour Records) last February. "We were more creative with this one," says Simon. "It's sung 90 percent in French but with a lot of different Cajun genres; there's some dancehall. But we also we did a lot of older country tunes like "I Don't Care" and a George Strait cover in French."
"There a lot more harmony singing on the new album," adds Megan Brown, "and just a lot more collaboration, singing-wise. There's a little more country influence, and we also added drums and bass to half the record. With the extra instruments, this one took a little more time. It wasn't that it was more difficult, it just wasn't as rushed – we wanted to take our time with it."
Currently T'Monde lead a jam session at club Vermilionville in Lafayette every Saturday ("on the north side of town by the airport," Simon clarifies). There's also the trio's standing gig at Prejean's every Tuesday. Mostly they play a lot of festivals, "and we play a lot of weddings," Simon attests.
What makes T'Monde the best band for the biggest day in any Louisiana couple's life? "It's a lot cheaper to book three people instead of five people," laughs Simon. "And we dress well, we're professional lookin', we got two good-lookin' girls in the band. Most of all, you don't often see a traditional Cajun band three piece, meaning, we're not loud," he says, "but we can be loud if need be!"
To listen to T-Monde, visit acadianaprofile.com.