Big Day, Big Impact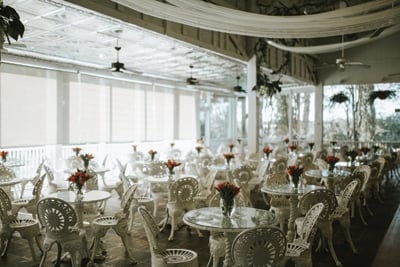 Rustic and antique? Modern and sleek? No matter your aesthetic, Acadiana has a venue to provide the perfect backdrop for your wedding day. These locations offer spaces for a full ceremony, but are also available simply as reception venues if you're planning to exchange vows in a church or elsewhere.

Rip Van Winkle Gardens, New Iberia
This elegant historic home, surrounded by 40 acres of enchanting gardens, is a classic favorite for Acadiana's most discerning brides. Sweeping live oaks draped in Spanish moss dominate the property and are surrounded by elegantly landscaped gardens, providing an iconic Louisiana vista in every direction. Two lovely indoor venues as well as a number of outdoor locations among the gardens are available for your ceremony and reception. Your perfect day can end in romantic style with a night in one of the on-site, Acadian-style, bed-and-breakfast cottages.

Sunny Meade, Scott
This gingerbread-detailed Victorian mansion was built in 1899 as a private home, but is now a B&B specializing in sophisticated weddings. Sip champagne with your bridesmaids while you get ready in the tastefully-appointed antique-decorated bridal suite, then exchange your vows under a charming outdoor gazebo. Entertain your guests in a glass atrium overlooking a candlelit swimming pool, and spend your first evening with your love in the romantic honeymoon Suite.

Cash and Carry Building, Lake Charles
The Cash and Carry Building, a former grocery warehouse with an industrial-chic vibe, is managed by Empire of the Seed, a group that restores historic Lake Charles properties to a newfound glory. This enormous, high-ceilinged space is filled with retro-modernist elements — exposed brick and wooden beams with brushed metal fixtures — providing a sparsely elegant backdrop onto which a stylish and imaginative bride can create anything from a shabby-chic, Pinterest-worthy design style to a modernist minimalist vision. A small outdoor patio provides additional options for entertaining.

Paul and Lulu Hilliard Art Museum, Lafayette
This gorgeous museum on the campus of the University of Louisiana at Lafayette is one of Lafayette's most distinctive spaces. The venue offers both indoor and outdoor options for your wedding and reception. The historic A. Hays Town building offers classic columned elegance on the outside and warm old-fashioned collegiate ambiance inside. In contrast, the museum's outdoor plaza and grounds offer a striking visual canvas, anchored by the distinctive water-wall, an enormous vertical fountain which is particularly stunning when lit up at night but which is photo-ready at any time of day.

L'Eglise, Abbeville
The historic church once known as the Mission of St. John of the Cross was crumbling from neglect when the current owners purchased and renovated it with weddings in mind and an immaculate attention to detail. The restored, exposed wood of the original interior support pillars and high pine ceiling give the space immense depth and warmth while terra-cotta floors and soft-lit chandeliers give the space an old-world character. Extensive landscaped grounds create outdoor options for both weddings and receptions. Brides who'd rather walk down a more traditional church aisle can do so indoors, and the room can also be transformed into an inviting reception space.

Stone Oaks, Opelousas
This gracefully rustic venue is no longer a working horse farm, but the breathtaking converted barn, with its vaulted ceilings and mahogany finishes, combines the sleek, functional elegance of a thoroughbred farm with the warm details of an English country hunting lodge. Outdoors, among rolling grassy fields, a large gazebo sits over a peaceful lake, providing another appealing option for a bucolic ceremony or reception.