Best of Louisiana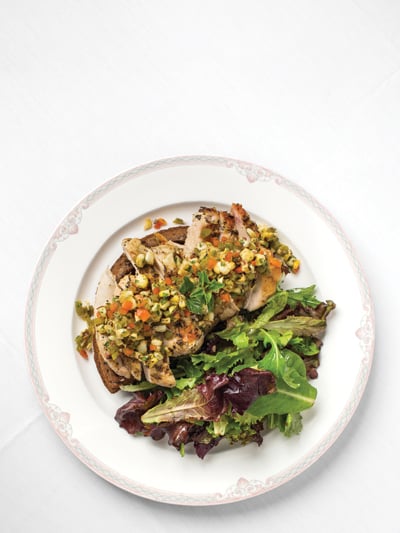 If your to-do list of :shoulds" is as long as the Atchafalaya River, it's probably time to take a break. As an alternative, we present to you another sort of to-do list. Our editors fussed and fawned for weeks over their favorite places from all over Louisiana to eat, drink, play, stay, shop and take in a little culture. This is of course a mere nibble of the great feast of fun available in every corner of the state, so if your haunts aren't listed, it's because we simply ran out of room. Think of it as a starting point and afer you've checked off each one of these priority items, start anew. This is one list we don't mind carrying over to another day.
-Melanie Warner Spencer
---
FOOD
NORTH
Kí Mexico
Shreveport
What began in 2010 as a fresh salsa booth at Shreveport Farmers Market has become one of Shreveport's most talked-about new restaurants, Kí Mexico. Run by brothers Rodrigo and Eleazar Mondragon with assistance in the kitchen from their mother, Lido Villaseñor, Kí Mexico serves an artful take on traditional Mexican favorites like tacos, enchiladas and tortas. The younger Mondragon brother, Eleazar, is a graduate of Le Cordon Bleu in Austin and has a remarkable instinct for embellishing traditional dishes with contemporary flavors — the enchiladas de novia, for example, feature shredded chicken enchiladas topped with a white mole sauce and pomegranate seeds. Save room for dessert; Eleazar's seasonal flan creations are the perfect exclamation point to end a meal at Kí Mexico.
3839 Gilbert Dr., Shreveport
318-861-5941
facebook.com/kimexico
By Chris Jay
Photo by Berg Photography
---
CENTRAL
Hot Tails
New Roads
The slogan of Hot Tails is, "Hardcore South Louisiana Cuisine," and it's a sentiment the restaurant lives up to. From the deer and fish decorations, to the walls made from the wood of an old barn, the entire restaurant offers a homey South Louisiana feel. "We have flavors you can't get anywhere else," says co-owner and chef Samantha Carroll who runs the restaurant with her co-chef husband Cody Carroll. "Time and again we're told that the flavor of our seafood and seasoning cannot be surpassed." The menu features fresh Louisiana seafood, rabbit, house made crawfish boils and a large local draft beer selection. "We have our hands on everything from the ingredients to the seasoning in recipes," says Carroll. "We pride ourselves on making everything in house, from the boudin, to the artichoke dip. We're not ripping open a bag to boil and serve it."
1113 Hospital Rd., New Roads
225-638-4676
hottailsrestaurant.com
By Claire Salinas
---
CAJUN
La Truffe Sauvage
Lake Charles
Situated in a charming brick cottage surrounded by graceful oaks, the 60-seat La Truffe Sauvage is the epitome of fine dining in Lake Charles. An elegant foyer abundant with fragrant fresh flowers welcomes diners into the intimate, candlelit rooms. Francophile Chef Mohamed Chettouh dazzles the palate with such authentic French classics as creamy lobster bisque topped with a towering pastry dome, soothing duck consommé drizzled with truffle oil, fruit-studded house-made brioche layered with slivered apples and seared fois gras, mouth-watering tournedos encircled by a pool of silken Madeira sauce, and soufflés as light as air, perfumed with Grand Marnier and crowned with a dollop of freshly whipped cream. The stellar wine list complements seasonal dishes accented with herbs grown outside picture windows. Live jazz piano accentuates the romantic ambience Tuesday evenings. Couples raise glasses filled with chilled Veuve Clicquot as they celebrate long into the night.
815 W. Bayou Pines Drive
Lake Charles
337-439-8364
thewildtruffle.com
By Lisa LeBlanc-Berry
---
PLANTATION
City Pork & Brasserie
Baton Rouge
This creative eatery serves pork with panache and down home food flavored with continental elan. Wild boar flautas with tortillas and smoked avocado cream are perfect for a pre-meal nibble. Lying in a hoagie, smoke-flavored pork belly braised in coffee, served with a side of greens is a rich and splendid meal. Incomparable greens, slow cooked with bacon lardons; pepper jelly; gorgonzola crumbles; or smoked chicken and pepper jelly, add dimensions of harmonizing flavor to any of the entrees. The cheese board offers brie with honey, smoked gouda and aged cheddar cheeses; the charcuterie also features smoked duck breast; Andouille; and liver pate. Flavor with distinctive flair makes this restaurant a hearty Baton Rouge standout.
7327 Jefferson Highway, Baton Rouge
225-615-8880
citypork.com
By Jeanne Frois
---
GNO
Caribbean Room
New Orleans
Caribbean Room in New Orleans
Renowned chef John Besh's latest culinary adventure is the Caribbean Room, part of the renovation and reboot of New Orleans' legendary Pontchartrain Hotel. The tropical-themed dining room features rattan furniture, white tablecloths and a floor decorated with a palm-frond design. Jackets are required for men. The menu features New Orleans classics like seafood gumbo alongside more unconventional dishes like lamb tongue and asparagus salad. The centerpiece entrees include pepper roast lamb chops, filet of beef, American red snapper and a crispy jumbo soft shell crab. If that sounds like a little too much for you, the adjacent Bayou Bar offers a great hamburger with hickory sauce and bone marrow. The Silver Whistle Café offers coffee shop fare, including mouthwatering blueberry muffins. After you've finished dining, be sure to visit the Pontchartrain Hotel's rooftop bar, Hot Tin, for a wonderful view.
2031 St. Charles Ave., New Orleans
504-206-3114
thepontchartrainhotel.com
By Fritz Esker
---
DRINK

Napoleon House New Orleans
NORTH
Great Raft Brewing
Shreveport
Drinking beer ought to be fun. At Great Raft Brewing in Shreveport, owners Andrew and Lindsay Nations have created the kind of experience that is fun, but also sneakily educational. Take a free brewery tour (offered each Saturday at 1, 2 and 3 p.m.) and you may learn the meaning of foeder (a wooden barrel used for long-term fermentation) or how different types of hops affect the flavor of beer. The on-site tasting room always features Great Raft Brewing's three flagship beers as well as seven or eight limited edition brews on tap. Local food trucks selling everything from hot dogs to Hawaiian food gather in the parking lot. Take a seat at the bar, where it's easiest to strike up a conversation with the brewery's certified cicerone staff of beer experts, and let the learning commence.
1251 Dalzell St., Shreveport
318-734-9881
greatraftbrewing.com
By Chris Jay
---
CENTRAL
The Pioneer Pub
Natchitoches
The Pioneer Pub on Front street is a hometown bar that attracts families during the day and regulars at night. Friendly bartenders, quaint decor and weekly live music performances make it a popular locale for kicking back with a cold one. Patrons rave about the pub's signature dish, the Wookie, a plate of fries topped with brisket, cheese and your choice of jalapenos, onions or tomatoes. The 19 beers on tap are rotated out regularly, and bartenders are always available to educate customers on the various brews. The gumbo and Chicken New Orleans are just a few of the dishes made from scratch. "We try to source local," says general manager Joan Willis. "You get better quality of food and people can tell the difference."
812 Washington St., Natchitoches
318-352-4884
By Claire Salinas
---
CAJUN
Social Southam Table
Lafayette
The team of talented chefs and award-winning bartenders at Social Southern Table and Bar are passionate about their farm-to-table and farm-to-glass creations with a focus on local, seasonal ingredientsthey use nearby farmers markets, local distilleries and breweries for their extensive craft-cocktail creations. The sleek bar and charming patio attract sophisticated locals who gather to enjoy expertly made hand-crafted cocktails tied to the seasons, creative specials, a hit parade of old classics and barrel-aged cocktails with a Social Southern twist; The "bee old fashion" is made with small-batch Buffalo Trace Bourbon that has hints of mint and vanilla, blended with a house-made brown sugar simple syrup balanced by bitters, and finished with an orange peel pinched over the . drink to brings out the o1ls. The handsome interior decor is enhanced by old wooden beams and brick, a crackling fireplace on chilly evenings, and ample semi-circular leather booths.
3901 Johnston St.
Lafayette
337-456-3274
socialsouthern.com
By Lisa LeBlanc-Berry
---
PLANTATION
Tsunami
Baton Rouge
To choose a setting for cocktails that's as Intoxicating as whiskey itself only adds joy to the drinking experience. Tsunami Restaurant, its veranda perched on a rooftop overlooking the Mississippi River provides a breathlessly romantic view. Fruit-infused sakes, Japanese whiskies and signature cocktails with unique fusions of flavor are front and center. The Fushimi is a refreshing libation of muddled fresh cucumber; lime sweetened with cucumber syrup; sake and vodka. The classic Japanese Magnolia, made with plum wine and sake, is smoothly sublime. The lights on the Mississippi River Bridge glow against the night sky, only adding to Tsunami's encompassing enchantment.
100 Lafayette St. 6th Floor, Baton Rouge
225-346-5100
By Jeanne Frois
---
GNO
Napoleon House
New Orleans
Napoleon House wasn't always a bar. Nicholas Girod, a former mayor of New Orleans, owned it and offered it as a place of refuge to Napoleon (yes, the actual general who conquered most of Europe). The plan for Napoleon to spend his exile In the French Quarter never materialized. But, in 1914. the Impastato family bought the property and a few years later, turned it into the beloved watering hole it remains today. It was purchased in 2015 by Ralph Brennan and the kitchen is helmed by executive chef Chris Montero. The bar's signature drink is the Pimm's Cup (Pimm's #1, lemonade, 7-Up, ice, and a cucumber garnish). Patrons enjoy it while listening to classical music and dining on another New Orleans classic, the muffuletta. When they do so, they walk in the footsteps of New Orleans legends like Tennessee Williams and travel back in time to an era when the french Quarter was a neighborhood first and a tourist attraction second.
500 Chartres St., New Orleans
504-524-9752
napoleonhouse.com
By Fritz Esker
Photo by Jeffery Johnston
---
OUTDOORS

Avery Island New Iberia
NORTH
Cypress Black Bayou Park
Benton
Ask six different residents of Northwest Louisiana what they enjoy doing at Cypress Black Bayou, and you're likely to get six different answers. Enthusiasts of RV travel enjoy the huge RV and trailer area with 75 paved spots including partial and full hook-ups, shaded spots, showers and a hilltop location with a view of the lake. Anglers love the place for black crappie, chinquapin bream and bass fishing (though a sticker permit is required to launch a boat on the lake). With almost no standing structure in the lake, it's also popular among skiers, power boaters and devotees of other lake activities. The recreation area has some unusual features, including the closest thing to a sandy beach that you'll find anywhere in North Louisiana as well as walking trails, an interpretive center and even a small zoo complete with strolling peacocks.
135 Cypress Park Drive, Benton
318-965-0007
cypressblackbayou.com
By Chris Jay
---
CENTRAL
Toledo Bend
Many
Near the border of Louisiana and Texas, sits the fifth largest man-made lake in the South, Toledo Bend. The lake offers unparalleled opportunities for fishing, sports and outdoor recreation. Whether you're canoeing down the Sabine River, enjoying its sandy beaches or hiking one of the many trails in North or South Toledo Bend State Park, there is no shortage of activities to enjoy across the 186,000 acres of Toledo Bend. Across this expanse are numerous places to take day trips, including Cypress Bend Park and the Army Recreation Center (reserved for military personnel). The area has garnered enough appreciation to be recognized with the top spot on Bassmaster Magazine's 100 Best Bass Lakes list for the past two years. Wanda Rivers, with the Sabine Parish Tourist Commission, says, "It's a great place to come and get away from the busy city, to relax and escape."
1601 Texas Hwy., Many
318-256-5880
toledobendlakecountry.com
By Claire Salinas
---
CAJUN
Avery Island
New Iberia
Avery Island stands out as a vibrant example of Acadiana's semi-tropical natural resources and abundant beauty. Visitors walk along winding paths with rustic signs through the 170-acre Jungle Gardens that attract, foster and collect wildlife. During their stroll, they inevitably encounter the massive live oaks bending to the ground, the serene 900-year-old Buddha statue reigning over the pristine landscaping and Bird City, where tall, snowy egrets dive, glide and wade until settling with their 100,000 peers atop bamboo. Situated on a salt dome, where the McIlhenny family still bottle its world-famous Tabasco hot sauce, Avery Island offers tours of the Tabasco Factory via the expanded visitor center. Fun-fact: The sauce was originally distributed in cologne bottles and given as gifts until it was first marketed in the 1860s. Authentic Cajun cuisine is served at the 1868 Restaurant, with its wrap-around porch and view of the historic factory and picturesque Tabasco Country Store.
Hwy. 329, Avery Island
337-369-6243
junglegardens.org
By Lisa LeBlanc-Berry
Photo by Jeffery Johnston
---
PLANTATION
LSU Hilltop Arboretum
Baton Rouge
In the city of Baton Rouge lies a natural sanctuary conducive to Zen-like peace and awakening. The LSU Hilltop Arboretum, once owned by Emory and Anne Smith who named their country hideaway and working farm, "Hilltop," became part of the University in 1981. The enchanting entrance is gained by crossing an old footbridge spanning a 20-feet deep ravine and finding that you're in a hushed cathedral of overhanging trees. This is a place made for contemplative wandering. Meander through meadows with tall grasses colored with seasonal wildflower blooms — purple beautyberries and ironweed, scarlet green dragon and goldenrod.
Highland Road, Baton Rouge
225-767-6916
lsu.edu
By Jeanne Frois
---
GNO
Fontainebleau State Park
Mandeville
Most people don't think of nature when they think of the Greater New Orleans Area, but for those seeking an escape from the city life or suburbia, look no further than Mandeville's Fontainebleau State Park. There are cabins for camping and a 4.8-mile hiking trail. Birdwatchers can enjoy over 400 species of birds and hikers might even spot the occasional alligator. And there's a beach, too. Local filmmaker David Dubos used it to double for an exotic paradise in one of his movies. "It gives you a small slice of serenity and a peaceful calm," DuBos said. "Several of my crew members loved it so much, they went back within a matter of days after wrapping the film just to hang out there."
62883 LA-1089, Mandeville
985-624-4443
rt.state.la.us/louisiana-state-parks/parks/fontainebleau-state-park/
By Fritz Esker
---
LODGING

Oak Alley Plantation Vacherie
NORTH
The Remington Suite Hotel & Spa
Shreveport
There's an aromatherapy diffuser at the check-in desk, a handsome golden retriever snoring at the entrance to the bar and an elevator waiting to take you to the rooftop, where a clambake or classic movie screening is likely underway. Remington Suite Hotel & Spa isn't just an outrageously cool boutique hotel for Shreveport; it would qualify as fantastic in any city. The hotel's 22 multi-room suites range from "standard" rooms with a kitchenette and a king-sized bed to the opulent, split-level "grand suite" complete with a spiral staircase, floor-to-ceiling windows and multiple entrances. Remington Suite is also where local concert venues and movie production companies house their top talent. Stars who've recently called the hotel "home" include rocker Robert Plant and singer-turned-actor Marilyn Manson. Gerard Butler famously spent about seven minutes on Jimmy Kimmel Live proclaiming his love for the hotel; the owners renamed the hotel's private movie theatre in Butler's honor as a show of appreciation.
220 Travis St., Shreveport
318-425-5000
remingtonsuite.com
By Chris Jay
---
CENTRAL
Steel Magnolia House
Natchitoches
The Steel Magnolia House exudes quaint, Southern charm. So much so, it was chosen as the location for the critically acclaimed 1989 movie, "Steel Magnolias." Two Italian architects built the original house in the 1830s, and many of the materials shipped in are still part of the current, circa-1840s house. As a nod to the film, each room is named after an actress from the movie. The bedrooms features a king size bed and the entire house is decorated with Empire Furniture from the early1800s. "We went to great lengths to furnish the house with period furniture," says owner Dan Dyess. "If you stay with us you get a tour of the home, a Southern style breakfast and you can enjoy the ambiance offered by the chandeliers, empire furniture and Southern hospitality."
320 Jefferson St., Natchitoches
318-238-2585
steelmagnoliahouse.com
By Claire Salinas
---
CAJUN
The Inn at Houmas House
Darrow
Gentle winds waft off the mighty Mississippi, rustling through the private porches of The Inn at Houmas House plantation on crisp autumn mornings. Each of the elegantly appointed deluxe rooms overlooking the magnificent 38-acre gardens of the estate are adorned with old world furnishings and offer lavish amenities. Travelers enjoy a feeling of the bygone antebellum era that's emulated by owner Kevin Kelly's luxurious accommodations, a tour of his circa-1840s restored grand mansion and an opulent breakfast at the Carriage House. Chef Joseph Dicapo's breakfast includes pan-seared veal grillades and grits, bacon and brie omelets with dragonfly biscuits and bananas Foster pain perdu. The new dinner menu offers seasonal produce and buttery Australian Wagu beef, succulent Colorado lamb and fresh Gulf fish. Dinner at the utterly elegant Latil's Landing offers seven and nine-course gourmet tasting menus with wine pairings, served on fine china.
40136 LA-942, Darrow
225-473-9380
houmashouse.com
By Lisa LeBlanc-Berry
---
PLANTATION
Oak Alley Plantation
Vacherie
Seen from the River Road, the beauty of Oak Alley Plantation, glowing in soft green light cast from a procession of ancient guardian oaks, is otherworldly. This sprawling 25-acre plantation also extends an invitation for overnight visitors. Stay in one of the eight guest cottages on the grounds, and take part in tours of the big house and the Slavery at Oak Alley and Civil War Encampment exhibits. The cottages are quaint and homey with screened porches, beautifully furnished with four posters, antiques and paintings. Kitchens are complete with utensils, pots, pans and plates for the culinary minded. Rest on blissfully comfortable beds with warm blankets and enjoy Louisiana hospitality and charm at its utmost. Country breakfasts are served daily and the view of the sugarcane fields meeting the wide blue sky sprawls around you.
3615 LA-16, Vacherie (On the River Road)
225-265-2151
oakalleyplantation.com
By Jeanne Frois
---
GNO
Catahoula Hotel
New Orleans
If you're looking for a place to stay with more character than an average hotel but without the controversial baggage attached to short-term rentals, the Catahoula Hotel in New Orleans' Central Business District might be for you. It holds 35 comfortably quirky rooms in a restored Creole townhouse. The Catahoula is also home to a coffee shop serving PT's Coffee with dairy from a milk farm in McComb. For late night beverages, there's the Pisco Bar. The cocktails mostly feature Pisco as a base, a Peruvian liquor known for its purity (every drop of liquid has to come entirely from a grape). For those looking to escape the hustle and bustle of the CBD and the Quarter, the Catahoula's rooftop oasis features palm trees, live music, and tiki-inspired cocktails.
914 Union St., New Orleans
504-603-2442
catahoulahotel.com
By Fritz Esker
---
CULTURE

Melrose Plantation Melrose
NORTH
Robinson Film Center
Shreveport
Robinson Film Center — named for DHL Express co-founder and philanthropist William A. Robinson — is a two-screen art house cinema with an attached restaurant and bar located in downtown Shreveport. With a cultural mission that includes daily screenings of independent, classic and foreign cinema, the center frequently hosts special events including filmmaker appearances, filmmaking classes for kids and the annual North Louisiana Gay and Lesbian Film Festival. The upstairs restaurant, Abby Singer's Bistro, provides a convenient stop for a quick bite or a cocktail before or after a movie and is also home to one of the only outdoor dining balconies in North Louisiana. The greatest assets of Robinson Film Center may be the moviegoers, who are the kind of folks who hang around on the sidewalk after the film, comparing notes. In 2015, fans of the center also crowdfunded a dazzling new marquee for the building.
617 Texas St,, Shreveport
318-459-4122
robinsonfilmcenter.org
By Chris Jay
---
CENTRAL
Melrose Plantation
Melrose
Melrose Plantation was founded in 1796 by Louis Metoyer, one 10 children of the former slave Marie Thérèse Coincoin. After passing through the hands of several owners, John Hampton Henry and Carmelite Garrett Henry took over the plantation in 1918. Carmelite Henry began an artist colony, which eventually attracted many well-known Southern artists and writers, including Kate Chopin author of "The Awakening," as wall as other books and stories set in Louisiana, and William Faulkner. "If it hadn't been for the artist colony, many may not have had a chance to work on their craft or have been inspired to complete their works," says Melrose Plantation tour guide Bryan Barlow. The celebrated folk artist Clementine Hunter also came to the area to work on her African House Murals, which are still on display at the plantation.
3533 Highway 119, Melrose
318-379-0055
melroseplantation.org
By Claire Salinas
Photo by Poole Photography
---
CAJUN
Breaux Bridge Crawfish Festival
Breaux Bridge
Crooning Cajun waltzes and thumping zydeco rhythms echo throughout Parc Hardy in the small town of Pont Breaux, where the annual Breaux Bridge Crawfish Festival is held each May. A joyful mood dominates this lively three-day festival that is considered the largest gathering of world-famous Cajun and zydeco groups. Known for its delicious local crawfish prepared in every imaginable way, from bisques to boudin, the festival features food booths aplenty plus cooking contests and demonstrations that are only rivaled by the many entertaining dance contests, so put on your dancing shoes. There are even competitions for the live crawfish in attendance. Locals enter their beloved personal crawdads onto an eight-foot circular target to win prizes. Cajun card games and crafts, rides and marching bands attract families and folklorists who want to experience the rich culture and friendly locals. The crawfish king and queen, their junior royalty and ecrevettes rule over the lively festivities.
Parc Hardy
337-332-6655
bbcrawfishfest.com
By Lisa LeBlanc-Berry
---
PLANTATION
St. Francisville
Steeped in Anglo-Protestant tradition like a fine Earl Grey tea from Great Britain, the plantation country in West Feliciana Parish is the Anglican counterpart to the French Catholic influence of the River Road plantations outside New Orleans. With land that undulates, this tree-laden and shady parish boasts the town of St. Francisville where you can walk its lovely historic district and succumb to enticing boutique and antiques shops. Within 12 miles lies an enclave of exquisite antebellum homes to tour. Included are the beautiful, haunted Myrtles, laced with haint-blue-colored wrought iron confectionery; Oakley House (where Audubon once resided) located on Audubon State historic site features farm animals and gardens; Rosedown remains an intact preservation of antebellum plantation life 347 acres strong. Stately Catalpa, Greenwood and the Cottage Plantations add to the haunting beauty of this gracious and culturally rich area.
By Jeanne Frois
---
GNO
The New Movement Theatre
New Orleans
In 2012, improvisers Chris Trew and Tami Nelson returned home to New Orleans after a post-Hurricane Katrina stint in Austin, where they'd opened The New Movement Theater. They opened a new one in New Orleans and the venue has become a hotspot for local comedy troupes, improv classes and high-profile shows from nationally renowned performers. In October, The New Movement will host its signature event, the Hell Yes Fest, featuring comedians Sarah Silverman and Nick Swardson. But for the people at The New Movement, the theater is about more than entertainment. Improviser Derek Dupuy said the comedy has created lifelong friendships in the process. Student Andrew Bascle said the skills he's learned in improv classes have helped him on a daily basis. "They taught me how to truly listen to people in my life," says Bascle.
2706 St. Claude Ave., New Orleans
newmovementtheater.com
By Fritz Esker
---
FAMILY FUN

City Park New Orleans
NORTH
Chimp Haven
Keithville
The piney woods of Northwest Louisiana may not be the first place you'd expect to find America's National Chimpanzee Sanctuary, but there it is: Chimp Haven, a 200-acre sanctuary that is home to more than 200 chimpanzees retired from the medical testing industry, is located just a 25-minute drive South from Shreveport. A true sanctuary, Chimp Haven only opens to the public for six or seven days of each year. These events, known as Chimpanzee Discovery Days, provide the public with a rare opportunity to observe the chimps going about their daily lives. Chimpanzee Discovery Days are held on Saturdays in the spring (beginning in March) and resume in the fall (September, October and November), with a break during the stifling summer months. Thousands of onlookers line up during Chimpanzee Discovery Days to watch the chimps eat, climb, socialize and laze away the day at the edge of the forest.
13600 Chimpanzee Place, Ke