Bayou Browsing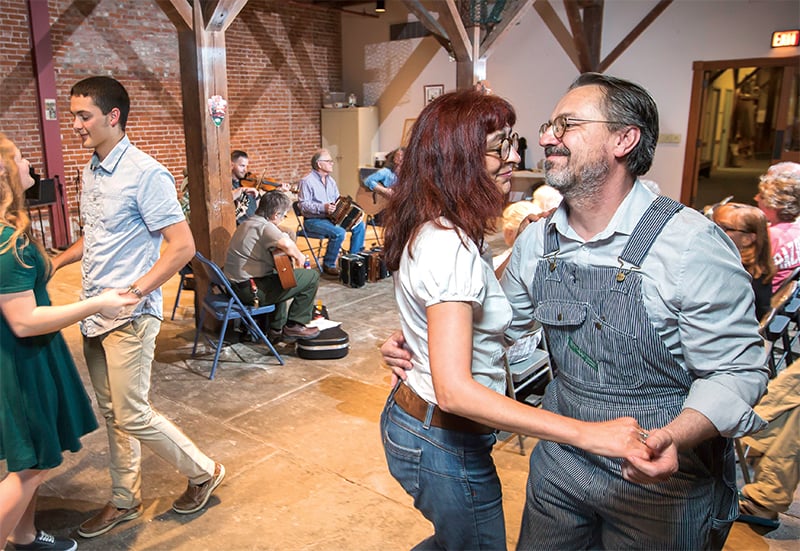 > Cajun jam at Wetlands Acadian Center
Bayou Lafourche provides some of the most rewarding sightseeing in the state, with Thibodaux serving multiple purposes as "Queen City of the Bayou", the seat of Lafourche Parish, and the borderline between the area's two famous regions, "Up the Bayou" and "Down the Bayou."
Those credentials, plus its convenient downtown accommodations and reputation for fine dining, make the old town an obvious headquarters for explorations, beginning with a business district where vintage storefronts surround the handsome 1856 Lafourche Parish Courthouse.
A few steps in any direction from the Greek-columned courthouse will lead to dining spots like Foundry on the Bayou with its great view of the Lafourche and beautiful Fremin's adjacent to the courthouse.
For sightseeing around town, begin at St. Joseph Co-Cathedral at 721 Canal Blvd. (985-446-1387, stjoseph-cc.org) erected in 1923 in "Renaissance Romanesque" design (inspired by Notre Dame Cathedral), and a right turn on 8th Street will lead to the Georgian-style St. John's Church at 718 Jackson, built in 1844 (tours by appointment, 985-447-2910, stjohnsthibodaux.org).
From Jackson turn left to find, at 314 St. Mary St., a Lafitte National Park outpost called the Wetlands Acadian Cultural Center, where exhibits and films describe the wetlands and the distinctive folkways of Acadian immigrants who settled in those environs. Activities include a 4 p.m. Cajun music jam on Mondays (with dancing), downtown walking tours at 2 p.m. on Tuesdays, Wednesdays and Thursdays, and, in spring and fall, boat tours (985-448-1375).
Going west on St. Mary (Hwy. 1), turn left on Hwy. 3185 to the Mudbug Brewery (1878 Hwy. 3185, 5 to 10 p.m. Thursday and 5 to midnight Friday and Saturday), where brewhouse tours and a dandy taproom will introduce you to Cajun beverages like King Cake Ale, Pelican Pilsner and Intracoastal IPA (985-492-1610, mudbugbrewery.com).
Do you want something stronger? Head back up 3185, cross the bayou, turn right on Bayou Road (Hwy. 308) and left on St. Patrick, which leads to Donner-Peltier Distillers (1635 St. Pat), producers of three varieties of Rougaroux Rum, a distinctive vodka and gin, and a rice-sweetened cousin of bourbon called LA 1 Whiskey (tours at 4 p.m. weekdays and 2 p.m. and 4 p.m. on Saturdays, with the tasting room open 1:30 p.m. to 6 p.m. daily except Sunday).
Return to Hwy. 308 and head downstream, glimpsing beautiful Rienzi Plantation (215 E. Bayou Road, private) before crossing the Audubon Ave. bridge to Nicholls State University. The Ameen Gallery can be found in Talbot Hall (985-448-4597, nicholls.edu/art) and the cutting edge kitchens of the Chef John Folse Culinary Institute, 101-105 Bowie Road can be toured by appointment (985-493-2700, nicholls.edu/culinary).
Back on the east bank and just downstream, the old general store of famed Laurel Valley Plantation, 595 Hwy. 308, serves as a museum and a sales area for books, art, crafts and snacks (985-446-7456, facebook.com/laurelvalleyplantationstore). Ask for dates and details about this year's spring and fall Laurel Valley Festivals, and finish your Thibodaux tour with a drive through the cane fields on Laurel Valley Road, from which the dramatic ruins of an old brick sugar mill and rows of slave and sharecropper cabins can be seen without trespassing.
---
---
UP THE BAYOU

The upstream trek from Thibodaux might begin with a drive up the east bank to Madewood Plantation, the National Landmark at 4250 La. 308. Built in 1846 by famed architect Henry Howard, the 21-room mansion with its stunning Ionic columns offers lavish B&B accommodations as well as tours by appointment
(985-369-7151, madewood.com).
Two miles later, cross to Napoleonville for lunch at Politz's, itself a landmark (4936 La. 1, 985-369-6994), and for dessert drive a block to see delicious Christ Episcopal Church built in 1853. Services at the Gothic, masonry structure are now rare, but the grounds and ancient cemetery are accessible.
Returning toward Thibodaux along the west bank, stop to visit the E.D. White home (2295 Hwy. 1) a State Museum site and National Historic Landmark. Once home of the elder Edward D. White (governor, 1835 to 1839) and his son Edward (justice and chief justice of the U.S. Supreme Court, 1894 to 1921), the old raised cottage now presents exhibits relating to the White family, sugar cane, slavery and the bayou's Chitimacha Indians and Acadian settlers
(985-447-0915, louisianastatemuseum.org).
---
GO

Bayou Lafourche side trips should begin below Thibodaux at the Cajun Bayou Visitor Center, on La. 1 beneath the bayou's U.S. 90 bridge (985-537-5800, lacajunbayou.com). to gather complete details on local attractions, dining, entertainment, outdoor activities and guided tours (on land and water). Thus informed, begin by continuing down La. 1 to nearby Lockport.
In the early 1970s at Nicholls State, an enthusiast named Joe Tom Butler and volunteers began restoring or replicating Louisiana's traditional wooden boats, one by one. Now relocated to a spacious 1930s auto dealership in oldtown Lockport (202 Main St., 985-532-5106, nicholls.edu/boat), the Center for Louisiana Boat Traditional Building has become a virtual fleet of Lafitte skiffs, oyster luggers, trawlers, pirogues and many lesser known crafts, arguably our most important folk life collection in any category.
The boat museum is open only 10 a.m. to 4 p.m. Tuesdays and Thursdays and shares that schedule with the next door Bayou Lafourche Folklife and Heritage Museum, a collection of early-20th-century bayou photography (985-532-5909). Both will also be open April 8 when the Bateau De Bois Festival brings a day of pirogue races, storytellers and museum tours. (The annual Lockport Food Festival, incidentally, follows on April 20 to 22.)
Downstream, as picturesque shrimp boats begin appearing along the way, stop in Golden Meadow to see the oldest of them all, the 19th-century "Petit Caporal" on display at bayouside.
---
STAY

Finding vacation-quality accommodations in and around Thibodaux's historic district is no problem, thanks to a 150-year old palatial B&B in the heart of it and three modern hotels scattered about the perimeter.
Dansereau House at 506 St. Phillip St. (985-227-9937, dansereauhouse.com), was built in 1847 and enlarged in the 1870s (now three stories plus cupola), with furnishings so sumptuous they can tempt guests to spend their entire visit indoors.
Facing the bayou, the locally owned Carmel Inn and Suites has refurbished rooms and large pool at 400 E. 1st St. (Hwy.1, 985-446-0561, thecarmelinn.com), convenient to the historic district and Nicholls State.