Bayou Beauty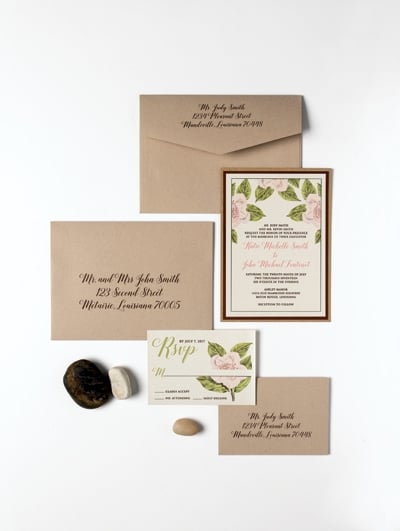 Rustic Chic
This three layer, four-piece invitation suite features Pecan Barque and Polished Rose Gold card stock for a rustic backdrop that adds warmth and texture. The floral design adds an element of nature and provides a feminine touch.

Shop Aurea
shopaurea.com
Vintage Sophistication
Custom designed by Rita Goodrich of Inkling Design Studio and letterpress printed on Cranes 220# cotton stock, was fitted with a swamp scene liner from the bride's mother's vintage Harpers Bazaar magazine. It was hand cut and assembled. Event planner Cassie Thibeaux of Southern Fete coordinated between the bride and the designer on the suite.

Inkling Design Studio
inklingdesignstudio.com
Simply Southern
With a beautiful mix of traditional and relaxed style embodying Southern charm this textured soft white invitation is backed with a neutral kraft stock and is at once rustic and luxe. It is finished with a magnolia-lined kraft envelope for wow factor and the save-the-dates printed kraft postcards adds a hint of contrast.

Charm
(337) 984-4800
shopcharm.com