Artful Outdoors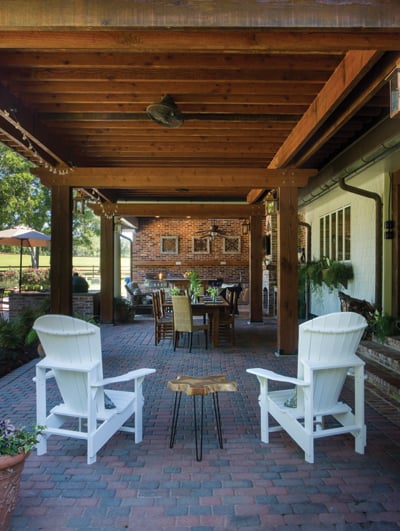 Surrounded by nature in their pastoral paradise, Carl and Jenny Comeaux spend most summer weekends hosting family and friends with pool parties and prolific barbecues at their 10,000-square-foot residence. The couple is continually making improvements to their 75-acre, Carencro property rimmed with live oaks and fragrant roses.
They have aptly augmented the verdant grounds with equestrian trails and bike paths, camper hook-ups near stocked ponds, a baseball diamond and a bountiful orchard, where morning sunbeams shine like powdered gold through the lemon trees.
There's a splendid view of the orchard from a newly fashioned L-shaped pool. A shallow tanning ledge that spills into the deep end was designed for Jenny. Her elaborately appointed outdoor kitchen and covered patio with multiple seating areas are an extension of the glassed-in great room and gourmet kitchen.
Just as spring was giving way to the sweet smells of summer cook-outs and chlorine, Jenny reported that 69 Canadian geese were feeding on the pond fronting their five-bedroom house that's surrounded by deep porches. The front porch, which doubles as Jenny's office, is glassed-in to provide a better view of the ponds and waterfowl. Just a couple pairs of Canadian geese were there when the Comeaux family acquired the sprawling, bucolic property several years ago.
The geese are now fed daily by a former teacher from Rayne. She fell in love with the picturesque property and works full time tending the geese, horses and bountiful orchards that produce oranges, lemons, grapefruit, pomegranates and sweet, sticky figs ripe and ready by July.
When company comes, Jenny picks fresh herbs from flower boxes Carl recently installed just outside the kitchen window. A few feet away, her summer tomatoes, cucumbers and banana peppers spring from the rich, fertile earth near flower beds ablaze with color.
Carl, an engineer, created the outdoor living space, including a 50-foot pergola with sturdy cypress beams. Designed to look rustic, it has copper lighting and a metal roof that creates a symphony of soothing sounds during summer rainstorms.
An avid sportsman, Carl brings fresh fish and wild game for warm-weather fish fries and grilling beneath the pergola. During the autumn and winter months, the family gathers around the outdoor fireplace for football games and gumbos. Stargazing by poolside fire pits and horseback riding by moonlight are popular pursuits.
"There's never a dull moment," Jenny says. "We like to entertain, and we love having the kids over on the weekend. We're having a big party tomorrow. My 22-year-old daughter, Sophie, is having her church group over, so we're setting up the volleyball net and the basketball goal beside the pool. It's not just one area they're able to enjoy. There's so much outdoor seating everywhere."
During the week, Carl arises before dawn. He makes fresh juice from homegrown navel oranges, and has coffee with Jenny. Before their busy day begins, they watch the ducks and geese gliding atop ponds that ripple in the breeze, enjoying this atypically quiet time of day on the Cajun prairie.

top left The sound of trickling water spilling into a crystal blue, L-shaped swimming pool is audible in the patio, where family and friends gather for cocktails and cooking after a day of swimming. bottom left A gate going to the orchard is a short walk from the elevated pool area, which provides breathtaking views of the live oaks and manicured Italian cypress trees that surrounds myriad water features and a tanning bed. top right A place to relax in the shade was created for optimal views over the water. bottom right The family's beloved horses roam eight equestrian trails.