Annual Rockin' On The Runway in June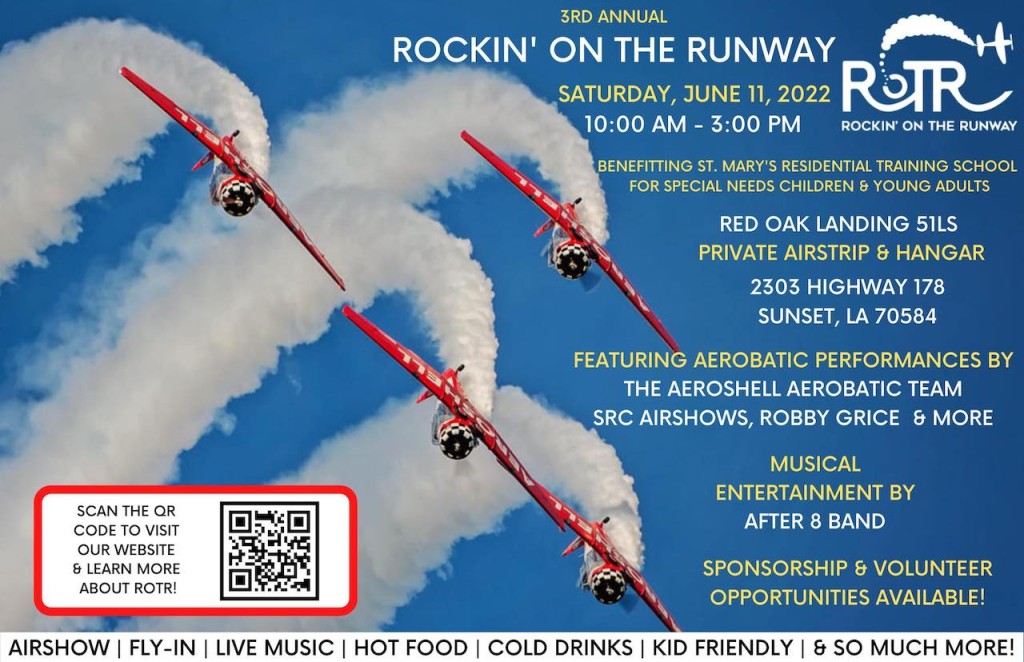 ALEXANDRIA, La (press release) – Rockin' On The Runway (ROTR) is hosting their third annual fundraising event on June 11. The goal is to raise funds and awareness for special needs children and young adults residing at St. Mary's Residential Training School in Alexandria, La. 
St. Mary's is home to approximately 200 residents, 40 percent of them being from the Acadiana area.  All proceeds from Rockin' On The Runway will be donated to St. Mary's through the school's 501c3 non-profit organization, St. Mary's Families & Friends.  Last year, ROTR presented a check to St. Mary's for $145,000.
Rockin' On The Runway is scheduled to take place at a private airstrip and airplane hangar in Sunset on June 11th from 10:00am-3:00pm. The event is open to the public, family friendly, and includes an airshow featuring the nationally recognized Aeroshell Aerobatic Team, fly-in, live music, kid zone, airplane rides, classic car show, & more.  A variety of food, drinks, & merchandise will be available for purchase. Sponsorship & volunteer opportunities are available. 
Tickets are on sale now.  Tickets are $20 in advance, $25 the day of, and kids 12 & under are free.
To learn more about Rockin' On The Runway, visit rotr-la.com & on social media @rotrla