Along the Tammany Trace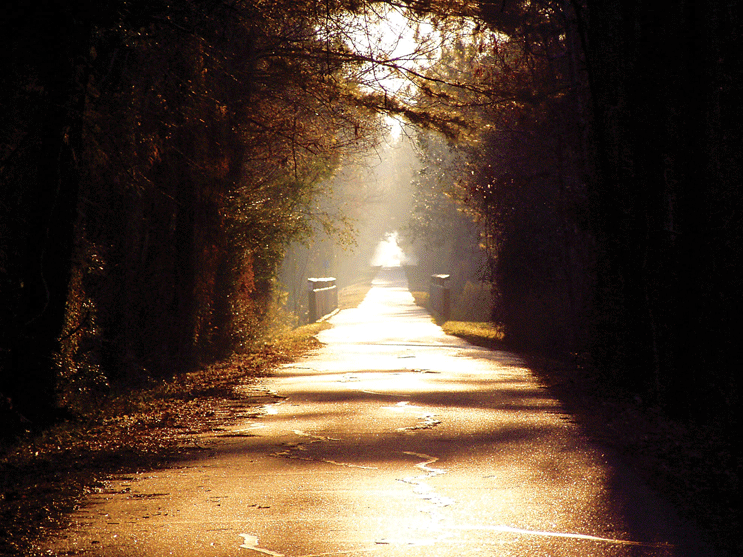 That the entire eastern half of the Lake Pontchartrain Northshore is now spanned by a grand 31-mile bike trail is no longer news. The surprise is that it has had such an impact. Simply by threading them together, the Tammany Trace has focused incredible public awareness and appreciation on the towns, terrains and landmarks along its path –– towns and rural stretches that could never, individually, have become so visible.
The Trace follows a former Illinois Central right-of-way from Covington to Slidell, the rail bed paved to give bicyclists, walkers, runners and rollerbladers (even horseback-riders on a parallel path) a thoroughfare of their own, unhindered by autos. Streets and highways (hidden but never far away) lead, of course, to the same towns, nature areas and points of interest, so directions and map guides acquired at Tammany Trace trailheads are equally useful to motorists.
The museum/information facilities at the trailheads, manned by volunteers, are usually open regular hours on Fridays and Saturdays and half-days on Sundays. Each one is a good starting point for some short stretch of the trail, but Covington is the obvious launchpad for eastbound excursions, be they short ones to Abita Springs and Mandeville or the long ride to Slidell.
Potential side trips lie all along the way, but seek advice about which roadways are safe enough for shoulder-hugging bike rides. Covington's Lake Ramsey, for example (the Louisiana Conservancy's 796-acre protectorate for now-rare pine-savanna habitat), is several miles off the Trace, but other nature preserves are actually right on the trail.
Before departing the Covington Trailhead at 419 N. New Hampshire, check out its photo gallery and artifacts depicting Covington life in earlier eras. A theater reels out a pleasant 20 minutes of nostalgia, and a mini-park hosts a farmers market on Wednesdays in the spring and fall and frequent evening concerts at its bandstand and amphitheater.
The adjacent Heiner Brau Microbrewery and Museum offers tours on Saturdays, and colorful shops and galleries line the Trace as it follows Gibson Street through town. Pay attention to stores on the cross streets, as well, or you'll miss such treasures as Roy's Knife and Archery Shop. Roy Blaum's strumming and gravel-voiced singing entertain visitors as they browse the glass cases filled with his own hand-carved figurines and roam the aisles laden with dart guns, whittling wood and the like.
A block off the trail at 308 N. Columbia is H.L. Smith & Son's General Store, a 130-year-old emporium of everything. Now operated by H.L.'s four great-grandsons, its vast array of household and hardware items is enhanced by choice specialty items such as coonskin caps, fox hides, mink pelts and real ponchos! Best of all, though, are the marvels of mercantile and community history in the store's museum wing, its old counters and old floorboards strewn not only with the ancient appliances and farm tools you'd expect but also with such bewilderments as a glass-paned iron casket and 20-foot cypress dugout.
Just past Lee Lane with its boutiques and cafés, stop at Gibson and Florida for a sundae or split at the soda fountain of an old drugstore-turned-antiques shop called Renaissance.
Gibson ends at the Bogue Falaya River, but thanks to the old trestle, the bike trail makes the crossing and heads out of town, paralleling Highway 36 on its way to Abita Springs. Halfway there, the Abita Brewery offers one tour on Friday afternoons and four more on Saturdays –– easy access for autos on 36 and soon, perhaps, rear access from the Trace.
The 19th-century resort town of Abita Springs is still famed for its pure water and "ozone air," and its Trailhead Museum on Maple Street (Highway 36) is the new neighbor of the Abita Brew Pub and the town's pride and joy: architect Thomas Sully's two-story pavilion built for the Mississippi Exhibit at the 1884-85 World's Fair in New Orleans. Abita musicians and singers often gather there for performances on Sunday afternoons.
The town's name derives from the Choctaws' "Ibetab Okla Chitto" ("Place Near the Spring"), and at the trailhead is a bronze statue of an Indian maiden by sculptor Gabriele Mossa of Florence, Italy. Depicting a heroine of local legend, she is shown drinking healing waters and surrounded by 14 species of woodland animals. The little museum occupies the old "bachelor wing" of a vanished hotel, and it displays village memorabilia as well as artifacts and early photographs of the Choctaw.
The Abita Creek Flatwoods Preserve, 4.5 miles north via Highway 435 (popular for its boardwalk over Bayhead Swamp and the bug-trapping flora along its Pitcher Plant Trail), is an easy detour for autos, but cyclists might decide to head straight to the Mystery House, two blocks along Highway 36 from the trailhead.
Begin by putting aside any thoughts of a conventional museum as you step inside the entrance building. It's a relic from the era of cute corner "fillin' stations," its interior now thoroughly transformed by bottle-cap trim work and motherboard ceilings. This is where you buy your $3 ticket and a souvenir –– perhaps a "made in Abita" gator-jaw letter opener –– before venturing into the cluster of other architectural oddities, such as the mosaic-exterior House of Shards and one small outbuilding walled completely with hot sauce bottles.
To summarize, the place is a theme park of endearingly useless collections (radios, bikes, cell phones, an actual gallery of paint-by-numbers works) and of comic social commentary in the medium of push button-motion dioramas. There's a tornado (actually twisting) in a trailer park (of course), a family in a 1950s "tourist court" (yes, the kid is bouncing on the bed), a River Road plantation squeezed by a neighboring petroleum plant. Truth is ever the surest source of humor.
The tour concludes with Mystery-man John Preble's art studio, where you can see works in progress as well as his popular "Creole Ladies" paintings and poster-size prints of his distinctive local scenes.
From Abita follow the Trace or Highway 59 4 miles south to Koop Drive, where a complex of St. Tammany administrative offices includes, in a big green caboose, the Tammany Trace Headquarters and souvenir center. A boardwalk from the complex crosses some soggy terrain to a welcome center (good guide maps and seven-day-access bathrooms), also accessible to auto traffic from 59.
It's another 4 miles south to Bernard de Marigny de Mandeville's old namesake town on Lake Pontchartrain, where the bike trail crosses U.S. 190 and follows Highway 59 (Girod Street) to the Mandeville Trailhead and Cultural Center (adjacent to Kickstand Café and Bike Rentals). Watch the film on the life and times of Marigny –– planter, politician, developer, writer and bon vivant –– who transformed his New Orleans plantation into the Faubourg Marigny and his Northshore plantation into this town and nearby Fontainebleau State Park.
The Trailhead also hosts free Friday evening concerts and, seasonally, a Saturday morning community market.
It's six more blocks along Girod to the oak-shaded lakeside green space that was part of Marigny's original town plan, and the Lake House restaurant at 2025 Lakeshore (formerly Bechac's, a favorite gathering place for novelist Walker Percy and friends) occupies an 1847 home actually owned by Marigny for a time.
Take Lamarque Street back through town to the Trace or to U.S. 190, but pause with reverence at the Dew Drop, 400 Lamarque, venerable landmark of New Orleans jazz and the very oldest "unaltered" rural jazz hall anywhere. It was built in 1895 by the Dew Drop Social and Benevolent Association, and its members were entertained by Louis Armstrong, Bunk Johnson, trombonist Kid Ory and other names you know. And the music lives on, says Richard Boyd of the Friends of the Dew Drop, which presents four spring and four fall concerts there each year, complete with plate lunches from next-door First Free Mission Baptist Church Ladies' Auxiliary. Visit dewdropjazzhall.com for schedules.
It's 2 miles to Fontainebleau's entrance, where a bicyclist's buck buys admission to this sprawling park, but first
visit the Northlake Nature Center directly across 190 (free admission, northlakenature.org), where trails and boardwalks lead along Bayou Castile and through Acolapissa archaeological sites, hardwood forest, pine savanna and cypress "pond-swamps" (created by the dam builders of a very visible beaver lodge).
Fontainebleau itself covers 2,800 acres of Bernard de Marigny de Mandeville's former plantation, featuring the dramatic ruins of his old brick sugar mill, giant oaks, woodland trails, marshland boardwalks, Pontchartrain piers and perfect campsites.
Scenic Cane Bayou forms the eastern boundary of the park and the western boundary of the immense Big Branch National Wildlife Refuge, which preserves a swathe of natural-state Pontchartrain shore lands stretching all the way to Bayou Liberty near Slidell. Most explorations require a boat, but auto and bike travelers can get good views in the area of Bayou Lacombe as it flows through the refuge from the town of Lacombe to the lake.
Heading east to the town, stop first for a meal at celebrity chef John Besh's La Provence restaurant or, with a left turn on 12th Street, a picnic in the big Lacombe Park. A block off 12th at 61115 St. Mary St., the Bayou Lacombe Rural Museum tells the story of the town's founding; displays Choctaw art and folk crafts; and introduces an early priest and poet named Adrien Roquette, missionary for many years to the Choctaw who called him Chahta Ima –– which means "One of Us." The museum is open only on occasional Sundays, so check the schedule at (985) 882-3043.
Now, finally, to explore a bit of the 15,000-acre Big Branch Refuge, you can follow Lake Road down the west bank of Bayou Lacombe as far as the lake if you wish. Cyclists can then rejoin the Tammany Trace, crossing its new Bayou Lacombe drawbridge, and detour down the east bank to enjoy the popular hiking trail and boardwalk along Boy Scout Road. Autos, however, must head east on 190, turning south on Transmitter Road and west on Paquet Road to find Boy Scout Road.
From Lacombe it's a 7-mile ride to the Slidell Trailhead at 2289 W. Gause (U.S. 190) and then another mile or so to the end/beginning of the Trace at Camp Salmen Nature Park (Wednesdays through Sundays, 9 a.m. till dark), with its cypress swamps and bottomland hardwood forest surrounding a sturdy 200-year-old former trading post on Bayou Liberty.