Affair with Los Islenos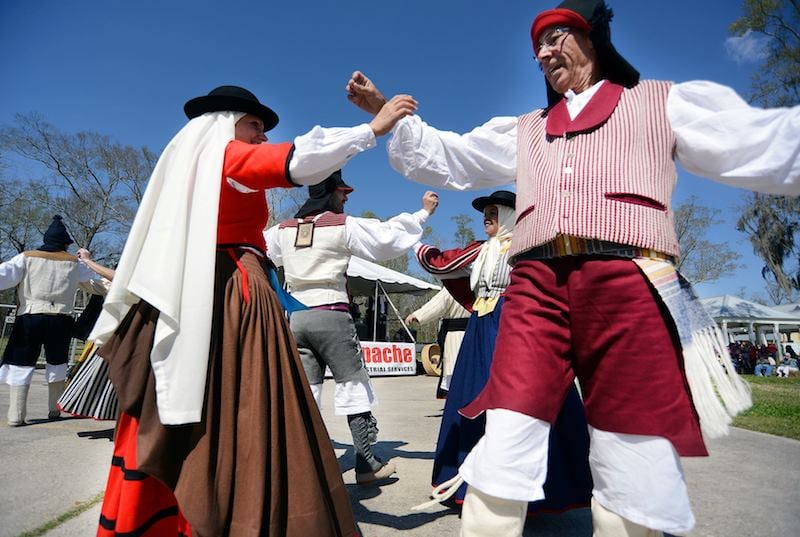 You don't have to travel overseas to experience the authentic culture of the Spanish Canary Islands. You can do just that right here in America, and even better, in the multi-cultural state of Louisiana.
Louisiana's St. Bernard Parish is home to many descendants of the Los Islenos peoples, who came from the Canaries and settled in St. Bernard Parish between 1778 and 1783. In fact, St. Bernard constitutes one of the last vestiges of Spanish Colonial Louisiana. (Fact: Spain, which controlled Louisiana west of the Mississippi River after the French and Indian War, decided to move its Spanish colonial residents from the Canary Islands to Louisiana to help prevent French invasion.)
One of the best times to experience the Los Islenos culture is during the two-day Los Islenos Fiesta held in March on the grounds of Los Islenos Museum & Village in St. Bernard. You can taste some of the unique mouthwatering dishes from the Canaries, as well as hear the melody of the culture's preserved music at this fun-filled event held March 3 – 4. You can also enjoy delectable cuisine passed down by the Islenos peoples of Louisiana, authentic dishes created from recipes which were passed down by generations past. (Fact: You can also tempt your taste buds with classic Louisiana dishes like gumbo and po-boys.)
There will be several delicious Spanish dishes to try including the classic ropa vieja, which is shredded pork with garbanzo beans over rice. Perhaps one of the most popular Isleno dishes served at the fiesta is caldo, a complex vegetable soup. Organizers say one of the best ways to try a few items is by ordering a Spanish Sampler, which includes a bacon wrapped plantain. Be sure to top off any of these dishes with the delectable, mouthwatering, sweet empanada.
The fiesta also has a Tapas Bar, where you will find delicious honey rum and wine from the Canary Islands flowing. Also available are tapas of cheeses, sausages and Spanish breakfast cakes made with potatoes and peas.
While this festival celebrates the culture of the descendants of the Los Islenos, it is not short on quintessential Louisiana musical performances by New Orleans bands. (Tip: If you want to hear authentic folk music of the Canary Islands be sure to be at the stage to hear Los Manjuelos perform on Saturday from 2:30 to 4:00 p.m. and on Sunday at 1:30 to 3:00 p.m.) Los Manjuelos is from Tenerife Island's La Laguna, which was once the ancient capital of the Canary Islands.
As for how excited the Los Manjuelos music group is about their upcoming performance in St. Bernard Parish, a band member wrote this Facebook message: "We are going to spread our customs, our folklore to this community descended from canaries who have endeavored for all these years not to lose or forget their roots."
Now, there is also something else you must do while here.
Be sure to go through the Los Isleno Museum, which is chock-full of artifacts, and walk through the village of historic buildings that bring to life the Louisiana people from the Canary Islands. (Tip: Be sure to ask for "Wimpy," who works at the museum and whose mother was a descendant of those who came from the Canary Islands. "Wimpy" is a great source of information on the Isleno people and the artifacts.) (Fun Fact: The museum collected and interviewed more than 200 elderly Islenos who speak the very old style of Spanish they brought to Louisiana more than two centuries ago.) You will certainly get an education on the St. Bernard Islanos descendants here including their distinct Spanish dialect, legends, crafts, and folklore.
Admission to the fiesta is $3, and there's a shuttle service with parking available at Old Courthouse and Gauthier Elementry School on the Judge Perez Extension.
One of the closest hotels to the fiesta is the Best Western Plus on Parish Road in Chalmette. For a unique experience, stay at one of the bed and breakfasts or guesthouses in the old Arabi neighborhood named "One of America's prettiest painted places." There are many things you can do while visiting St. Bernard including visiting beautiful waterways like Lake Borgne and Breton Sound, places where you will find bountiful fish and experience fantastic bird watching. And don't forget: you are only five minutes from downtown New Orleans.
For more information:
visitstbernard.com/events/los-islenos-fiesta
visitstbernard.com/play/events-festivals