Acadiana Profile, Louisiana Life Win Combined 14 National Awards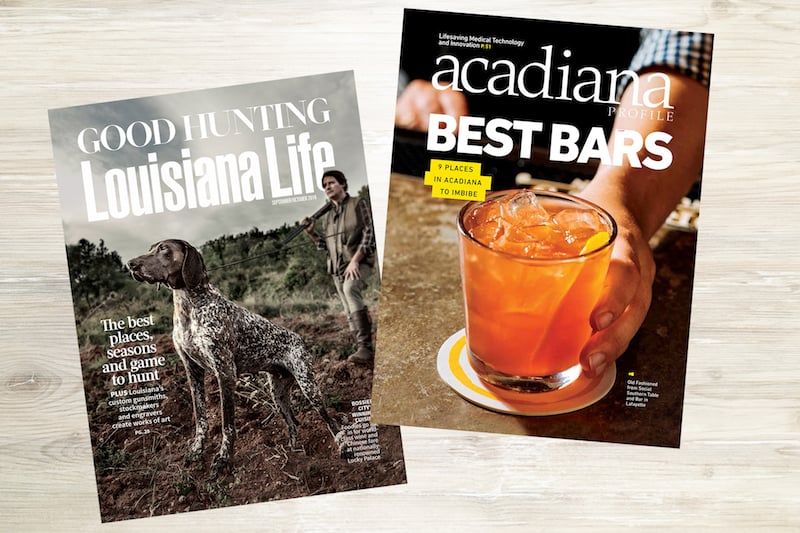 NEW ORLEANS – This month, Acadiana Profile and Louisiana Life magazines won a combined total of 14 awards from the International Regional Magazines Association. The organization's membership consists of state and regional magazines from across the United States and Canada, plus Bermuda. Winners are selected by nationwide panels of judges.
Of special note, both of the magazines won a first-place (gold) award. Also, Acadiana Profile was named as the finalist for the Magazine of the Year Award. Last year, Acadiana Profile and Louisiana Life had an unprecedented tie for first place. Both magazines compete in the category of publications with circulations of 35,000 or less. That is the largest category.
Acadiana Profile
Overall Art direction
Gold
Acadiana Profile
Art and Culture Feature
Silver
Acadiana Profile
Recreation Feature
Silver
Acadiana Profile
Food Feature
Bronze
Acadiana Profile
Profiles 35,000 or less APR
Bronze
Acadiana Profile
Art Direction of a Single Story 35,000 or less APR
Bronze
Acadiana Profile
Cover 35,000 or less APR
Award of Merit
Acadiana Profile
Magazine of the Year
Finalist
Acadiana Profile
Louisiana Life
Cover 35,000 or less APR
Gold
Louisiana Life
Art Direction of a Single Story 35,000 or less APR
Silver
Louisiana Life
Photo Series 35,000 or less APR
Silver
Louisiana Life
Portrait Series
Silver
Louisiana Life
Overall Art Direction 35,000 or less APR
Silver
Louisiana Life
General Feature 35,000 or less APR
Bronze
Louisiana Life
Food Feature
Award of Merit
Louisiana Life
Column
Award of Merit
Louisiana Life
Recreation Feature
Award of Merit
Louisiana Life