Acadiana Hospitals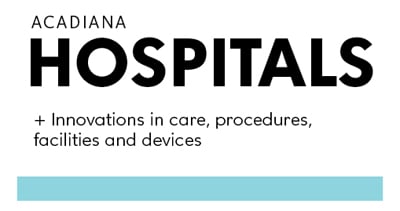 In Acadiana, the hospitals and their staff evolve to meet the ever-changing healthcare needs of the people of the region. For the 2017 Acadiana Profile Hospitals of Acadiana, we've researched what's new and who is specializing in what so you can determine when and where to get the best treatment. Also this year, we focused on the innovations in the care, procedures, facilities and devices that are putting Acadiana hospitals at the forefront of the medical profession.
— Melanie Warner Spencer
Advanced Care
Acadiana attracts medical professionals who are at the top of their profession
Symptoms of nostalgia enveloped Nettie Bruno as she walked into Opelousas General Hospital on May 30, 2017, a far cry from the excitement, nerves and angst the mother-to-be likely experienced when she passed through these doors 60 years ago to the day.
To facilitate its first-ever patient, doctors at the then-new hospital opened two hours earlier than intended, shepherding Bruno through the birth of her son, Andre.
Back then, a concrete walkway out front hadn't yet been laid, so Bruno — and all of the other hospital patients that followed her on opening day — carefully stepped over a series of wood planks to the entrance. Phone calls, of which they weren't many, were handled by an actual switchboard operator. The entire operation consisted of 20 beds contained inside a small, three-story building, which was more than suitable considering a little more than 100 patients total were treated in all of 1957.
Certainly, times have changed — a sentiment echoed by many who attended Opelousas General's anniversary party.
Today, Opelousas General Health System's thumbprint is spread across three campuses. Its maximum patient occupancy is more than 10 times what it was on Day One. The entire medical staff is 200 people deep and is supported by roughly 1,000 total workers making the care provider one of the largest employers in St. Landry Parish.
The scene at Opelousas General — a quantum shift between then and now — lends itself as a microcosm of the exponential growth witnessed in the medical field throughout Acadiana in the last decade. Once just a societal necessity, medicine in Acadiana today is a vital economic piston throughout the region that provides an essential economic buoy given the unpredictability of the energy sector. State-of-the-art facilities and equipment normally reserved for large metropolitan areas have blossomed in towns like Lafayette, Lake Charles, Houma and Abbeville, thus attracting both capable and innovative medical minds.
---
Acadia Parish
Acadia General
1305 Crowley Rayne Hwy. Crowley | alh.org | (337) 783 -3222
The nonprofit Acadia General serves Acadia Parish as part of the Lafayette General Health system with 140 beds. The nonprofit facility has a 24-hour Emergency Department in addition to acute medical and surgical care in oncology, orthopedics, gynecology, podiatry, radiology, and vein therapy. Offsite, Acadia General has two outpatient service facilities in The Center for Wound Care and Hyperbaric Medicine and Acadia Central Imaging.
Allen Parish
Allen Parish Hospital
108 Sixth Ave. Kinder | allenparishhospital.com | (337) 738-2527
Allen Parish Hospital is an acute and specialty care hospital that serves the tri-parish area of Allen, Beauregard and Jeff Davis parishes. Located in Kinder, APH offers respiratory care, physical and occupational therapy, a cardiology clinic, 24-hour emergency services, and more. Available home services include post-op care, physical therapy, speech therapy, nursing care, diabetic and blood pressure testing and monitoring. The hospital provides group and individual therapy and professional counseling in its psychiatric recovery unit for mental illness and addiction. APH also works with the National Alliance on Mental Illness, which provides a free Family-to-Family Education Program that covers everything from medication side effects to current research on mental illness causes.
Oakdale Community Hospital
130 Hospital Drive Oakdale | oakdalecommunityhospital.com | (318) 335-3700
This 60-bed hospital offers both inpatient and outpatient services, including emergency, imaging, laboratory, cardiology, nutritional, cancer management, physical therapy, respiratory care, family health, and women's services. The hospital is accredited by the The American College of Radiology, and its certified mammography unit uses low-energy rays to detect abnormalities. The hospital currently ranks in the top percent in Louisiana for heart failure treatment and offers a variety of non-invasive heart services. Oakdale Community Hospital also offers two family health clinics in Oakdale and Elizabeth, Louisiana.
Ascension Parish
St. Elizabeth Hospital
1125 West Hwy. 30 Gonzales | steh.com | (225) 647-5000
The faith-based, nonprofit St. Elizabeth Hospital is one of four hospitals in the Franciscan missionaries of Our Lady Health System, a five-hospital system that serves almost 60 percent of Louisiana residents with 1,800 beds. It has partnered with the Mary Bird Perkins Cancer Center for radiation oncology and has accredited cardiopulmonary services including respiratory therapy, cardiac testing, an MRI center and a telemetry unit. The hospital also operates a community clinic in Gonzales, providing services to patients ten and older who are uninsured or underinsured. St. Elizabeth was recently named the Hospital of the Year by the Louisiana State Nurses Association for the fifth time in addition to myriad accolades from the healthcare community, including being named one of the 100 Best Places to Work in Healthcare® by Modern Healthcare Magazine.
Assumption Parish
Assumption Community Hospital
135 Hwy. 402 Napoleonville | ololrmc.com/pages/assumption.aspx | (985) 369-3600
Assumption Community Hospital is a critical access hospital in with 15 beds. It operates as a nonprofit hospital and is a branch of the Our Lady of the Lake Regional Medical Center. Outpatient services include a smoking cessation program, breast cancer screenings and mammograms. As part of their community outreach, Assumption Community Hospital also provides health fairs and health screenings to Assumption Parish residents.
---
Procedure Innovations
Perhaps the greatest testament to the medical procedure innovations taking place within Acadiana is that they're not solely confined to the imaginary borders of the region
Dr. Craig Walker — who founded the pioneering Cardiovascular Institute of the South in 1983 as a one-doctor show in Houma and watched it swell to a multiple-location, world-renowned practice that champions research and state-of-the-art care — visited China in November 2016 and performed that country's first use of laser and drug-coated balloon technology in a limb-saving procedure needed because of a blocked artery.
In addition to performing the procedures, Dr. Walker also conducted a series of instructional lectures around proper operating methods of Spectranetics CVX-300 Excimer Laser System (the same system used at the CIS in Louisiana).
In one case at Beijing's Xuanwu Hospital, a 70-year-old patient with a low-limb blockage was able to have her leg saved when Dr. Walker used the Spectranetics System to remove a blood clot.
"These cases were complex, but we were able to achieve 100 percent clinical success," Dr. Walker says. "This outreach is an invaluable opportunity to share our knowledge and technologies with the medical community in China that has a patient population with a high and growing rate of peripheral arterial disease."
Much closer to home, in the spring of 2017, doctors at Lafayette General became the second group of medical professionals in the state of Louisiana to perform full knee-replacement surgery using MAKO technology. In layman's terms, a "MAKOplasty" is a patient-specific, robotic-arm procedure that enables surgeons to leave vital tissue and ligaments unharmed during joint replacement. Previously, MAKO had only been used in partial knee-replacement surgeries.
After a CT scan of the knee is taken, MAKO software creates a 3D surgical plan (the specifics of the surgical plan vary from patient to patient). From there, during the operation, the surgeon guides the robotic arm step-by-step within the mapped-out area of the knee defined by MAKO in its pre-operative plan, thus protecting the structural integrity of parts not needing repair. Dr. Don Yeager of Lafayette General has become so proficient in using the robot that he's now instructing other surgeons in Louisiana how to fully utilize the MAKO system.
Lafayette General advanced medical procedures in Acadiana this May when Dr. Alan Appley performed a first-of-its-kind frameless Deep Brain Stimulation procedure — a process used to treat symptoms of Parkinson's such as tremors, stiffness and slowed movement — using Medtronic's Nexframe with O-Arm. The technology affords the surgeon a navigational component, so that the instruments used in the procedure can be tracked through the body in real time. Previously, a pre-DBS surgery was required before the procedure itself so that the surgeons could place assistance markers. Our Lady of Lourdes is now also performing procedures using the robotic arm.
---
Calcasieu Parish
Christus St. Patrick Hospital
524 Dr. Michael DeBakey Drive Lake Charles | christusstpatrick.org | (337) 436 -2511
Named for the patron saint of Ireland upon the insistence of Dr. John Greene Martin, Christus St. Patrick Hospital was dedicated on St. Patrick's Day in 1908 and joined the Christus Health system in 1999. The hospital offers many services, including neurology, women's, pediatric,lgeriatric and behavioral health services. It also houses a rehabilitation center and offers lung cancer screenings. The facility is home to the Dubuis Hospital of Lake Charles, which provides care to patients with complex medical issues that require extended acute care hospitalization, such as wound care, rehabilitation, and ventilator dependency.
Lake Charles Memorial Hospital
1701 Oak Park Blvd. Lake Charles | lcmh.com | (337) 494-3000
As the only full-service community hospital in Lake Charles, Lake Charles Memorial Hospital also serves as the largest community-owned nonprofit healthcare system in southwest Louisiana. The hospital has four campuses: Lake Charles Memorial Hospital, Lake Charles Memorial Hospital for Women, Memorial Specialty Hospital and Moss Memorial Health Clinic. Specialty care services include inpatient and outpatient services, as well as a full-service trauma and emergency department and urgent care facility. A full range of diagnostics and pathology services available include CT scanning, ultrasound, nuclear medicine, MRI, endoscopic, cardiovascular and cancer diagnostics, ENT, urology, psychiatry, rehabilitation, orthopedic and sports medicine, obstetrics, gynecology, neurology, internal and pain medicine, pediatrics and more.
Lake Area Medical Center
4200 Nelson Road Lake Charles | lakeAreaMC.com | (337) 474-6370
This 88-bed full-service acute care hospital offers inpatient, outpatient, medical and surgical care for men, women and children. With more than 200 physicians on the medical staff, LAMC's specialty services include cardiology, labor and delivery, a level III neonatal ICU. Surgical services include robotics, and urology. The hospital also has a 24-hour Emergency Department. Lake Area Medical Center is an accredited Bariatric Surgery Center, offering a specialized weight loss program. It also serves patients at the Grand Lake Medical Clinic, Lake Area Physicians and Surgicare of Lake Charles, an ambulatory outpatient surgical center.
---
Device Innovations
Game-changing equipment impacts life for Acadiana patients
Considering softball coaches conduct much of their business in a cloud of dust and dirt, officials at University Hospital & Clinics in Lafayette felt Michael Lotief – the skipper of the nationally-ranked Ragin Cajuns squad – was the perfect candidate to receive a state-of-the-art tracheotomy valve. The manufacturer agreed.
In fact, Lotief became the first person in the country to be outfitted with the ProTrach DualCare, a valve that maintains the natural heat and moisture in the lungs of patients with tracheostomies, enabling them to speak. The new valve is also a hygienic barrier between the lungs and the elements. Lotief underwent a tracheotomy in August 2015.
Amos Medical, the developer of the valve, receives feedback from UHC on Lotief's experience with the device.
"In athletics, everybody wants to win all the time," Lotief told UHC officials right after the installation. "When you face adversity, struggle and sometimes even failure, that's when you need your support structure….It's good to see these people took an interest in my care."
With that said, not every device innovation is necessarily designed for the betterment of just the patient.
For instance, the Cardiovascular Institute of the South and Opelousas General Health System equipped its cardiac catheterization lab with a Biotronik Zero-Gravity Suspension Radiation Protection Unit — an innovation that guards against radiation exposure when cardiologists are operating.
The unit is mounted to the ceiling and affords up to a 100 percent reduction in radiation exposure compared to an old-fashioned lead apron or movable shields. Therefore, it also protects physicians from neck and back strain over time cause by wearing weighty lead protective gear. Dr. Kalyan Veerina, an interventional cardiologist, calls the device a "game changer."
---
West Calcasieu Cameron Hospital
701 Cypress St. Sulphur | wcch.com | (337) 527-7034
The 107-bed West Calcasieu Cameron Hospital was honored with the 2016 Women's Choice Award ® for America's Best Hospitals for Patient Safety, and earned an A grade in the Spring 2016 update to the Hospital Safety Score by The Leapfrog Group, which rates how well hospitals protect patients from accidents, errors, injuries, and infection. The hospital offers an array of healthcare services, including cancer care, cardiology, breast health, emergency medicine, radiology and imaging, pediatrics, and more. It recently launched the area's first specialized program for breast cancer patients, designating a single nurse or other health professional to help patients navigate the path to recovery. WCCH also has a sleep center and both cardiac rehabilitation and cardiology services, along with servicing rural health clinics in Hackberry, Vinton and Johnson Bayou. Equestrian-based care services are also available through the Genesis Therapeutic Riding Center for patients with developmental disabilities or brain injuries. WCCH also participates in Shots for Tots to provide inexpensive or free immunization for children.
Evangeline Parish
Mercy Regional Medical Center
3501 US-190 Eunice | acadianmedicalcenter.com | (337) 580-7500
800 E. Main St. Ville Platte | mercyregionalmedicalcenter.com | (337) 363-5684
The nonprofit Mercy Regional Medical Center formed when Ville Platte Medical Center and Acadian Medical Center merged in 2010 and now serves more than 97,000 patients annually under LifePoint Hospitals. Between the two campuses in Eunice and Ville Platte, the hospital offers a 24-hour emergency room, a cardiology center, pain management, imaging, dialysis, gastroenterology, gynecology, obstetrics, oncology and more. The Joint Commission accredited both facilities, which received Top Honors from LifePoint Hospitals for delivering quality care and ensuring fiscal responsibility.
Savoy Medical Center
801 Poinciana Ave. Mamou | savoymedical.com | (337) 468 -0346
Located just outside the heart of Mamou, the 176-bed Savoy Medical Center is an acute care facility that is adjacent to the Savoy Cancer Center. It services patients within a 30-mile radius, specializing in behavioral health, oncology, and rehabilitation. Savoy designates 34 beds for its psychiatric facility and 10 beds for intensive care. The hospital is accredited by the Joint Commission and accepts both Medicare and Medicaid.
Iberia Parish
Iberia Medical Center
2315 E. Main St. New Iberiai | beriamedicalcenter.com | (337) 364-0441
After acquiring Dauterive Hospital and transforming it into its North Campus in 2016, Iberia Medical Center now operates as the only hospital in New Iberia. The hospital is constantly growing and evolving, and recently added a hepatology clinic, inpatient surgery, and a cancer center to its North Campus. IMC is a full-service, acute care hospital, providing surgical, obstetrical, gynecological, pediatric, and emergency services, critical care, cardiac care, gastroenterological care and outpatient diagnostics. The facility also operates an outpatient rehabilitation center, the Advanced Wound Center and the Jeanerette Rural Health Clinic, and partners with Acadiana Diagnostic Imaging. In 2014, it earned the Women's Choice Award for providing outstanding patient experiences by Women Certified.®
Jefferson Davis Parish
Jennings American Legion Hospital
1634 Elton Road Jennings | jalh.com | (337) 616-7000
The Jennings American Legion Hospital is the only American Legion Hospital to be fully accredited by the Joint Commission. It houses the only cardiac catheterization lab between Lake Charles and Lafayette, where Jennings American Legion Hospital can offer interventional procedures along with nuclear stress testing and echocardiograms for those who have recently undergone heart procedures. The 24,000-square-foot medical office building and 32,000-square-foot patient tower allow JALH to provide patients with an emergency room, cardiology unit, surgical care, maternity ward and radiology services as well as a web nursery for families to view newborns. The hospital also offers a one-day Safe Sitter class for aspiring babysitters between 11 and 14 years of age.
---
Facility Innovations
Capital improvements provide state-of-the-art care in Acadiana
Just more than a decade ago, Lake Charles Memorial Hospital sparked an ambitious capital improvement campaign to the tune of $166 million.
In that time, the 314-bed facility underwent renovations and expansions to its cath lab, operation rooms, pediatrics center and its gastroenterology center, not to mention support services like the cafeteria.
The most ambitious facet of this medical makeover focused upon updating LCMH's emergency room — a unit housed within Southwest Louisiana's largest health system that handles up to 200 patients daily. As to not disrupt patient care, planners divided the renovations into four phases (currently, builders are in Phase Three of the overhaul.)
Phase Two, which concluded in October 2016, enlarged the waiting area, two triage stations and the fast-track area, along with increasing the number of beds. As ER Manager Jon Grays says, "All of this is intended to improve the flow of patients and the waiting times due to the increase of patient volumes throughout the years."
Once all phases are complete, the ER renovation will cost $14.5 million.
Additionally, Lake Charles Memorial broke ground last September on a $19 million Behavioral Health Hospital — construction higher-ups felt it was a necessity so that patients will no longer have to clog up an already busy emergency room for behavioral health services. Located near the current Memorial Hospital for Women campus in South Lake Charles, the new behavioral center will officially be called the Archer Institute to acknowledge a large contribution made by local psychiatrist Dr. Dale Archer, Jr. When completed, the facility will span 65,000 square feet and feature 102 beds.
Down the road in Lafayette, the Sleep Center of Acadiana opened in March 2017, headed by Dr. Adam Foreman and Dr. Kevin Hargrave. The facility houses six rooms for comprehensive sleep studies and is capable of conducting EEGs, Multiple Sleep Latency Tests, and Maintenance of Wakefulness Tests.
---
St. James Parish
St. James Parish Hospital
1645 Lutcher Ave. Lutcher | sjph.org | (225) 869-5512
This nonprofit hospital, according to its motto, is "large enough to serve, small enough to care." The cardiopulmonary department serves every age group, and the radiology department provides ultrasounds, digital mammography, fluoroscopy, nuclear medicine and bone density testing. The facility has a 25-bed Acute Care Center Department, a 24-hour Emergency Department, rehabilitation services, and a sleep center that focuses mostly on sleep apnea. St. James Parish Hospital also provides general, orthopedic, endoscopic and ophthalmological surgeries, along with wound care for ulcers, infections and skin grafts. The hospital also has new therapy hours, from 7 a.m. to 7 p.m., and frequently hosts elderly coffee socials.
St. John the Baptist Parish
Oschner Health Center – River Parishes
502 Rue de Sante LaPlace | ochsner.org/locations/ochsner-health-center-river-parishes | (985) 652-3500
River Parishes Hospital provides comprehensive care services throughout all life stages through primary care and specialty appointments. The cardiac center has a comprehensive program, including echocardiography, an exercise testing vascular laboratory and nuclear studies. The gastroenterology department treats gastroenterological organs and liver diseases, including Hepatitis B and C. It also provides services out of an occupational medical center in LaPlace to treat work injuries and illnesses, as well as smoking cessation assistance. Surgical specialties include procedures for the head, neck, bladder, and breasts, in addition to neurology and gynecology.
Lafayette Parish
Heart Hospital of Lafayette
1105 Kaliste Saloom Road Lafayette | hearthospitallaf.net | (337) 470-1000
An affiliate of Our Lady of Lourdes, The Heart Hospital of Lafayette is faith-based and entirely focused on and designed for the cardiovascular health of its patients. The hospital has a 24-hour Heart Emergency Center and a Chest Pain Center, where patients are taught to recognize and react to the early symptoms of heart attacks. The Heartsaver CT scanner scans the heart to uncover heart disease at its earliest stages, and the HEARTVantage free wellness program is the only free nationally accredited specialized care facility that focuses on heart health for patients. Its accolades include being recognized in 2014 by the Veterans Health Association as a Hospital Engagement Network Top Performer, and earning the Top Performer on Key Quality Measures® by the Joint Commission.
Lafayette General Medical Center
1214 Coolidge St. Lafayette | lafayettegeneral.com | (337) 289-8088
Lafayette General Medical Center is the largest full-service hospital in Acadiana, and serves as the flagship facility of the Lafayette General Health System. It has received accolades for its neurosurgery, vascular surgery, carotid surgery, prostatectomy, orthopedic services and surgeries, and was the first hospital in Acadiana to perform an open-heart surgery and a craniotomy. The hospital also houses centers for cancer, bariatric surgery, chronic care, neurology, strokes and orthopedics. It was the first telemedicine clinic in the area, and received a $250,000 donation from the James M. Cox foundation to expand its telemedicine services to provide services for St. Martin Parish students.
Lafayette General Surgical Hospital
1000 W. Pinhook Road, Suite 100 Lafayette | (337) 289-8095
Lafayette General Surgical Hospital is a short-stay hospital owned in part by the physicians that work there. It specializes in surgical and pain management services. Services include imaging, MRI, acid reflux treatment, BAHA hearing implants, radiology, EKG and lab services. Since its opening in 2004, the hospital has established a strong reputation and presence in Acadiana and has received full Joint Commission accreditation and won multiple awards. Lafayette General Surgical Hospital's specialties include urology, orthopedics, ENT, ophthalmology, cosmetic surgery, gynecology and pain management.
Lafayette Surgical Specialty Hospital
1101 Kaliste Saloom Road Lafayette | lafayettesurgical.com | (337) 769-4100
Built in 2004, Lafayette Surgical Specialty Hospital is physician-owned and cares for 8,000 cases annually. It was named Hospital of the Year by the Louisiana Nurses Foundation for four consecutive years and named by WomenCertified.com as one of the top 100 hospitals for patient experience. Specialties include neurosurgery, as well as orthopedic, ENT, general, urological, gynecological and plastic and reconstructive surgeries, along with pain management, radiological and magnetic resonance imaging.
Our Lady of Lourdes Regional Medical Center
4801 Ambassador Caffery Pkwy. Lafayette | lourdesrmc.com | (337) 470-2000
Founded by the Franciscan Missionaries of Our Lady in 1949, Our Lady of Lourdes employs more than 400 physicians and moved to its new main campus on Ambassador Caffery Parkway last year, which was the largest building project in the history of Lafayette. Lourdes houses the region's only burn center for comprehensive burn care for both minor injuries and chemical and electrical burns. Other services include a cancer center, one of five stroke centers of excellence in the state, a chronic kidney disease clinic, wound care center and after-hours clinics in Lafayette, Breaux Bridge and Carencro.
Park Place Surgical Hospital
4811 Ambassador Caffrey Pkwy Lafayette | parkplacesurgery.com | (337) 237-8119
The physician-owned Park Place Surgical Hospital, after joining with Our Lady of Lourdes Regional Medical Center in 2003, has 36 doctors who perform colon, rectal, ENT/otolaryngology, general, OB/GYN, plastic, vascular and orthopedic surgeries along with occupational and speech therapies. Park Place was announced as one of America's 100 Best Hospitals for Patient Experience by the Women's Choice Award ® for 2016. It is also the official surgical provider for the University of Louisiana at Lafayette Ragin' Cajun Athletics.
Lafayette General Southwest
2810 Ambassador Caffery Pkwy. Lafayette | lafayettegeneral.com/our_facilities/main_facilities/lafayette_general_southwest.aspx | (337) 981 -2949
This facility, formerly known as the Regional Medical Center of Acadiana, serves as an extension of Lafayette General Medical Center's main campus in the Oil Center. Lafayette General Southwest operates as a full-service acute care hospital that is licensed for 131 beds.
University Hospital
2390 W. Congress St. Lafayette | lafayettegeneral.com | (337) 261-6000
University Hospital & Clinics is a full-service acute care hospital and serves as Acadiana's Primary graduate medical education center. UHC offers charity care to patients who meet financial eligibility to receive treatment at no or low cost. Lafayette General Medical Center took over the 117-bed acute care facility in 2013. The hospital offers a free screening program to women through a grant funded by the Centers for Disease Control and Prevention and free breast screening mammograms for eligible patients. In addition to the full-service hospital, University Hospital offers a variety of specialized clinics.
Women's & Children's Hospital
4600 Ambassador Caffery Pkwy. Lafayette | womens-childrens.com | (337) 521-9100
Located on th