Acadiana Center for the Arts & New Orleans-based Tech Company Partner to Launch Platform for Artists to Find Opportunities & Relief Support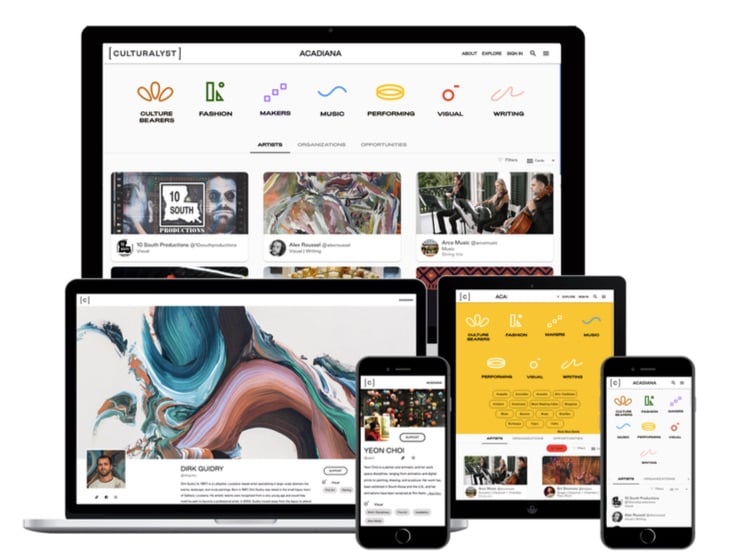 LAFAYETTE, La (press release) – This year of pandemics and storms has pushed artists, musicians, and arts organizations to their economic limits. A Louisiana company called Culturalyst has built a new way to help artists across Louisiana connect to much-needed resources.
Acadiana.Culturalyst.com is being launched by the Acadiana Center for the Arts to serve as a digital artist directory and tool to support and promote local culture.
"Artists, musicians, and cultural organizations from across the eight-parish region are invited to make a profile and use the platform to find opportunities and to be found," said AcA Executive Director Samuel Oliver. The eight parish region of Acadiana includes Acadia, Evangeline, Iberia, Lafayette, St. Landry, St. Martin, St. Mary, and Vermillion parishes.
Acadiana.Culturalyst.com's current focus is to provide resources and opportunities to artists and organizations that have been affected by the hardships of the past 18 months.
"The long-term goal is to have a comprehensive visual representation of the diverse artists across Acadiana and a way for easy collaboration between artists, organizations and the community at large, " said Oliver. "This project continues the efforts of Lafayette Consolidated Government, which completed significant grassroots research to compile an inventory of the artists, musicians, and cultural assets that make our community great."
"There's no reason it shouldn't be easy to find artists, arts organizations, and arts opportunities in every city in Louisiana. Our goal with launching Culturalyst was to create the digital infrastructure to enable that, connecting cultural communities across the state. We're so excited to partner with ACA to build a platform specifically designed to meet the needs of artists and culture bearers." ," said Samuel Bowler, founder of Culturalyst.
Now, that opportunity is growing into communities throughout the state. As part of efforts to grow support for Louisiana arts professionals and the arts & culture industry, Culturalyst has partnered with the Louisiana Division of the Arts and the state's nine regional arts councils to provide artists with a free digital one-stop shop where they can access artists opportunities and resources, including professional development opportunities, free digital portfolios, industry data, grant funding and job opportunities from institutions within the network across the state.
Professionals within the arts & culture sector remain amongst some of the hardest hit economically by the coronavirus pandemic, even as cities and arts organizations begin to reopen.
According to a survey conducted by Americans for the Arts, 95 percent of arts professionals have reported a loss of income. Sixty-three percent of artists and creatives have become fully unemployed and experienced an average financial loss of $47,564 each in creativity-based income since the onset of the pandemic. In 2020, BIPOC artists experienced even higher rates of unemployment than white artists (69% vs. 60%) and lost a larger percentage of creative income (61% vs. 56%). [Americans for the Arts survey available at: https://www.americansforthearts.org/news-room/americans-for-the-arts-news/covid-19-impact-on-t he-arts-research-update-may-4-2020]
"The pandemic has really taken a toll on our artist populations. Early results from studies confirmed that our arts & culture professionals were already experiencing disparities and insecurities in healthcare, income and housing. The pandemic worsened those disparities," said Chief Communications Officer David T. Baker. "We're trying to help make it easier for artists and creatives to be supported by a digital audience as well as connect with institutions looking for new artists to exhibit, employ or to provide with other resources and opportunities they need to live sustainable lives."
Through this new partnership with Culturalyst, LDOA and the regional RACs, the arts industry in Louisiana will now not only have access to new artists in pockets across the state they didn't before, but also the real-time data necessary to properly serve that population.
As part of the statewide rollout of the digital network, the participating regional arts councils will receive data management and communications capabilities that will allow them to upload any organizational opportunities they'd like to share with artists on the platform including open calls, business and professional development workshops and a data dashboard with real-time data.
To view the directory of local artists, to sign up for an artist profile or to learn more about Culturalyst, visit acadiana.culturalyst.com