A Ville Platte Historic Home Preservation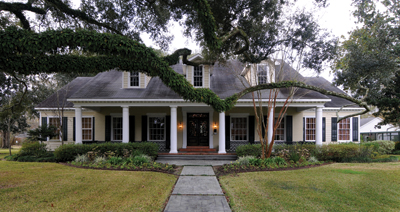 HOME TYPE: French Colonial
AGE OF HOME: 64 years
NEIGHBORHOOD: Ville Platte historic district
OWNERS: Henry and Charmaine Dupré
NOTABLE FURNISHINGS: French mahogany formal dining table, including 10 chairs; matching sideboard and china cabinet from Belle Alliance Plantation circa 1846 in Donaldsonville.
DESIGN FEATURES: A spacious entry hall acting as a central foyer is flanked by a formal parlor and a formal dining room.
AMENITIES: Two gazebos with views of the camellia garden and the rose garden and antique ornate wrought-iron railings encircling the exceptionally wide front porch.