A Pirate's Life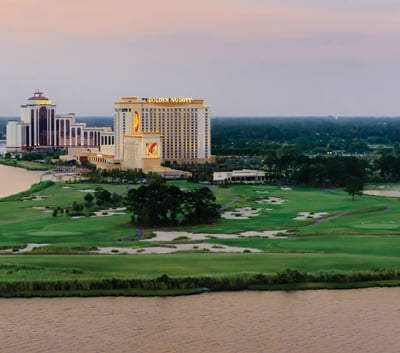 Pirates have infested Lake Charles since the eye-patch crowd plank-walked the mayor and took over the town on April 28. On May 8, by tradition, they'll tire of running a city and sail away, the Contraband Days festival at an end … but in Lake Charles the fun never stops.
Long before the pirate era the Attakapas Indians bestowed the name Calcasieu (Crying Eagle) not only on their chief but also on their river and region, but the old eagle has no reason to squawk these days. The tax base and real estate market of Lake Charles and Calcasieu Parish are soaring with the arrival of two new refineries, and a towering new Golden Nugget casino has joined the giant L'auberge Casino Resort on the city's skyline. That means more bounty borne to town by Texas gamblers who cross the Sabine River in weekly droves – scattering to L'auberge, "the Nugget," the Isle of Capri and, in nearby Vinton, the sprawling Delta Downs Racetrack-Casino – then departing only to return as fast as they can raise another grubstake.
Thus has Lake Charles, originally a boomtown of the 19th-century timber industry, reclaimed its boomtown status, the benefits being swanky new restaurants, countless music venues and refurbished older attractions, plus a stampede of innovative ventures like the Bayou Rum distillery, new labels from Rijenjacks and Crying Eagle craft brewers, and even a new Acadian Coffee Roasters enterprise entering the market with distinctive blends of organic, fair-trade coffees – (318) 677-9050 to request tours.

---

City Hall turned Cultural Center

Mardi Gras Museum of Imperial Calcasieu
---
The city's namesake lake with its strips of sandy beaches is as inviting as ever, the famed marshlands of Calcasieu and Cameron Parishes are still there for fishing, photography and exploration, and the age-old sounds of Cajun and Zydeco music still pulsate in the new and old clubs and dancehalls. But there's a new beat, too – exciting, enjoyable and magnetic.
The Old Spanish Trail (now Broad Street and Shell Beach Drive) still leads past architectural landmarks, and the Convention & Visitors Bureau's new "Southwest Louisiana Boudin Trail" guide leads to great boudin and sausages stuffed and smoked in the meat departments of previously hidden grocery stores in town and country.
Museums and galleries fill many of the restored landmarks and modern buildings, and many of them (like the venerable Lake Charles Little Theatre) also provide stages for drama, ballet, symphony and local sounds. In the heart of town, for instance, the Historic City Hall Arts and Cultural Center, an impressive Italianate clock-towered edifice built in 1911, houses galleries for regional art as well as national touring exhibits. A block away, the 1912 Central School presents the popular and dazzling Mardi Gras Museum of Imperial Calcasieu, which shares the old building with the Arts Associates Gallery (rotating exhibits), Black Heritage Gallery and studio space for working artists and offices of the Arts and Humanities Council.
Visit lakecharlesartists.com for a preview of Southwest Louisiana art exhibited at Gallery on the Lake (presented by Associated Louisiana Artists, 106 W. Pryce), and a tour of McNeese University will lead to the Abercrombie and Grand Galleries at the Shearman Fine Arts Center.
Young visitors love the interactive exhibits and activities of the Children's Museum, 327 Broad, and veterans and military buffs enjoy boarding the USS Orleck – a World War II-era destroyer that served through Korea and Vietnam – now docked on the river at 604 N. Enterprise Blvd.
Just off Ryan Street at 204 W. Sallier (named for an early settler), the Imperial Calcasieu Museum (set on Sallier's cabin-site and shaded by the ancient Sallier Oak) has succeeded in telling the story of Lake Charles and this corner of the state through its exhibits of art (like the Charlotte Robinson portrait of Flying Tiger commander Claire Chennault), photographs (by the likes of Elemore Morgan Sr.), Native American artifacts, Liberty Bond posters and images of the Great Lake Charles Fire of 1910. Its Gibson-Barham Gallery brings revolving fine arts, crafts and cultural exhibits from around the nation.
Incidentally, Charles Sallier's name remains on more than a street sign; his settlement grew, known first as Charleston and now Lake Charles.
---

Sulfur derrick and bust of Herman Frasch
The fire of 1910 and a killer hurricane of 1918 gave rise to a new development known today as the Charpentier (carpenters) Historic District, its genteel mini-mansions built of the Southern Yellow Pine that had made the region famous in the first place. Designed not by architects but by skilled carpenters, says historian Adley Cormier, the homes present pleasing deviations from the early-20th-century norm, including distinctive "pillars of the community" known in architectural circles as "the Lake Charles column" – their shafts, rectangular and paneled, tapering just so as they rise. For the pleasure of Cormier's company on a tour, call (337) 433-2385, and for an optional conveyance that's perfect for this neighborhood call J&R Carriage at (337) 842-0778.
More Calcasieu history awaits in DeQuincy, a few miles north and west via U.S. 171 and La.12, at the Louisiana Railroad Museum, a wonderfully restored Mission Revival depot built by the Kansas City Southern in 1923. With its handsome 1913 steam engine and other rolling stock, plus a wondrous collection of model steam and diesel engines and railroading memorabilia, it's the perfect spot for the Louisiana Railroad Days Festival (second weekend each April) and a perfect destination for a short detour off I-10.
West of Lake Charles via I-10 (or south from the Louisiana Railroad Museum by La.27 to complete that DeQuincy detour), the city of Sulphur boasts a 1915 Southern Pacific depot at Frasch Park, 900 S. Huntington, which now serves as centerpiece of the Brimstone Museum complex which honors the town, the sulfur dome that put it on the map, and the German American who created here the process that revolutionized sulfur mining around the world. New and vintage structures are still being added, but the impressive array of items and images that vividly tell the story of Herman Frasch and his mining process is already in place. Mid-March brings a lively Sulphur Mines Festival to the park, which also includes the Henning Cultural Center, its local artists shows and traveling art exhibits housed in the 1904 dwelling of an early Sulphur clergyman.
Nearby, in sight of I-10's Exit 20, stands Adventure Point, the Convention & Visitors Bureau's new trailhead and information center for the "All-American Road" called the Creole Nature Trail (a 180-mile "U" that heads south from Sulphur on La.27 to the Gulf of Mexico and follows the shore east awhile before veering north again, back to I-10 just east of Lake Charles). Besides maps and free iPhone Creole Trail tour apps, visitors to Adventure Point find lifesize dioramas of marshland critters, plus family photo opps like waving from a faux shrimp boat or fake jamming with real (but immovable) instruments on a Cajun/Zydeco bandstand.
No time for the entire trail? Consider sampling one or both tips of the "U." On the west side, La.27 leads south from Sulphur to Brown's Food Center in Hackberry (for sandwiches or plate lunches and even crab nets) in preparation for picnicking at the Sabine National Wildlife Refuge and crabbing at roadside piers or the Blue Goose Walkway. The east-side sampler would mean zigzagging south-east-south down La.14 from Exit 33 (grabbing boudin or plate lunches at Hackett's Cajun Kitchen along the way), then junctioning with southbound La.27 to Cameron Prairie Refuge. At refuge headquarters a boardwalk leads into a marshy lake that's popular with human and feathered guests, and a small indoor theater presents mechanical Cajuns telling about their wetlands. Then head south 2 miles to explore the Pintail Wildlife Drive's 3-mile loop and half-mile boardwalk. You'll spot gators, birds and maybe furry creatures on either side of the "U."
For Lake Charles visitors heading home on I-10, a convenient last stop will be the impressive Bayou Rum Distillery on the service road at Lacassine, Exit 48 at La.101. Can't miss it. And you don't want to miss it. The tours are free, and yes, there is a tasting room. The gift shop's swell and the giant copper kettles with their intricate piping are things of beauty. The reason awards are rolling in for the three-year-old operation, says owner Trey Litel, is the raw sugar and pure molasses from Louisiana soil – that and those traditional copper kettles! The Bayou Rum Silver is classic white, the Spiced is spicy, the Satsuma is fun and flavorful. Bayou Rum Select is coming soon but it's still a little wet behind the ears. Of course you could just find these in a store, but then you'd miss the tour!