A Britney Spears Shrine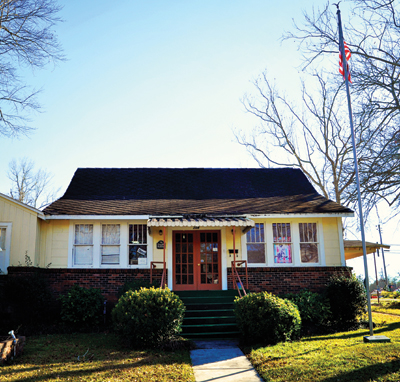 Though it's technically named The Kentwood Museum, it's generally known – by those who know it – as the Britney Spears Museum. Sure, there is an exhibit dedicated to local participation in World War II, but after that, it's pretty much all Britney.
Four rooms in the museum are a veritable shrine to the tiny town's most famous resident. Spears, of course, was born in McComb in 1981 and lived in Kentwood as a child. The so-called "Princess of Pop" launched her career as a member of the Mickey Mouse Club in 1992 alongside other future stars Christina Aguilera, Justin Timberlake, Ryan Gosling and Keri Russell.
Spears rocketed to fame with the release of her first single, "…Baby One More Time." She became the bestselling teenage artist of all time, has won numerous awards and has sold more than 34 million albums worldwide. Spears remains popular despite – or perhaps because of – her tarnished stardom. Over the years, the missteps have piled up: her 55-hour marriage to a childhood friend; erratic behavior; parenting skills that were scrutinized heavily by the media and more. But she has repeatedly picked up the pieces and remains a fascinating public figure who currently has a two-year residency performing in Las Vegas at Planet Hollywood.
The artifacts in the museum are as wondrous as they are numerous. The exhibits include fan photos; a case of awards; a detailed, light-up and to-scale replica of her "Dream Within a Dream" tour in 2001, which took a man in Salem, Oregon, six months to craft by hand; a massive set of feathered wings worn by the pop star on her "Femme Fatale" tour; Britney Spears calendars donated by a fan in Europe; a pageant trophy; a Jaguar headdress; framed albums; Britney Barbie dolls. For a $3 donation, fans can pose for a photograph with the wings.
The final room includes a reconstructed version of Spears's childhood bedroom, frozen in the 1980s. Her family donated items like furniture, Teddy bears, dolls, decorations, and her actual bed and bedspread, all of which are arranged as if a child-aged Spears was just in the next room. It's almost creepy. The museum isn't a happening place; visitors are rare though they tend to be fervent, eager to get a dose of the singer's life. There's a guestbook showing how far people have traveled to see her hometown: Some have traveled from as far away as Italy and France.

If you come, ring the doorbell to be admitted. Entry is free, though donations are accepted. The museum holds irregular hours, so call before you go if you're traveling a long way: (985) 229-4656. Posted hours are 9:30 a.m. to noon, Tuesday through Saturday, but random closures are not uncommon.