50 Things We Love About Acadiana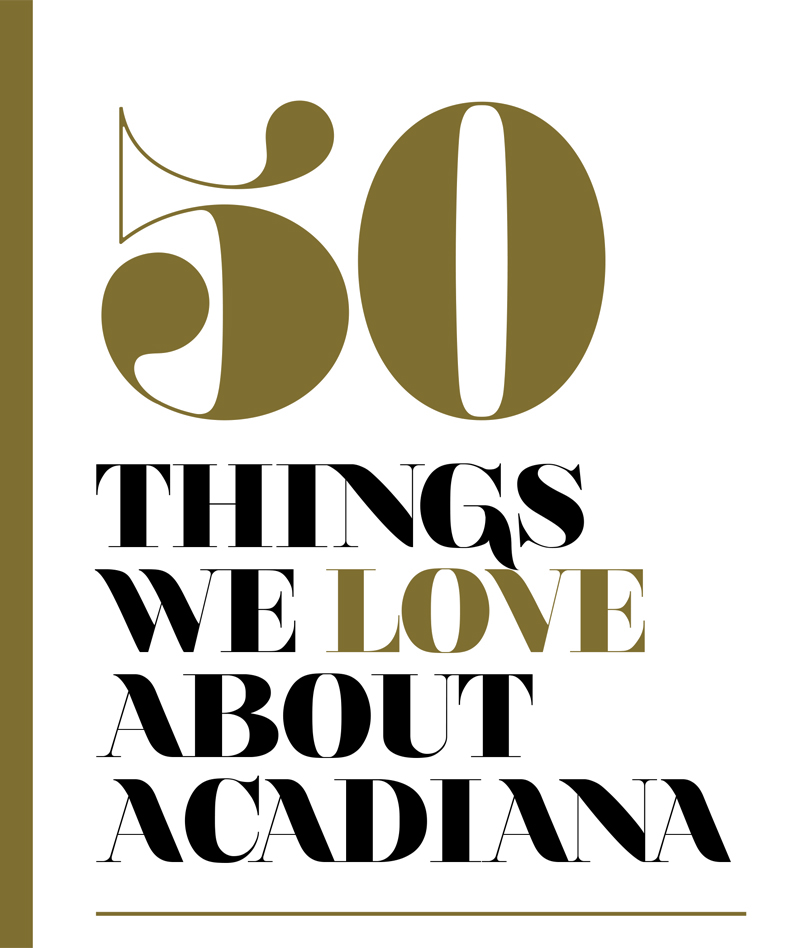 To celebrate the 50th anniversary of Acadiana Profile, we're reflecting on all the ways that the region has grown, thrived and transformed into the cultural heart of Louisiana. With its unrivaled music and entertainment, nature and culture and — our personal favorites — food and drink, Acadiana is a place like no other. We present to you 50 Things We Love About Acadiana. We hope you love them, too.
---
1
FOOD & DRINK
Hawk's Restaurant

RAYNE The drive out to this "middle of nowhere" restaurant may be a deterrent for some, but those braving the journey will find what some locals have called the best, biggest and cleanest crawfish in Acadiana. There is even a helpline that a lost traveler can call to find their way. 415 Hawks Road / 337-788-3266 / hawkscrawfish.com
2
FOOD & DRINK
Crying Eagle Brewery

LAKE CHARLES Prepared in "the heel of the boot," this local brewery crafts its beers with unique flavors and ingredients, from the sweetness of grapefruit to the bitterness of coffee. They are best known for their Calcasieu Common, Louisiana Lager and Ready to Mingle brews, but the ever-changing menu always promises something new. 1165 E. McNeese St. / 337-990-4871 / cryingeagle.com
3
FOOD & DRINK
Judice Inn

LAFAYETTE You won't find fries on the menu or ketchup on the table — this family-owned restaurant hasn't served either since opening in 1947. But add-ons aren't needed, as the burgers are something of local legend for their perfect level of seasoning and a "secret sauce." 3134 Johnston St. / 337-984-5614 / judiceinn.com
4
FOOD & DRINK
Billy's Boudin & Cracklins

SCOTT This is the place to go if you're in search of that legendary cuisine found only in southern Louisiana: boudin. A favorite among Acadiana natives, Billy's also serves up its famous homemade recipe in boudin pistolettes, crawfish boudin, boudin rollups and crunchy boudin balls. 523 Apollo Road / 337-232-1114 / billysboudin.com

5
OUTDOORS & HISTORY
Acadiana Park Nature Station

LAFAYETTE Nestled in the woods of Acadiana Park is this 150-acre facility dedicated to environmental education and research. Visitors can enjoy tours of a 6-mile nature trail, night hikes, nearby camping and a 9.5-mile paddle down the Bayou Vermilion. 1205 E Alexander St. / 337-291-8448 / naturestation.org
6
OUTDOORS & HISTORY
Lake-view Park & Beach

EUNICE For the family on a road trip, this is the perfect place to hitch up the RV (or rent a cabin) and enjoy amenities like free WiFi, a movie theater, water slides and playgrounds. While the kids are busy, adults can enjoy a 13-acre fishing pond and live music. 1717 Veterans Memorial Highway / 337-457-2881 / lvpark.com
7
ENTERTAINMENT
Feed & Seed

LAFAYETTE This 100-year-old building, formerly a feed store, is now home to a large wooden dance floor. The rustic warehouse space is used for art, live music and dance, and the space has recently become licensed as an events hall. The unique atmosphere continues into an outdoor patio and bar. 106 N. Grant St. / 337-330-4860 / feedandseedlafayette.com
8
ENTERTAINMENT
Blue Moon Saloon

LAFAYETTE For the best in honky tonk culture and live roots music, look no further. More than just a venue, this is the place where travelers, artists and musicians come to celebrate their culture and share a drink, all before settling in for the night in the saloon's guesthouse. 215 E. Convent St./ 337-234-2422 / bluemoonpresents.com
9
food & drink
The French Press

LAFAYETTE The French-American menu and expert preparation have made French Press the premier breakfast spot in Lafayette. Stop in Tuesday through Sunday for brunch, or try some of Chef Justin Girouard's intimate dinners on Friday and Saturday evenings. The early bird gets the worm here — tables tend to fill up fast. 214 E. Vermilion St. / 337-233-9449 / thefrenchpresslafayette.com
10
food & drink
Poche 's Market

BREAUX BRIDGE Since 1962, Poche's smokehouse has turned out speciality meats like boudin, tasso, stuffed chicken and more. Daily specials are available in the eatery's cafeteria-style dining room. Several of their famous meats are now offered for retail sale so that diners can bring their next meal home. 3015 Main Highway A / 337-332-2108 / poches.com
11
OUTDOORS & HISTORY
Jungle Gardens

AVERY ISLAND Adjacent to the Tabasco factory is a 170-acre garden that runs along Bayou Petite Anse. The botanicals found in the garden come from around the world and can be observed, along with rich local wildlife, on a walk through the garden. Bird tours are available by reservation. Louisiana 329 and Main Road / 337-369-6243 / junglegardens.org
12
ENTERTAINMENT
Tabasco Factory Tours & Country Store

AVERY ISLAND Every pepper used to make world-famous Tabasco sauce is grown and harvested on Avery Island. Visitors can see how the sauce is made in the factory tour and museum before heading over to the Tabasco Restaurant, where every dish is seasoned with those signature peppers. 32 Wisteria Rd. / 337-373-6129 / tabasco.com/visit-avery-island
13
food & drink
Alzina's Cajun Kitchen

GALLIANO Make your reservations now — diners can expect to wait as long as a year before they can sit down with Alzina Toups for a home-cooked meal at her own table. Her classic Cajun dishes have been called some of the best in the world and have kept visitors waiting for their chance to dine with her for over 40 years. 117 E. 132 St. / 985-632-7200
14
OUTDOORS & HISTORY
Rip Van Winkle Gardens

NEW IBERIA The peacefulness and serenity of these lush gardens and sprawling lawns may lull you into a 20-year sleep if you're not careful. Peacocks roam free and ancient oaks tower overhead, and the architectural marvel that is the Joseph Jefferson Mansion is available for tours. Coins from Jean Lafitte's treasure, which was buried on the island, are on display inside. 5505 Rip van Winkle Road / 337-359-8525 / ripvanwinklegardens.com
15
food & drink
Bread & Circus Provisions

LAFAYETTE Aside from the aesthetic appeal of the modern, industrial decor, this farm-to-table restaurant offers some of the most unique meals and cocktails in the area. The menu features a combination of Cajun and international foods. Stop in for a deli-style lunch or visit later for a candlelit dinner. 258 Bendel Road / 337-408-3930 / bandcprovisions.com
16
ENTERTAINMENT
Acadiana Center for the Arts

LAFAYETTE Known as the cultural hub for arts and programming in the Lafayette area, ACA boasts more than 9,000 square feet of gallery space and a 300-seat auditorium for live music, dance and theater. The center also participates in free ArtWalks on the second Saturday of every month.101 W. Vermilion St. / 337-233-7060 / acadianacenterforthearts.org
17
food & drink
Shade Tree Cafe

BROUSSARD Sit under the sun or the stars and enjoy heaping portions of homemade food at this outdoor cafe. A grand oak tree standing over the lawn provides just enough shade, but it's not uncommon for guests to sprawl out on the grass. The food is spectacular, and the atmosphere is unrivaled. 219 S. Eola Road / 337-839-2803
18
food & drink
Poor Boy's Riverside Inn

BROUSSARD Poor Boy's has come a long way from its inception as a snowball cart. Now with full-service restaurants in both Lafayette and New Iberia, the family-owned business continues its legacy of serving generous portions of signature items like crabmeat au gratin and broiled stuffed lobster. 240 Tubing Road / 337-837-4011 / poorboysriversideinn.com
19
food & drink
Ember Grille & Wine Bar

LAKE CHARLES Boasting the most extensive wine cellar around, the fine dining experience at Ember will satisfy your craving for gourmet cuisine in a luxurious setting. Enjoy live entertainment seven days a week while you sample the classic Louisiana fare and delicious house-made desserts. 777 Ave L'Auberge / 337-395-7565

20
food & drink
Rita Mae 's Kitchen

MORGAN CITY The appeal of this tiny establishment comes largely from the humble, cozy atmosphere inside, but that's not to say that the food isn't spectacular. With a management and cooking staff with decades of experience, dishes like the seafood gumbo and fried pork chops pack some of the best flavors in town. 711 Federal Ave. / 985-384-3550
21
food & drink
City Bar

MAURICE No list is complete without mention of City Bar's famous Cajun Bloody Marys, made up of the same special blend of seasonings and flavors they've served since 1927. A friendly staff and delicious drinks make this local watering hole the perfect place to spend a late night. 8401 Maurice Ave. / 337-893-1968
22
outdoors & history
Chicot State Park

VILLE PLATTE With 6,400 acres of hills and a 2,000-acre man-made lake, this is the largest of Louisiana's state parks. The freshwater is perfect for fishing largemouth bass, bluegills and red-ear sunfish, and a hiking and backpacking trail will take travelers through several campsites where they can stop to enjoy the unique ecosystem. 3469 Chicot Park Road
23
ENTERTAINMENT
Grand Opera House of the South

CROWLEY Once abandoned, the newly-renovated and ornate decor of this opera house lends to the grandeur of the entertainment featured there, be it live theater, dance or music. Notable performers include 2018 Grammy Award winners The Lost Bayou Ramblers (see our profile in La Musique on page 84), and in its early days hosted Clark Gable, Enrico Caruso and Babe Ruth. 505 N. Parkerson Ave. / 337-785-0440 / thegrandoperahouse.org
24
food & drink
Prejean's

LAFAYETTE The award-winning culinary team at this Lafayette landmark is the most decorated of any restaurant in the South. Since 1980, the combination of fresh seafood, wild game and nightly live music have spun an atmosphere of magic and tradition. This one is not to be missed. 3480 N.E. Evangeline Throughway / 337-896-3247 / prejeans.com

25
food & drink
A-Bear's Cafe

HOUMA This mom-and-pop establishment founded by Curly and Jane Hebert is one of the oldest restaurants in Houma. The building is completely made of cypress and comes right out of a Cajun memory. A-Bear's offers filling portions of gumbo along with live music and dancing on Fridays. To top it off, they've got some of the friendliest staff around. 809 Bayou Black Drive / 985-872-6306
26
food & drink
Bayou Teche Brewing

ARNAUDVILLE Stop by this local brewery for a selection of beers specially designed to complement Cajun cuisine — like the LA 31 Biere Pale Ale, which pairs perfectly with red beans and rice or boiled crawfish. Tours and live music are available on weekends, while the tap room is open for tasting every day. 1106 Bushville Highway / 337-754-5122 / bayoutechebrewing.com

27
OUTDOORS & HISTORY
Cajun Music Hall of Fame

EUNICE Admission is free to this museum, which is owned and operated by the Cajun French Music Association. Housed in a 1930s country store, visitors can see artifacts and memorabilia dedicated to preserving Acadian culture and honoring some of the greatest Cajun musicians in history. 240 S C C Duson St. / 337-457-6534 / cajunfrenchmusic.org/halloffame.html
28
ENTERTAINMENT
Pat's Fisherman's Wharf Restaurant

HENDERON Come for the food (stuffed crabs and spicy gumbo), but stay for the entertainment. Pat's hosts live Swamp pop and Zydeco musicians every weekend at the Atchafalaya Club, and for those staying out late for a long night of dancing, Pat's Edgewater Inn is just a stone's throw away. 1008 Henderson Levee Rd. / 337-228-7512 / patsfishermanswharf.com
29
OUTDOORS & HISTORY
Acadian Village

LAFAYETTE Sprawling over 32 acres is Acadian history brought to life. Seven of the eleven buildings in the village are original 19th-century homes, each moved piece by piece and meticulously reassembled. Stop by for a tour, or visit in December to see the village light up for the holidays. 200 Greenleaf Drive / 337-981-2364 / acadianvillage.org
30
food & drink
Shucks!

ABBEVILLE For fresh seafood including oysters and crabmeat and wild game like alligator and duck, SHUCKS! is your one-stop shop. The restaurant's recipes have been handed down generation to generation, ensuring the same bold, delicious flavors are delivered every time. 701 W. Port St. / 337-898-3311 / shucksrestaurant.com

31
ENTERTAINMENT
Liberty Theater

EUNICE This historic vaudeville house is now widely known for "Rendez-Vous Des Cajuns," a radio and TV show recorded in front of a live audience every Saturday night. Tickets are available the morning of the event, and guests are invited to a dance floor in front of the stage. 200 Park Ave. / 337-457-6577
32
FOOD & DRINK
Little Big Cup

ARNAUDVILLE With a beautiful dining room and a deck overlooking Bayou Fusilier, Little Big Cup has come a long way since its days as a coffee house. The restaurant now serves traditional Cajun cuisine with an elegant presentation, and their boucherie brunch buffet on Sundays is a must-try. 149 Fuselier Road / 337-754-7147
33
ENTERTAINMENT
Lafayette Science Museum

LAFAYETTE Part natural history museum and part planetarium, this establishment teaches its cultural history through art exhibitions and hands-on science. Its 10,000 square feet of exhibition space includes a virtual reality lab, a crawl space designed to teach about insects and a virtual aquarium. 433 Jefferson St. / 337-291-5544 / lafayettesciencemuseum.org
34
OUTDOORS & HISTORY
Vermilionville Historic Village

LAFAYETTE Preserving history from 1765 to 1890, Vermilionville is a unique history museum where Acadian, Native American and Creole culture come to life. Local artisans are costumed and in character as they guide visitors through seven restored homes and demonstrate cooking and live music. Boat tours are also available. 300 Fisher Road / 337-233-4077 / vermilionville.org
35
food & drink
Blue Dog Cafe

LAFAYETTE What better way to enjoy Cajun cuisine than surrounded by a private collection of George Rodrigue's art? Named after Rodrigue's iconic character, Blue Dog Cafe hosts live music and even serves an award-winning brunch featuring carved prime rib, crawfish enchiladas, oyster cornbread dressing and free mimosas.1211 West Pinhook Road / 337-237-0005 / bluedogcafe.com
36
food & drink
Buck & Johnny's

BREAUX BRIDGE The best of Cajun and Italian flavors are combined at this unique restaurant. Live music is played Thursday and Friday nights, but be sure to consider Buck & Johnny's famous Zydeco Breakfast on Saturday mornings, when you can enjoy music and bottomless cocktails. 100 Berard St. / 337-442-6630 / buckandjohnnys.com
37
OUTDOORS & HISTORY
Champagne 's Cajun Swamp Tours

BREAUX BRIDGE Set up camp, board a kayak or airboat, and journey down historic Lake Martin. With an experienced tour guide, you'll encounter several native birds like burrowing owls, great blue herons and pileated woodpeckers. You'll also learn about the 500-year-old cypress and tupelo trees and the secret of how Cajuns harvested and used this wood. 1151 Rookery Road / 337-230-4068 / champagnesswamptours.com
38
ENTERTAINMENT
Cowboys Saloon

SCOTT The wild west and modern amenities come together in the Cowboy's family. Pool tables, a jukebox and bar-top video games await patrons looking for a boot-scootin' good time at the Saloon. The Nightclub is just a few steps away for anyone looking for live zydeco and country bands. 211 N. Ambassador Caffery Pkwy. / 337-232-6003 / cowboyslafayette.com/saloon
39
ENTERTAINMENT
Artmosphere

LAFAYETTE The vibrant colors and eclectic decor of this bistro's exterior are just a taste of what you'll find inside. Enjoy lunch, dinner or a late-night meal prepared with ingredients from Artmosphere's own garden, or show up to see displays of local art and live music six nights a week. 902 Johnston St. / 337-233-3331 / artmosphere.vpweb.com
40
ENTERTAINMENT
Randol's Seafood Restaurant

LAFAYETTE Make this your next stop if you're looking for toe-tapping entertainment in a downhome environment. Even as it nears its 40th anniversary, Randol's maintains nightly live music and prepares signature Cajun meals and seafood cooked to perfection. 2320 Kaliste Saloom Road / 337-981-7080 / randols.com
41
food & drink
Parish Brewing Company

BROUSSARD In addition to its flagship beer Canebrake, a wheat ale sweetened with cane syrup, Parish brews a wide selection of local favorites like its juice bomb IPAs, Ghost in the Machine and Envie Pale Ale. The taproom is open six days a week and tours are available on Saturdays. 229 Jared Drive / 337-330-8602 / parishbeer.com
42
food & drink
Pamplona Tapas Bar

LAFAYETTE Both the food and ambiance of this tapas bar are styled after Ernest Hemingway's favorite retreat: Pamplona, Spain, which is famous for bullfighting. All of the restaurant's ingredients are prepared and served fresh, from their fruits and greens to their meat and seafood. A selection of Spanish wines are available to top off the meal. 631 Jefferson St. / 337-232-0070 / pamplonatapas.com

43
food & drink
The Wurst Biergarten

LAFAYETTE The first of its kind in the Acadiana area, this open-air market and catered park serves traditional biergarten cuisine and European and German beers. After you've had your fill of food and drink, hang out on the outdoor deck and listen to live music, or wander through the market area where local vendors and artists sell their treasures. 537 Jefferson St. / 337-534-4612 / wurstbiergarten.com

44
food & drink
Steam-boat Bill's

LAKE CHARLES Need we say more than "hot and spicy crawfish"? Since the 1980s, Steamboat Bill's has served some of the best Cajun flavors from both land and sea. Tuck into a plate of crawfish and shrimp pistolettes, jumbo butterfly shrimp, fried oysters or boudin balls. Catering is also available. 1004 N. Lakeshore Drive / 337-494-1070 / steamboatbills.com
45
OUTDOORS & HISTORY
Wetlands Acadian Cultural Center

THIBODAUX Managed by the National Park Service, this site features an Acadian history museum, walking tours and boat tours down Bayou Lafourche. Once a week, the center also hosts a live Cajun music session and, as part of their linguistics program, a Francophone get-together to preserve the original language of the area. 314 St. Mary St. / 985-448-1375
46
FOOD & Drink
Pont Breaux's Cajun Restaurant

BREAUX BRIDGE Listen to live Zydeco music almost every night as you enjoy traditional Creole cuisine and seafood at this cultural cornerstone. Patrons are invited to hit the dance floor once their meal is done, and group rates are available for families and larger parties. 325 W. Mills Ave. / 337-332-4648 / pontbreauxscajunrestaurant.com
47
OUTDOORS & HISTORY
Evangeline Oak Park

ST. MARTINVILLE The story of this historic site inspired the famous Henry Wadsworth Longfellow poem, which recounts the trials of Evangeline as she awaits the return of her true love. The Evangeline Oak is said to be the spot where they finally reunited. Near the park is Evangeline's tomb, which is adorned with a bronze statue of her likeness. 122 Evangeline St. / 337-394-2232
48
OUTDOORS & HISTORY
Shadows on the Teche

NEW IBERIA Sitting along the Bayou Teche and surrounded by towering oaks, Shadows is an historic antebellum home originally constructed for a sugar planter in 1834. The home is now a National Historic Landmark, with original furnishings and family belongings preserved inside to showcase the lifestyle of that time. Tours are available. 317 E. Main St. / 337-369-6446 / shadowsontheteche.org