2023 Museum Gala Welcomes Honoree Roger Ogden Home to Lafayette
And offers preview of his significant collection of Southern art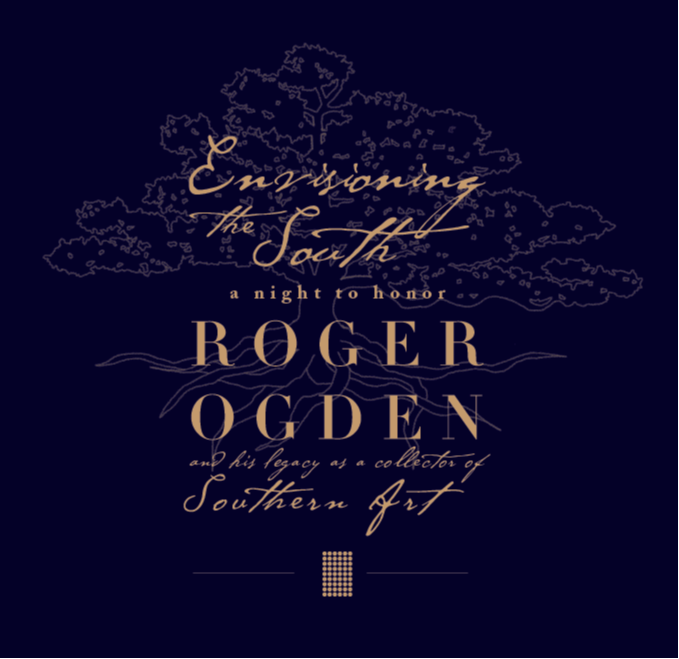 LAFAYETTE, La (press release) – The Hilliard Art Museum announced today a gala to honor Roger Houston Ogden and his legacy as a collector of Southern art. The 2023 Gala at the Museum, A Night to Honor Roger Ogden will take place Jan. 19, 2023 and will feature a cocktail reception, seated dinner and a preview of Envisioning the South: The Roger Houston Ogden Collection. Tickets are available via Eventbrite and seating is limited.
"As a pre-eminent collector and founder of the Ogden Museum of Southern Art, Roger Ogden set a precedent for how art historians and collectors define and interpret a southern aesthetic", states Director LouAnne Greenwald. "He is the foremost champion of Southern art, and we are honored to welcome him home for this celebration of his legacy."
For the event, Hilliard will transform its main exhibition gallery into the beauty of a Louisiana landscape, offering an evening of local entertainment and special guests fit for the occasion. Attendees also will be the first to see "Envisioning the South: The Roger Houston Ogden Collection", a new exhibition chronicling Ogden's evolution as an art collector, a survey of his collection, from representational art works to non-objective abstraction to photography from his collection and namesake museum, the Ogden Museum of Southern Art.
This special event is an opportunity to further the museum's educational impact – funds raised will support the creation of an educational classroom, and a café in the historic A. Hays Town-designed building adjacent to the Hilliard Art Museum, preserving a cultural landmark and making it more accessible.
"Serving UL students as well as toddlers through seniors in the community, our education programs provide life-long learning through the arts, fostering visual thinking, creative expression and empathy for others – critical skills for all ages.  We look forward to bringing the campus and community together in this beloved building."
The morning after the gala, ticket holders are invited to a symposium titled, Southern Aesthetics and Connoisseurship: In Conversation with Roger Ogden. The half-day event at the LITE Center features  presentations by Curator Benjamin Hickey, Hilliard Art Museum; Curator Bradley Sumrall, Ogden Museum of Southern Art; and Roger Houston Ogden.
Hilliard wishes to thank our sponsors: Stirling Properties, Oats and Marino, Dr. Jay Culotta, Haynie Family Foundation, Paul and Madlyn Hilliard, Badger Energy, LLC, JohnPac, The Helis Foundation, Shannon and John K. Hill, Dr. and Mrs. Henry Kaufman, IV, Art LeBlanc, Stephanie and Pete November, Kathryn and Jeffrey Scurlock. And our patrons: Elaine Durbin Abell and Edward C. Abell, Jr., Pilar Blanco Eble in honor of Governor Kathleen Blanco, Marguerite and Greg Bordelon, Bridget and Charles Boustany, Tiffa and Kerry Boutté, Colleen and John Chappuis, Dorothy Clyne, Becky and Wyatt Collins, Merilyn Crain, Rita Durio and Associates, Eskew Dumez Ripple, Kiki and Rick Frayard, Janet and Joel Gooch, Anne and Kevin Gossen, Phyllis and Billy Keaty, Cherie and Ralph Kraft, Tracy and Frank Neuner, Dr. Pat O'Brien, Ph.D. and Mr. Peter W. Patout, Ochsner Lafayette General Foundation, Preservation Alliance of Lafayette, Rosalind and Sam Robertson, Catherine and Matt Saurage, Susan and Louis Simon, Dr. William "Kip" and Carolyn Doerle Schumacher, Bettie Skains Sonnier and Eileen Sonnier, University of Louisiana at Lafayette and the University of Louisiana at Lafayette Foundation and Donna and John Wright. Additional in-kind support is provided by The Times Picayune | The Advocate, Party Central, Chef John Folse & Company, Billy Heroman's Flowers, Clark Services Audio Visual & Exhibit, Inc., Sweet Magnolias, and Louisiana Seafood Board.
The 2023 Gala at the Museum, A Night to Honor Roger Ogden
DATE: Thursday, January 19, 2023
TIME: 6 p.m. – 10 p.m.
LOCATION: 710 East St. Mary Blvd., Lafayette, LA 70503
DETAILS: Tickets to the cocktail reception, seated dinner, exhibit preview and symposium are $600. Purchase tickets via Eventbrite or call 337-482-0817. For more information, including additional sponsorship opportunities, contact Christina Lake at 337-482-6060.