TOP DOCTORS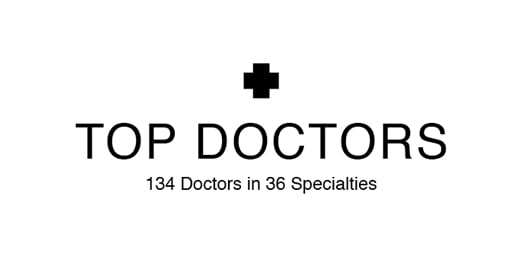 We know the key to health is to eat well, exercise and get plenty of rest. We aren't however always good at following this simple advice. In Acadiana for example, diabetes is one of the top health issues facing the population, as we reported in the August/September 2016 issue. The good news is, the human body has a remarkable ability to heal and repair itself, especially when under the care of an adept doctor.
As part of this issue's fitness and nutrition coverage, we're offering up our first ever Top Doctors list. The doctors in this list are at the top of their fields and have passed a rigorous screening process to be included. Read about the toughest cases of three of the doctors and save this list for when you need to call in a professional.
Castle Connolly Medical Ltd. is a healthcare research and information company founded in 1991 by a former medical college board chairman and president to help guide consumers to America's top doctors and top hospitals. Castle Connolly's established nomination survey, research, screening and selection process, under the direction of an MD, involves many hundreds of thousands of physicians as well as academic medical centers, specialty hospitals and regional and community hospitals all across the nation. Castle Connolly's physician-led team of researchers follows a rigorous screening process to select top doctors on both the national and regional levels. Its online nominations process – located at castleconnolly.com/nominations – is open to all licensed physicians in America who are able to nominate physicians in any medical specialty and in any part of the country, as well as indicate whether the nominated physicians is, in their opinion, among the best in their region in their medical specialty or among the best in the nation in their medical specialty. Careful screening of doctors' educational and professional experience is essential before final selection is made among those physicians most highly regarded by their peers. The result – we identify the top doctors in America and provide you, the consumer, with detailed information about their education, training and special expertise in our paperback guides, national and regional magazine "Top Doctors" features and online directories.
Doctors do not and cannot pay to be selected and profiled as Castle Connolly Top Doctors Physicians selected for inclusion in this magazine's "Top Doctors" feature may also appear online at castleconnolly.com, or in in conjunction with other Castle Connolly Top Doctors databases online and/or in print.
Allergy & Immunology
Jibran E. Atwi
Women's & Children's
Hospital-Lafayette
Pediatric Group of Acadiana
401 Youngsville Hwy., Ste. 100
Lafayette
(337) 330-0031
John E. Erffmeyer
Ochsner Medical Center-Baton Rouge – Allergy & Immunology
9001 Summa Ave.
Baton Rouge
(225) 761-5200
Bernard C. Fruge Jr.
Women's & Children's
Hospital-Lafayette
Allergy, Asthma & Immunology Ctr of SW LA
320 Settlers Trace Blvd.
Lafayette
(337) 981-9495
Bina E. Joseph
Women's & Children's
Hospital-Lafayette
Allergy, Asthma & Immunology Ctr of SW LA
320 Settlers Trace Blvd.
Lafayette
(337) 981-9495
James M. Kidd III
Our Lady of the Lake
Regional Medical Center
Kidd Allergy Clinic
8017 Picardy Ave.
Baton Rouge
(225) 769-4432
Powlin V. Manuel
Women's & Children's
Hospital-Lafayette
Manuel Allergy Center
104 Genevieve Drive
Lafayette
(337) 984-0110
Prem K. Menon
Our Lady of the Lake
Regional Medical Center
Asthma, Allergy
& Immunology Center
5217 Flanders Drive
Baton Rouge
(225) 766-6931

Cardiac Electrophysiology
Kenneth C. Civello Jr.
Our Lady of the Lake Regional Medical Center
Louisiana Cardiology Associates
7777 Hennessy Blvd.
Medical Plaza II, Ste. 1000
Baton Rouge
(225) 767-3900
N. Joseph Deumite
Our Lady of the Lake Regional Medical Center
Louisiana Cardiology Associates
7777 Hennessy Blvd.
Medical Plaza II, Ste. 1000
Baton Rouge
(225) 767-3900

Cardiovascular Disease
Bart G. Denys
Thibodaux Regional
Medical Center
Cardiovascular Institute
of the South
1320 Martin Luther King Drive
Thibodaux
(985) 446-2021
Michael Z. Dibbs
Heart Hospital of Lafayette, The
Cardiology Center Of Acadiana
121 Rue Louis XIV
Bldg 4, Ste. B
Lafayette
(337) 984-9355
Daniel T. Fontenot
Our Lady of the Lake Regional Medical Center
Baton Rouge Cardiology Center
5231 Brittany Drive
Baton Rouge
(225) 769-0933
Nakia A. Newsome
Baton Rouge General-Bluebonnet
Baton Rouge Cardiology Clinic
8888 Summa Ave.
Baton Rouge
(225) 769-0933
John M. Winterton
Lake Charles Memorial Hospital
Heart & Vascular Surgery Center
1717 Oak Park Blvd., 2nd Fl
Lake Charles
(337) 494-3278
Kevin R. Young
Lake Charles Memorial Hospital
Heart & Vascular Surgery Center
1717 Oak Park Blvd., 2nd Fl.
Lake Charles
(337) 494-3278

Clinical Genetics
Duane W. Superneau
Our Lady of the Lake Regional Medical Center
8415 Goodwood Blvd.
Ste. 202B
Baton Rouge
(225) 765-8988

Dermatology
Mary C. Dickerson
Louisiana Dermatology Associates
10154 Jefferson Hwy.
Baton Rouge
(225) 927-5663
Laurie H. Harrington
Advanced Dermatology
20474 Old Scenic Hwy.
Zachary
(225) 654-1124
W. Trent Massengale
Atlas Dermatology
17503 Old Jefferson Hwy.
Prairieville
(225) 313-4560
Elizabeth A. Mcburney
Dermasurgery Center
1245 Camellia Blvd., Ste. 300
Lafayette
(337) 839-2773
Ann C. Zedlitz
Our Lady of the Lake Regional Medical Center
Z Aesthetic Dermatology
5305 Flanders Drive
Baton Rouge
(225) 778-7540

Endocrinology, Diabetes & Metabolism
Robin E. Kilpatrick
Our Lady of the Lake Regional Medical Center
Our Lady of the Lake Physician Group
5428 O'Donovan Drive
Baton Rouge
(225) 300-1076
Joel D. Silverberg
Our Lady of the Lake Regional Medical Center
The Baton Rouge Clinic
7373 Perkins Rd.
Baton Rouge
(225) 769-4044

Family Medicine
Walter J. Birdsall Jr.
St. Charles Parish Hospital
Ochsner Health Center
1057 Paul Maillard Rd.
Luling
(985) 785-3740
Donald V. Brignac
Our Lady of the Lake Regional Medical Center
Family Practice Associates
12525 Perkins Rd., Ste. A
Baton Rouge
(225) 761-4256
Nandita Chadha
DeQuincy Memorial Hospital
140 W Fourth St.
Dequincy
(337) 786-5007
Karrie V. Kilgore
Acadia General Hospital
The Family Clinic of Crowley
345 Odd Fellows Rd.
Crowley
(337) 783-7004
Elizabeth W. McLain
Lafayette General Medical Center
Family Medicine
1211 Coolidge St, Ste. 404
Lafayette
(337) 289-8478
Arthur W. Primeaux
Lake Charles Memorial Hospital
Imperial Health
771 Bayou Pines Drive East
Lake Charles
(337) 433-1212
Paul B. Stringfellow
Acadia General Hospital
The Family Clinic of Crowley
345 Odd Fellows Rd.
Crowley
(337) 783-7004

Gastroenterology
Stephen G. Abshire
Lafayette General Medical Center
Gastroenterology Clinic of Acadiana
1211 Coolidge Blvd., Ste. 303
Lafayette
(337) 232-6697
Irfan R. Alam
Lafayette General Southwest
4212 W Congress St.
Ste. 2400E
Lafayette
(337) 984-4350
Charles C. Berggreen
Our Lady of the Lake Regional Medical Center
Gastroenterology Associates
9103 Jefferson Hwy.
Baton Rouge
(225) 927-1190
Richard K. Broussard
Lafayette General Medical Center
Acadiana Gastroenterology Associates
439 Heymann Blvd.
Lafayette
(337) 269-0963
P. Hooper Nichols III
Lake Charles Memorial Hospital
Imperial Health
501 Dr. Michael DeBakey Drive
1st Fl
Lake Charles
(337) 312-8462
David C. Pellegrin
Terrebonne General Medical Center
Gastroenterology Center of the South
8120 Main St., Ste. 200
Houma
(985) 851-5206
Douglas C. Walsh
Our Lady of the Lake Regional Medical Center
Gastroenterology Associates
9103 Jefferson Hwy.
Baton Rouge
(225) 927-1190
Nathaniel S. Winstead
Terrebonne General Medical Center
Houma Digestive Health Specialists
1026 School St.
Houma
(985) 772-6997

Geriatric Medicine
Tahmina Hassan
Our Lady of the Lake Regional Medical Center
5247 Didesse Drive
Baton Rouge
(225) 765-3076

Gynecologic Oncology
Milton G. Fort III
Woman's Hospital
Gynecologic Oncology
500 Rue de la Vie, Ste. 407
Baton Rouge
(225) 216-3006

Hand Surgery
Rasheed I. Ahmad
Baton Rouge General
Medical Center
Baton Rouge Orthopaedic Clinic
8080 Bluebonnet Blvd.
Ste. 1000
Baton Rouge
(225) 924-2424
Michael Robichaux
Baton Rouge General
Medical Center
Baton Rouge Orthopaedic Clinic
8080 Bluebonnet Blvd.
Ste. 1000
Baton Rouge
(225) 924-2424

Internal Medicine
Michael S. Alexander
Lafayette General Medical Center
Internal Medicine of Acadiana
461 Heymann Blvd.
Lafayette
(337) 289-8717
Leo P. Blaize III
Our Lady of the Lake Regional Medical Center
Our Lady of the Lake Physician Group
7777 Hennessy Blvd., Ste. 7000
Baton Rouge
(225) 765-8829
Brian D. Clements
Lake Charles Memorial Hospital
Internal Medicine Clinic
of Lake Charles
2770 3rd Ave, Ste. 350
Lake Charles
(337) 494-6800
C. Ray Halliburton Jr.
Our Lady of the Lake Regional Medical Center
Our Lady of the Lake
Physicians Group
7777 Hennessy Blvd., Ste. 7000
Baton Rouge
(225) 765-8829
Susan B. Ieyoub
Lake Charles Memorial Hospital
Internal Medicine Clinic
of Lake Charles
2770 3rd Ave, Ste. 350
Lake Charles
(337) 494-6800
Bradley L. Meek
Our Lady of the Lake Regional Medical Center
Our Lady of the Lake
Physicians Group
7777 Hennessy Blvd., Ste. 7000
Baton Rouge
(225) 765-8829
Katherine F. Pearce
Our Lady of the Lake Regional Medical Center
Our Lady of the Lake
Physicians Group – Primary Care for Women
5131 O'Donovan Drive, Ste. 201
Baton Rouge
(225) 374-0220
Karen R. Smith
Lafayette General Medical Center
461 Heymann Blvd.
Lafayette
(337) 289-8646

Interventional Cardiology
Peter S. Fail
Terrebonne General Medical Center
Cardiovascular Institute of the South
225 Dunn St
Houma
(985) 876-0300
Andrew P. Rees
Our Lady of the Lake Regional Medical Center
Louisiana Cardiology Associates
7777 Hennessy Blvd.
Medical Plaza II, Ste. 1000
Baton Rouge
(225) 767-3900
Christopher S. Thompson
Lake Charles Memorial Hospital
Heart & Vascular Surgery Center
1717 Oak Park Blvd., 2nd Fl
Lake Charles
(337) 494-3278

Maternal & Fetal Medicine
Paul K. Dibbs
Women's & Children's Hospital – Lafayette
Maternal Fetal Medicine
of Acadiana
105 Corporate Blvd.
Lafayette
(337) 593-9099

Medical Oncology
Deborah Abernathy
Our Lady of the Lake Regional Medical Center
Our Lady of the Lake Physician Group – Medical Oncology
8119 Picardy Ave.
Baton Rouge
(225) 757-0343
Bryan J. Bienvenu
Our Lady of the Lake Regional Medical Center
Louisiana Hematology Oncology Associates
4950 Essen Ln
Baton Rouge
(225) 767-1311
B.J. Jay Brooks Jr.
Ochsner Medical Center –
Baton Rouge
9001 Summa Ave.
Baton Rouge
(225) 761-5446

Nephrology
Raynold J. Corona
Our Lady of the Lake Regional Medical Center
Renal Associates of Baton Rouge
5131 O'Donovan Drive, Ste. 100
Baton Rouge
(225) 767-4893
Mitchell J. Hebert
Our Lady of the Lake Regional Medical Center
Renal Associates of Baton Rouge
5131 O'Donovan Drive, Ste. 100
Baton Rouge
(225) 767-4893

Neurological Surgery
Alan Appley
Lafayette General Medical Center
Acadiana Neurosurgery
155 Hospital Drive, Ste. 100
Lafayette
(337) 235-7743

Neurology
Gerard R. Dynes Jr.
Baton Rouge General
Medical Center
The Baton Rouge Clinic
7373 Perkins Rd.
Baton Rouge
(225) 769-4044

Obstetrics & Gynecology
Randall L. Brown
Woman's Hospital
Louisiana Women's Healthcare
500 Rue de la Vie, Ste. 100
Baton Rouge
(225) 201-2000
Francis J. Cardinale
Women's & Children's Hospital – Lafayette
Acadiana Women's Health Group
4640 Ambassador Caffery Pkwy.
Lafayette
(337) 984-1050
Edward B. Darby
West Calcasieu Cameron Hospital
1200 Stelly Ln
Sulphur
(337) 312-1000
Bradley K. Forsyth
Lake Charles Memorial Hospital
1890 W Gauthier Rd., Ste. 145
Lake Charles
(337) 480-5540
J. William Groves Jr.
Lake Charles Memorial Hospital
1890 W Gauthier Rd., Ste. 130
Lake Charles
(337) 480-5530
Ann Marie Lafranca
Woman's Hospital
500 Rue de la Vie, Ste. 210
Baton Rouge
(225) 928-5951

Ophthalmology
Frank J. Culotta Jr.
Lafayette General Medical Center
Acadiana Retina Consultants
1101 S College Rd., Ste. 304
Lafayette
(337) 232-2710
Donald C. Falgoust
CHRISTUS St. Patrick Hospital
Falgoust Eye Medical & Surgical
1980 Tybee Lane
Lake Charles
(337) 477-0963
Thomas J. Heigle
Our Lady of the Lake Regional Medical Center
Eye Medical Center
7777 Hennessy Blvd., Ste. 4000
Baton Rouge
(225) 766-7441
Jonathan M. Joseph
Bohn & Joseph Eye Center
609 Guilbeau Rd.
Lafayette
(337) 981-6430

Orthopaedic Surgery
Joseph E. Broyles
Our Lady of the Lake Regional Medical Center
Bone & Joint Clinic of Baton Rouge
7301 Hennessy Blvd., Ste. 200
Baton Rouge
(225) 766-0050
Geoffrey J. Collins
West Calcasieu Cameron Hospital
Collins Orthopaedics & Sports Medicine
1625 Wolf Circle
Lake Charles
(337) 905-7100
Henry L. Eiserloh III
Our Lady of the Lake Regional Medical Center
Baton Rouge Orthopaedic Clinic
8080 Bluebonnet Blvd.
Ste. 1000
Baton Rouge
(225) 924-2424
R. Bryan Griffith Jr.
Our Lady of the Lake Regional Medical Center
Baton Rouge Orthopaedic Clinic
8080 Bluebonnet Blvd.
Ste. 1000
Baton Rouge
(225) 924-2424
M. Alan Hinton
CHRISTUS St. Patrick Hospital
230 W Sale Rd.
Lake Charles
(337) 477-5252
Thomas J. Montgomery
Our Lady of Lourdes Regional Medical Center – Lafayette
Montgomery Orthopedics & Sports Medicine
1301 Camellia Blvd., Ste. 102
Lafayette
(337) 235-2264
David M. Pope
Our Lady of the Lake Regional Medical Center
Bone & Joint Clinic of Baton Rouge
7301 Hennessy Blvd., Ste. 200
Baton Rouge
(225) 766-0050
Catherine J. Riche
Woman's Hospital
Baton Rouge Orthopaedic Clinic
8080 Bluebonnet Blvd.
Ste. 1000
Baton Rouge
(225) 924-2424
Matthew D. Williams
Our Lady of Lourdes Regional Medical Center – Lafayette
The CORE Institute
Louisiana Orthopaedic Specialists
108 Rue Louis XIV
Lafayette
(337) 235-8007

Otolaryngology
John W. Alldredge
Our Lady of Lourdes Regional Medical Center – Lafayette
Lafayette Ear, Nose & Throat Specialists
225 Bendel Rd.
Lafayette
(337) 232-2330
Moises A. Arriaga
Our Lady of the Lake Regional Medical Center
Our Lady of the Lake Physician Group
Hearing & Balance Center
7777 Hennessy Blvd., Ste. 709
Baton Rouge
(225) 765-7735
Maria M. Doucet
Women's & Children's Hospital-Lafayette
Doucet ENT
4630 Ambassador Caffery
Parkway
A Bldg – Ste. 402
Lafayette
(337) 989-4453
J. Kevin Duplechain
1103 Kaliste Saloom Rd., Ste. 300
Lafayette
(337) 326-5158
Phillip E. Noel
Abbeville General Hospital
Sinus Allergy & Sleep of Louisiana
2615 North Drive
Abbeville
(337) 706-0456
Daniel W. Nuss
Our Lady of the Lake Regional Medical Center
Our Lady of the Lake Regional Medical Center
4950 Essen Ln, Ste. 400
Baton Rouge
(225) 765-1765

Pain Medicine
Jimmy N. Ponder Jr.
Terrebonne General Medical Center
Headache & Pain Center
123 Frontage Road-A
Gray
(985) 580-1200

Pediatric Gastroenterology
Patrice J. Tyson
Our Lady of the Lake Regional Medical Center
Our Lady of the Lake Physician Group
7777 Hennessy Blvd.
Plaza 1, Ste. 502
Baton Rouge
(225) 765-6834

Pediatrics
Jennifer A. Boustany
Women's & Children's Hospital-Lafayette
4630 Ambassador Caffery Pkwy.
Ste. 102
Lafayette
(337) 989-2322
Robert E. Drumm
Woman's Hospital
The Baton Rouge Clinic
7373 Perkins Rd.
Baton Rouge
(225) 769-4044
Jennifer V. Hogan
Woman's Hospital
9001 Summa Ave.
Baton Rouge
(225) 761-5200
Michael K. Judice
Women's & Children's Hospital-Lafayette
4630 Ambassador Caffery Pkwy. Ste. 102
Lafayette
(337) 989-2322
Jamar A. Melton
Our Lady of the Lake Regional Medical Center
The Baton Rouge Clinic
7373 Perkins Rd.
Baton Rouge
(225) 246-6000
Henry M. Peltier
Thibodaux Regional Medical Center
604 N Acadia Rd., Ste. 200
Thibodaux
(985) 448-3700
Edward D. Sledge Jr.
Ochsner Medical Center –
Baton Rouge
9001 Summa Ave.
Baton Rouge
(225) 761-5200
Mark J. Waggenspack
Our Lady of the Lake Regional Medical Center
The Baton Rouge Clinic
7373 Perkins Rd.
Baton Rouge
(225) 769-4044

Physical Medicine & Rehabilitation
Gregory Ward
Baton Rouge General – Bluebonnet
Louisiana Institute of Physical Medicine
8338 Summa Ave, Ste. 500
Baton Rouge
(225) 766-1616

Plastic Surgery
Michael S. Hanemann Jr.
Baton Rouge General Medical Center
5233 Dijon Drive
Baton Rouge
(225) 341-7796
Kenneth L. Odinet Jr.
Our Lady of Lourdes Regional Medical Center – Lafayette
200 Beaullieu Drive, Ste. 6
Lafayette
(337) 234-8648
E. Clyde Smoot III
Lake Charles Memorial Hospital
Lake Charles Plastic Surgery
4150 Nelson Road, Bldg A-2
Lake Charles
(337) 478-5577
Taylor B. Theunissen
Our Lady of the Lake Regional Medical Center
5233 Dijon Drive
Baton Rouge
(225) 424-1470
James W. Wade II
Our Lady of the Lake Regional Medical Center
5233 Dijon Drive
Baton Rouge
(225) 769-9966

Psychiatry
Renee M. Bruno
Woman's Hospital
7470 Highland Rd.
Baton Rouge
(225) 615-8102
Gerald C. Heintz
Our Lady of the Lake Regional Medical Center
Our Lady of the Lake Physician Group
Family Center
7777 Hennessy Blvd.
Baton Rouge
(225) 765-8648

Pulmonary Disease
Glenn M. Gomes
Ochsner Medical Center –
Baton Rouge
9001 Summa Ave.
Baton Rouge
(225) 761-5271
G. Gary Guidry
Lafayette General Medical Center
Lafayette Pulmonary Clinic
155 Hospital Drive, Ste. 101
Lafayette
(337) 234-3204
Mark K. Hodges
Baton Rouge General
Medical Center
The Baton Rouge Clinic
7373 Perkins Rd.
Baton Rouge
(225) 769-4044
Gary J. Kohler
Lake Charles Memorial Hospital
Pulmonary Associates of Southwest LA
2770 3rd Ave, Ste. 110
Lake Charles
(337) 494-2750

Reproductive Endocrinology
Susan C. Conway
Women's & Children's Hospital – Lafayette
Fertility Answers
206 E Farrel Rd.
Lafayette
(337) 989-8795
John M. Storment
Women's & Children's Hospital – Lafayette
Fertility Answers
206 E Farrel Rd.
Lafayette
(337) 989-8795

Rheumatology
Stephen M. Lindsey
Ochsner Medical Center –
Baton Rouge
&