Where to Live Next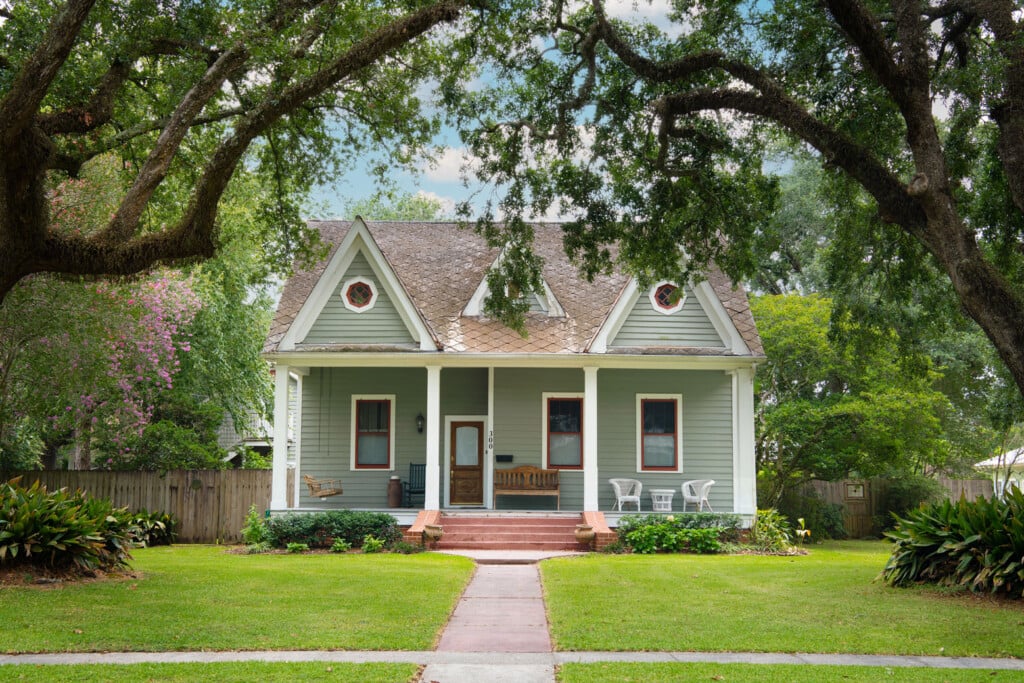 Across its almost two dozen parishes and nearly 700 cities and towns, Acadiana is comprised of a rich tapestry of histories, cuisines and landscapes. Whether you're searching for a small town steeped in Cajun culture, a tight-knit neighborhood with kid-friendly activities or a city with easy access to nature, here are some great places to look for your next Acadiana home.
Arnaudville | A Small Town for a Foodie
If you've ever dreamed of moving to a small community brimming with heart, culture and community, Arnaudville is a great option. The town has a population of only about 1,000 people, but it's a hub for Cajun dancing, music and some of the best food in the region.
Kevin Robin owns popular Arnaudville restaurant Little Big Cup, which he opened with his partner, Sanjay, in 2012. Robin was born and raised in Arnaudville, where his family's roots run deep. His great grandfather opened a small grocery store there in the 1930s, and the store is still in business and family-run today.
Robin moved to New York City and lived there for about 20 years, before finding his way back to his hometown in 2011.
"I wanted to be somewhere where I could actually be a part of a community where I could effect real change. And in a city like New York, very few people can make an impact, but in Arnaudville, I knew I could make a difference," Robin said.
In the years since he's been back, Robin said he's watched Arnaudville experience a renaissance, which he is proud to have been a part of.
"I think the true credit is that Arnaudville has always had a very strong cultural identity. We held on to the old ways of doing things, and that's helped to put us on the map."
Tourism is a big part of Ardaudville's economy, Robin said, with people visiting to get a peek at life in an authentic Cajun town.
"That's been a huge draw for visitors, but also for bringing our young people back who might have otherwise moved to New York or New Orleans or somewhere like that, which is exactly what I did for a time," he said. "But now, because we really celebrate our history and traditions, people want to stay and make something for themselves here."
For a town of its size, Arnaudville boasts a surprising number of shops, eateries and attractions. In addition to the Little Big Cup, there's the Bayou Teche Brewery, NUNU Arts and Culture Collective, and Myran's restaurant, to name a few.
The town hosts a number of festivals throughout the year, including the annual étouffée festival, a Bastille Day celebration and Le Feu et L'eau, which showcases local arts and culture.
"It's a small town, but we have a lot going on," Robin said.
Ellendale, Houma | A Place Fit for Families
Houma's Ellendale neighborhood is a great option for families seeking a safe haven full of fun, kid-friendly activities. Featuring tree-lined streets and the city's only country club -— complete with swimming pool, tennis courts, a golf course and restaurant — Ellendale is a perfect destination for higher-income families with independent kids who like to stay busy.
The neighborhood also has its own levee system, protecting it from the levels of flooding surrounding areas experience. Plus, with only one road and no pass-through streets, Ellendale is a great place for "free-range kids," according to realtor and Houma native Melanie Bruce.
"Going through the neighborhood, you're always going to see kids playing outside, riding their bikes, or walking down the street," Bruce said. "Most of the kids who live in Ellendale take golf or tennis classes, which are just down the street at the country club. It's great for parents, because the kids can get themselves there no problem, and they don't have to worry about traffic."
The neighborhood is also a destination for trick-or-treating on Halloween and holiday decorations in the winter, which Bruce said are some of the best in the city.
"Overall, Ellendale is very family-friendly. It's a great place to raise kids, and residents who don't have children are also passionate about keeping it that way," she said.
Most Ellendale families choose to send their kids to private schools, Bruce said, but there's some great options for both Catholic and non-denominational choices nearby.
The neighborhood was established in the 1960s, according to Bruce, and features mostly large ranch-style homes, with some mid-century modern gems thrown in the mix, along with Greek revival, colonial, and Tudor-inspired architecture. Most residents own their homes, according to Bruce, and the majority of listing prices start around $850,000.
Bruce was born and raised in Houma and she said the city as a whole is very family-oriented. In the past decade or so, she said the area has seen a surge in people returning to their roots.
"When I was growing up, people weren't really doing much to preserve the Cajun heritage here. Over the past few years, there's definitely been a big shift in efforts to bring that back into daily life," Bruce said.
Ellendale is a quick drive to downtown Houma, where Bruce said numerous organizations host regular Cajun and Zydeco workshops, French lessons and showcase culture that once risked being forgotten to time.
Main Street/City Park, New Iberia | Calling All Nature Lovers
Nestled between the banks of Bayou Teche, this neighborhood has easy access to the water, lush walking trails, bike paths and more. Plus, New Iberia is less than a half hour away from both Avery and Jefferson Islands, two of the region's premiere outdoor attractions.
The neighborhood is located in the city's historic district and is home to about 8,000 of the city's 28,000 residents. Listed on the National Register of Historic Places, the area is full of charming homes in an eclectic mix of architectural styles.
While nature isn't far from reach anywhere in the city, the Main Street/City Park area is a destination for New Iberians seeking an outdoor oasis within city limits. The park itself sits on the bayou, where visitors can enjoy an oak-shaded walking path, a fishing pond, a playground and more.
The city's retail hub is just a short trek from City Park, including the Church Alley pedestrian walkway, which is also the starting point of a roughly 3-mile bike trail.
Siblings Phyllis Belanger and Bo Belanger grew up in the area and now live across the street from each other's Main Street homes, and said people flock to the neighborhood to enjoy the park and surrounding areas.
Another popular outdoor attraction is the neighborhood's new boat launch, which the Belangers said was put in as the community started to "reorient" itself to the bayou.
"The bayou is a big deal, and it's becoming more so," Bo said. "It was a big deal when we were growing up, and I think it kind of went through a period, when you didn't see a lot of people in the bayou anymore. But now, there are always a bunch of kayakers in the water and it's definitely becoming popular again."
Like many New Iberians, the Belangers enjoy frequent day trips to Avery Island, Jefferson Island and Cypremort Point State Park, all of which are within a 30-minute drive from their homes.
"We love going out there, it's like stepping into another world," Phyllis said. "It's such a treat to live so close to so many unique and beautiful places."
Aside from outdoor activities, residents of the Main Street/City Park area enjoy easy access to a community theater, bars and restaurants, and a public library.
---
Honorable Mentions
Opelousas
For foodies seeking a somewhat larger place to settle, Opelousas is a fantastic place to look. With a population sitting around 15,000, the city has maintained its small-town Cajun feel. Opelousas is the state's third-oldest city and claims the title "spice capital of the world." Like Arnaudville, the city hosts a variety of festivals and is home to a number of celebrated restaurants.
Greenbriar Estates
Lafayette's Greenbriar Estates is another great option for higher-income families looking to settle down in Acadiana. Known for its quiet streets and easy downtown access, Greenbriar Estates is also within walking distance from Moncus Park, which frequently hosts family-friendly events and programs. With several good schools in the area, it's a desirable location for families with kids of all ages.
Prien Lake
If you're more into water sports than land-based activities, consider checking out homes in Lake Charles' Prien Lake area. On the east side of the lake — an historic waterway where 19th-century schooners once sailed — is a popular park featuring a boat launch, playground, walking paths, picnic areas, and more.