Radar Love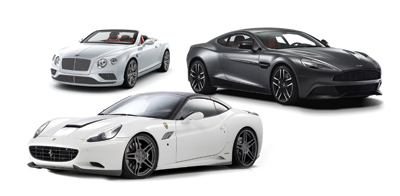 Most times when we see a bride and groom arrive or depart a wedding, they're entering or exiting a standard limousine. They're comfortable, there's plenty of room, someone else is driving and typically there's a bar to quench a thirst or some jitters. Though it's not a bad way to travel, there is a more exotic option for the couple that really wants to make a statement and take control of their grand entrance.
"You can rent one of the sports cars we have, because sometimes people love to drive the car for their weddings," says Fadi Tuqan, the manager at Auto Exotic Rentals in Houston.
The company offers Lamborghinis, Ferraris, Porsches, Aston Martins and many other sports cars that are liable to make an auto nut salivate, but in his experience Tuqan says convertibles are most popular for weddings.
"Couples always want to rent one of the convertible cars, like the Bentley convertible or Porsche convertible," Tuqan says. "People usually like the convertible cars. A sports car or coupe is OK but there isn't the same demand for a wedding. They always want the convertible — it's the most important thing."
Each car has a daily rental fee, the rate depending on the specific vehicle, and an allotted number of miles for the day, either 50 or 100. Additional miles cost extra.
But never fear, Tuqan said he could work with any couple's purse strings.
"We have a car for any budget," he says "You have a budget for $200, $500, or $1,000 — we have several options. Based on your budget as a couple, we can work with that and find the right car that fits your budget."
As mentioned, Auto Exotic Rentals is based in Houston, but they often send portions of their fleet to other cities in the South, particularly New Orleans. Bringing the car to The Big Easy is an additional fee, but it's well worth it when you're driving a machine that can hit 60 miles per hour in less than three seconds. They're able to deliver with as little warning as a call the day before the wedding, though a little notice is always helpful.
"When you call, if you like one of the specific cars, you'll ask for its availability," Tuqan said. "You can call one day before or you can call six months before — but the sooner, the better."
New Orleans no longer has its own exotic car rental company, but many of the limousine companies offer classic Rolls Royces as options.
Alert Transportation offers prototypical transport for weddings as well as two 1963 Silver Clouds, one named Winston (white) and the other Alfred (silver). Each Rolls Royce comes with a bottle of champagne for the married couple, a chauffeur and can be packaged with one of their more traditional vehicles
"They're very popular and priced reasonably," says Andrea Roser, manager at Alert Transportation.
But no matter your decision on the car, remember that safety is number one on your big day. A professional driver can be a good idea.
"Typically the bride and groom end up drinking and it's not safe to drive the car," Tuqan warns. "It's sometimes best to hire a driver. That is why the Bentley and the Rolls Royce are often the most popular cars for a wedding."

alternate modes
Though sports cars are exciting, maybe a traditional means of transport is more your speed. Nicoll's Limousine and Shuttle Service offers everything from a Lincoln Town Car for you and your future spouse to a Stretch Hummer H2 that accommodates 16, a wet bar, TV and stereo system.
Want to keep it simple and elegant? Limousine Livery's fleet features upscale and updated traditional options between their sedans, utility vehicles and limos.
Bonomolo Limousines is another great option for the more practical couple. They can place you inside similar options to the other companies as well as a classic trolley for those desiring space for guests and a classic New Orleans look.
Don't forget each ride comes with a trained chauffeur: so you can keep your eyes on each other, rather than the road.

Nicoll's Limousine and Shuttle Service
nicolls.com
454-7722
Limousine Livery
limolivery.com
561-8777
Bonomolo Limousines
bonolimo.com
522-0892
Auto Exotic Rental
autoexoticrental.com
713-444-9999
4Alert Transportation
alerttransportation.com
362-4145