Put your Cards on the Dining Table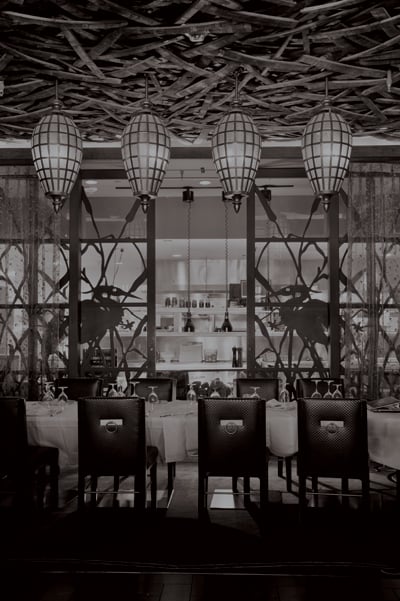 Restaurants have long been a part of casinos for obvious reasons of practicality — if you want people to come and enjoy your games, expecting them to dine off-site and come back makes about as much sense as having them meet other natural needs in a port-a-potty out back. That said, casino restaurants have suffered from a reputation for a certain, let's say, utilitarianism. Gamers could fill up (and then some) at a buffet or enjoy a steak, but the food wasn't part of the attraction. You ate at the casino restaurant because it was there, not because it had its own special appeal. This is no longer the case at today's gaming destinations. Casinos are now part of the national conversation about trends in food and have become significant players in the dining scenes of their cities attracting hungry gamers as well as serious diners. In Louisiana, where America comes to dine and where new restaurants have a high bar to clear to be taken seriously, the new generation of casino restaurants is making itself relevant — and hungry Louisianans would do well to take note.
Sean Malone, Vice President of Food and Beverage at L'Auberge Casino and Hotel Baton Rouge, traces this elevation in the status of casino dining to 10 or 15 years ago and places it within a wider context: casinos and gaming destinations became increasingly interested in making all aspects of their entertainment offerings relevant in and of themselves, rather than simply being add-ons or amenities. This is the era that also saw the rise of spas, salons and other luxurious treats; casinogoers could increasingly have a complete, deluxe getaway at their favorite property. With this rise in attention came, of course, competition: no destination could afford to take a relaxed attitude to dining with its competitors coming up with new food options to entice customers. An additional inducement was that more states began offering more licenses: the casino market was about to get more competitive, and amenities like dining were one way in which properties could differentiate themselves.
The resulting pressure has meant that casino restaurants have to be not just excellent, but creative, all while remaining plugged into what's going on in American food. Some have worked with celebrity chefs; others have looked at wider trends that have attracted diners, like farm-to-table food and, more broadly, the revived interest in fresh, high-quality ingredients. According to Malone, much of this has added up to key players in the casino food and beverage scene having to think like restauranteurs. Restaurants within, or associated with, casinos have freedom to experiment, both with menus and dishes and with entire restaurant concepts, that an independent restauranteur might not. Even the venerable mainstays of casino cuisine — the steakhouse and the buffet — have gotten some refreshment from this new attitude. The popularity of the steakhouse and buffet concepts however could theoretically limit attempts at new offerings, since even adventurous diners might have old favorites, for example, at the buffet. To make room for exploration, these restaurants are experimenting with specials like theme nights, tasting menus, wine dinners and other tempting offerings in the style of what you'd expect from any upscale restaurant looking to intrigue existing customers and attract new ones.
The L'Auberge properties in Baton Rouge and Lake Charles are both excellent examples of these new trends in casino dining. Like many casinos, their steakhouses serve to some extent as the flagship restaurants, since for many people the steakhouse simply is the fine dining option when gaming. Ember, at the Lake Charles property, offers regular, bar and social menus to complement its deep bench of wine offerings, some of which are available in flights. The particularly bold can sample a beef candle, which is what it sounds like but also tastes better than such a concept has any right to; once the excitement has died down, diners can choose from an array of excellent steaks, with lavish add-ons like seared scallops or foie gras. Each drink on the cocktail menu bears an accompanying haiku, which, while not quite worth copying onto a napkin and passing off to your beloved as your own work, indicates a devotion to mixology. 18Steak, the Baton Rouge property's restaurant named after Louisiana's being the 18th state, has an overall calmer but just as tempting menu — any restaurant that offers three different kinds of butter, including one with smoked marrow, is bound to have loyal fans. In addition to the exquisite steaks, diners can order among other tempting appetizers, charcuterie or a seafood tower, featuring a Babel of six different kinds of shellfishy goodness. (If only all restaurants and chefs understood that what we want is a serving of seafood that truly towers!)
Lucky Lake Charles, which has wisely used casinos to bolster its appeal even as it develops a wider tourism industry featuring its cultural and historical charms, is also home to the Golden Nugget Lake Charles and the restaurants within. Like many, perhaps most casinos, the Golden Nugget offers its guests options between site-specific house brands and chain franchises. Diners can opt for well-regarded options, including Vic & Anthony's Steakhouse and margarita-mad Mexican option Cadillac Mexican Kitchen and Tequila Bar, or they can snag a table at Chart House, a nationwide, though not widespread, chain known for choosiness of locale, as well as its excellent food. The mixture of concepts means, above all, that diners will be spoiled for choice. The culinary heft of the Golden Nugget and L'Auberge Lake Charles restaurants, compared with the relatively small population of the area, means that these restaurants play a large role in the dining culture of the area and are likely to be enjoyed and recommended by locals.
Last, but emphatically not least: the most obvious example of an upscale casino restaurant in Louisiana is Besh Steak, within Harrah's New Orleans. Harrah's, the most prominent casino in New Orleans, has a steakhouse; of course John Besh, who's explored a number of restaurant concepts, would have a good old American steakhouse in his repertoire. The confluence of these two powerful forces has led to a lasting niche for this eatery. Besh Steak's menu features the meaty masterpieces anyone expects from a steakhouse and offers the seafood dishes no Louisiana menu can claim completeness without as well as a nice complement of starters: tartare with caviar could tempt the most disciplined dieter. The result is a fresh, modern steakhouse suitable for a special occasion — or a big win.
These featured restaurants are a good start, but diners should train themselves to be on the lookout for casino restaurants to try. You won't have a hard time; these properties are proactively making sure they have identifiable brands that exist alongside the wider brand of the casino, and they're not just advertising: many participate in local restaurant associations and community outreach efforts. Whether you're in a new city or close to home, make sure these eateries are on your radar — if not, you'll be missing out on an important part of the dining culture. Plus, you can always run a $20 bill through the slot machines after dessert. Other restaurants don't even give you the chance to win back your dinner bill.

18Steak | Besh Steak | Ember

Ember | Besh Steak | Vic & Anthony's Steakhouse

(First) chicken and beef fajitas from Cadillac Mexican Kitchen and Tequila Bar at L'Auberge Lake Charles
(Second) Crab Cake from 18Steak at L'Auberge's Baton Rouge
(Third) Redfish Del Mar from Cadillac Mexican Kitchen and Tequila Bar at L'Auberge Lake Charles
(Forth) Barbecued Shrimp from Besh Steak at Harrah's New Orleans