Geoff Coats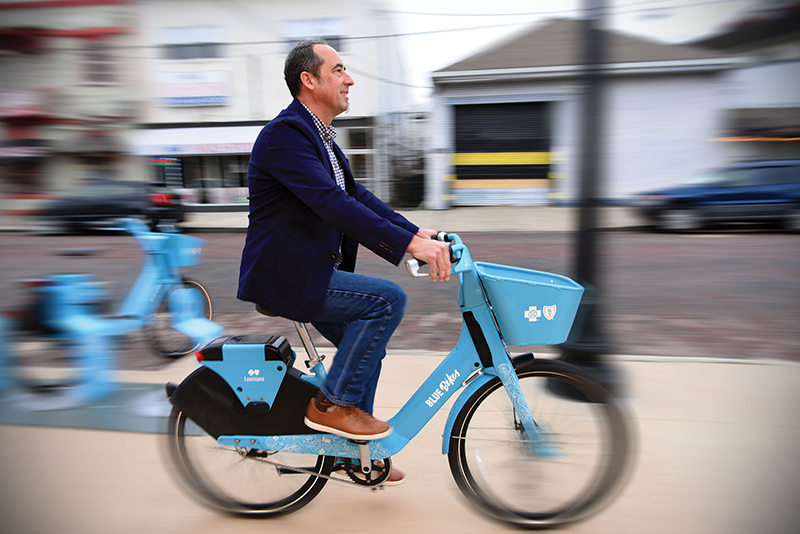 A new bike sharing program makes it easier for New Orleanians to travel the city on two wheels. In response to demand for such a program, Blue Bikes New Orleans recently launched to make cycling the city more accessible to everyone.
The initial area for Blue Bikes covers a large swath of the city, from Jackson Avenue to Poland Avenue and continuing up to City Park. The system is designed for point-to-point riding, and several hubs are available within the city for people to pick up and drop off bikes.
To get started, riders can download the Social Bicycles mobile app or visit the Blue Bikes New Orleans website to set up an account. They are then given a PIN to unlock one of the bikes, and then it's time to ride. Hourly and monthly plans are available, and people may qualify for a reduced fare.
Even people who haven't been on a bike in a while take well to the Blue Bikes, which were created with New Orleans streets in mind.
"The bikes are well-designed, and they ride amazingly well on the New Orleans landscape," says General Manager Geoff Coats. Their comfortable, upright design makes navigating the city easy and stable.
On the flip side, people who already own a bike may use Blue Bikes from time to time the same way car owners may take a taxi or Lyft on occasion; it's another transportation option.
Accessible, affordable bicycles throughout the city will benefit New Orleanians in many ways. Unlike existing bike tour companies, which often cater to tourists, Blue Bikes was created with residents in mind. For starters, the bikes fill in gaps in the transit system that may adversely affect people in their daily lives. For instance, someone whose closest bus stop is still several blocks from work may use the bike to reach their place of employment more quickly. In addition, the bikes offer this build-out of the transportation system in an eco-friendly way, reducing the carbon footprint.
Lastly, the bikes provide an exercise venue for New Orleanians. A monthly membership is only $15 and allows you to ride for up to 60 minutes per day. And with the Blue Bikes for All program, income-qualified citizens can enjoy the bikes at a reduced fare of $20 per year. In fact, the potential health benefits are so important that Blue Cross Blue Shield of Louisiana is a sponsor of the bike program.
Overall, the Blue Bikes of New Orleans program holds the promise of a more connected, healthier city. In time, it should open even more neighborhoods and areas to cyclists with this transformative bike-sharing program.
Get Involved
To learn more and to set up your account, visit BlueBikesNola.com.
---