East of the Pearl River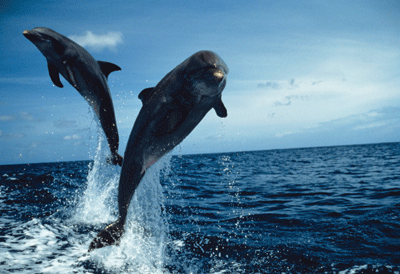 You don't have to go far from Louisiana to see a different, equally funky side of the South. In fact, you only have to go as far as Mississippi or Alabama to check out one of the country's oldest lighthouses, sail with dolphins or ogle
at memorabilia that used to belong to folks such as Elvis Presley and Napoleon Bonaparte.
You can start by heading east. Fifty miles east of the Louisiana border, the Biloxi nightlife offers the usual diversions for tipplers and gamblers – but it's also the home of the oldest cast-iron lighthouse in the South.
The Biloxi Lighthouse rises 65 feet in the skyline. It is the only lighthouse situated in the middle of a highway:
It looms over Highway 90 at Porter Avenue, in the same spot where it was assembled in 1948.
The Biloxi Lighthouse is the third of its kind; the first was built in Boston and the second in Long Island. Biloxi's lighthouse was actually fabricated in Baltimore and carried south by barge and has been operational ever since its construction except for a hiatus during the Civil War. The lapse in function was actually extended by a year when a hurricane knocked the lighthouse 2 feet off of its foundation.
Bill Raymond, Biloxi's historic administrator, runs tours and says, "On a clear day, you can see Horn Island and Ship Island, which is 12 miles out." But go early – according to Raymond, the lighthouse heats up in the afternoons, so the tours only run in the morning.
If you keep driving east and head for Gulf Shores, Ala., you can go to Orange Beach on the opposite end of the isthmus and go sailing with Atlantic bottlenose dolphins in the corners of Wolf Bay. There are about a dozen different tour companies that run dolphin tours of various lengths, with different boats to suit different interests.
Just don't dive in and try to play with them – because it's considered harassment under the Marine Mammal Protection Act and can land you in the slammer for up to a year.
Dolphin cruises are an easy way to get car-cranky kids to chill out. "The dolphins are really curious," says Dan Anderson of Blue Dolphin Cruises. "They want to look at the kids while the kids want to look at them." He says that every tour finds at least one dolphin and folks can generally expect to encounter between two and 20 of the flippered mammals.
Once you get your fill of sun and surf, you can pick up Interstate 65 north and check out Anniston, Ala. Built on the flank of Blue Mountain, Anniston is home of the country's largest office chair (formerly the world's largest, also): a 33-foot, 10-ton colossus commissioned by Miller's Office Furniture.
Anniston is also the home of the Berman Museum of World History, a testament to creative (and sadistic) tools of war. Farley Berman, an Anniston native and former American spy, and his wife, Germaine, a former French spy (the two met while performing counterintelligence on each other), built the museum out of their own collection of spy weapons. "There's a flute that fires .22-caliber bullets, a tire gage that's a .22, a fountain pen that fires tear gas," says curator David Ford. Although the Bermans have since passed away, Ford says that Farley would give demonstrations of the spy tools to museum guests.
The museum contains more than 8,000 items on two floors, Ford says. Besides innovative small-caliber spy guns, the museum also has claim to Adolf Hitler's tea service (Berman never copped to how he got his hands on it), pictures and knickknacks pilfered from Benito Mussolini's bedside table, Napoleon Bonaparte's dressing set and the stunted conqueror's lucky charm – a bust of Alexander the Great. In a less morbid gallery, they also have collections of Asian art and jewelry that belonged to Shah Abbas the Great of Persia and his descendants.
When you start heading back west but before you turn south, you can drop into Tupelo, Miss., to visit the birthplace of the King of Rock. Elvis Presley spent the first 13 years of his life in Tupelo, and his stillborn twin brother is buried there in an unmarked grave. The Presley family "was dirt-poor like everyone else in the Depression," explains Blair Hill, assistant director of the Elvis Presley Birthplace museum. The museum boasts "the original house that Elvis was born in and the original church that he attended as a child," Hill says.
The museum's collection includes the King's clothing – particularly casual clothing – as well as the tools that Elvis' father used to build their home and a historical re-creation of the Presleys'
life in Tupelo. Hill says that folks can stop in "for an entire day or just as a rest stop," but he challenges that "the die-hard fans come all day." The landmark is laid out over 15 acres and is a part of the Mississippi Blues Trail, a network of the towns and plots where Mississippi's blues greats grew up and performed. Just don't go too late in summer – Hill says the museum "gets really slammed" as the anniversary of Elvis' death approaches
on Aug. 16.
Leaving Tupelo, it's a brief jaunt south and west to get back home, with Vicksburg and Jackson or Hattiesburg and Gulfport as stopovers, depending on where it is you're returning in Louisiana. So get on out there and enjoy the Southern summer.